Global Roundup: 106yo Filipino Tattoo Artist, Kashmiri Women Breaking Barriers, South Africans Protest Uganda's Anti-LGBTQ Laws, Hong Kong Protests for Trans Rights, Housing Project for 2Spirit People
Curated by FG Contributor Inaara Merani
Photo by ARTU NEPOMUCENO
106-year-old tattoo artist Apo Whang-Od has become Vogue magazine's oldest cover model. In its April issue, Vogue Philippines highlights her career as the country's oldest mambabatok (traditional Kalinga tattooist). 
To create the traditional hand-tapped tattoos, Whang-Od uses a bamboo stick, a thorn from a pomelo tree, water, and coal. Traditionally, the tattoos were given to Indigenous Butbut warriors; now, the majority of Whang-Od's clientele consists of international visitors. 
Vogue Philippines editor-in-chief Bea Valdes said staff at the publication decided unanimously that Whang-Od should go on the cover.
We felt she represented our ideals of what is beautiful about our Filipino culture…We believe that the concept of beauty needs to evolve, and include diverse and inclusive faces and forms. What we hope to speak about is the beauty of humanity. - Vogue Philippines editor-in-chief Bea Valdes
The art of hand-tapped tattoos is one that can only be passed down to blood relatives. Whang-Od has been training members of her family, including her grandnieces Elyang Wigan and Grace Palicas, for many years to ensure that this tradition can be passed down. She began learning the art at the age of 16, under her father's mentorship. As the first and only woman mambabatok at the time, Whang-Od used to travel to faraway and neighbouring villages to tap these tattoos onto communities of people. She continues to practice her art and teach her relatives, preserving the beautiful tradition's practice for many more generations to see.
(My friends who gave tattoos) have all passed away. I'm the only one left alive that's still giving tattoos. But I'm not afraid that the tradition will end because (I'm training) the next tattoo masters. The tradition will continue as long as people keep coming to get tattoos. As long as I can see well, I will keep giving tattoos. I'll stop once my vision gets blurry. – Apo Whang-Od
Prior to Whang-Od's appearance in Vogue Philippines, the record for oldest Vogue cover model was held by actress Judi Dench, who appeared on the front of British Vogue in 2020, at the age of 85.
---
Photo via Feminism in India. 
In Kashmir, Wazas are known for their delicious food and their expert knowledge of this traditional form of cooking. The tradition has typically been dominated by men; it is considered a family trade and is therefore has only been passed down through men in families, until recently when women began joining the trade. 
The term "Waza" derives from the Persian word "Vasta" meaning "master of the kitchen". In Kashmiri tradition and society, Wazas are highly respected members of society who are usually invited to cook at weddings and other celebrations, as well as for locals and tourists in the area. The Wazwan is a multi-course meal which features rice, meat, and vegetable dishes, which are served on a large copper plate called a "Trami". Guests sit on the floor around the Trami and share the meal together, eating with their hands as a sign of respect, while the Wazas serve the food. 
A few women in Kashmir have started to work as Wazas, completely shattering stereotypes and patriarchal traditions in Kashmiri society. Many individuals in Kashmir have spoken highly about the ability of the first women Wazas to add even more depth to an already beautiful tradition.
The inclusion of women in this field has given a new dimension to the cuisine of Kashmir. They bring a unique perspective and creativity to the dishes they prepare, and it's refreshing to see them excel in this field. However, they face numerous challenges, including societal pressure and lack of resources, which need to be addressed. – Abdul Rashid, veteran Waza of Srinagar
The job of a Waza is difficult, requiring individuals to stand for hours and be constantly aware of small details. Because of its physically demanding nature, it has not been seen as an ideal profession for women, but the women Wazas have proven that they are more than capable and can perform the same tasks as their male counterparts.
Cooking has been my passion since I was a child, and I always wanted to showcase my skills to the world…Being a woman Waza, I faced many obstacles in the beginning, but I didn't let that deter me. Today, I am proud to be the member of one of the first female Wazas of Kashmir and to have inspired many other women. – Woman Waza in Kashmir 
---
People hold placards during a demonstration against the proposed new Ugandan anti-gay legislation which makes homesexuality illegal and punishable by harsh sentences for people identifying as LGBTQ+ in Pretoria, South Africa on March 31, 2023 REUTERS/Alet Pretorius. Photo via Openly 
South Africans took to the streets of Pretoria and Cape Town on Friday to protest against a Ugandan law passed last week that makes it a criminal offence to be openly LGBTQ.
Singing and waving flags, demonstrators called on Uganda's president, Yoweri Museveni, not to sign the law, which if implemented could result in life in prison or even the death penalty. 
World leaders should put pressure on Museveni to not sign the bill because it's not only a Ugandan issue, it is an African continent issue…Queer people don't owe anyone anything, but we also deserve to live just like everyone else. You can't strip all our rights. This is a world emergency. – Papa De DeLovie Kwagala, Ugandan LGBTQ rights activist and photographer who attended the protest in Pretoria
In Pretoria, around 100 people were in attendance at the protest, which took place outside the United Nations Information Centre. Activists in Uganda have already begun the fight against this law, and have said that they will continue to fight this law in court under the grounds that it is unconstitutional and a violation of international treaties. 
FEMINIST GIANT is a reader-supported publication. To receive new posts and support my work, consider becoming a free or paid subscriber.
---
Henry Tse and applicants hold placards to protest for a gender change on their identity cards to be processed after winning a landmark court case in February, in Hong Kong, China March 31, 2023. REUTERS/Tyrone Siu Photo via Openly News.
A group of Hong Kong transgender people staged a small protest on Friday against a delay by authorities in changing the gender indicated on their identity documents, saying they have yet to be fully recognised despite a landmark court ruling in February.
The protesters held up placards outside the immigration department in the rain, demanding authorities abide by the legal judgment granting transgender people the right to change the gender marker on their identity cards, without undergoing a full sex reassignment operation.
Such operations are highly intrusive and involve removing sexual organs, with a high risk of serious complications.
The ruling was hailed as a victory for transgender rights in the Chinese-ruled city, making it a more progressive jurisdiction than Asian countries like Singapore, Japan and South Korea.
But Henry Tse, the founder of the group Transgender Equality Hong Kong, who was involved in the protest, said he was still waiting for his identity card to be formally changed to show he is a man.
The government is using administrative tactics to deliberately delay the whole process. - Henry Tse
According to a study conducted by the Sexualities Research Program at the Chinese University of Hong Kong (CUHK) and Transgender Resource Center in 2019-20, half of the city's transgender people faced discrimination and 76.9% of respondents said they had contemplated suicide.
Legal uncertainty will continue to put a huge pressure on this community and affect their mental health. Suen Yiu-tung, an associate professor of gender studies
---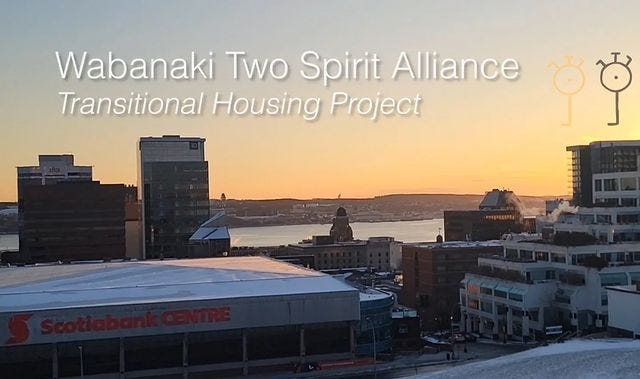 A post shared by Wabanaki Two-Spirit Alliance (
@w2salliance
)
The Wabanaki Two-Spirit Alliance, a local organization in Halifax, Nova Scotia, is creating a transitional housing project for Two-Spirit people living in the area. This initiative is the first of its kind in Canada. 
The organization's founder, John R. Sylliboy (who uses the gender-neutral Mi'kmaw pronoun nek'm), started the project when nek'm discovered that members of their group were facing many personal challenges during the pandemic, one of nek'm major concerns being access to safe and gender-affirming housing. 
The survey was important in that it made Two-Spirit respondents feel like they were being heard for the first time, but it especially made clear the need for safe and affordable housing for the community. – John R. Sylliboy 
The Wabanaki Two-Spirit Alliance secured funding to cover 8-12 individual one-bedroom units and 2-3 two-bedroom individual family units. The goal of this housing project is a pathway for Two-Spirit people in precarious living situations to find stable housing. Sylliboy is hoping that residents will be offered 3-6 month living arrangements, but their stays could be longer or shorter depending on each person's situation. 
We'll work with people attentively on individual levels; everyone has their own journeys and we'll be conscious of that. If someone needs to stay for a longer period of time, for example, we could offer them low-rental options while they get on their feet. – John R. Sylliboy 
In many Canadian urban centres, Indigenous peoples make up 20-50 percent of the homeless population. Two-Spirit people who seek out housing in shelters have reported experiencing discrimination, which forces them to leave and continue a cycle of homelessness and precarity. This housing initiative intends to provide Two-Spirit people with the transitional housing support that they need to ensure stability in their lives. Sylliboy is also hopeful that when open, the shelter will offer cultural activities which will affirm and reinforce a sense of community. 
---
Inaara Merani (she/her) recently completed her Masters degree at the University of Western Ontario, studying Gender, Sexuality, and Women's Studies with a specialization in Transitional Justice. In the upcoming years, she hopes to attend law school, focusing her career in human rights law. 
Inaara is deeply passionate about dismantling patriarchal institutions to ensure women and other marginalized populations have safe and equal access to their rights. She believes in the power of knowledge and learning from others, and hopes to continue to learn from others throughout her career.