Global Roundup: Feminism Fighting Back
Black feminists owning space in Tunisia's #MeToo, a trans women's farm in India, the queer Muslim unpacking "coming out," indigenous environmentalism, and the Pakistani comedian fighting fatphobia
Compiled and written by Samiha Hossain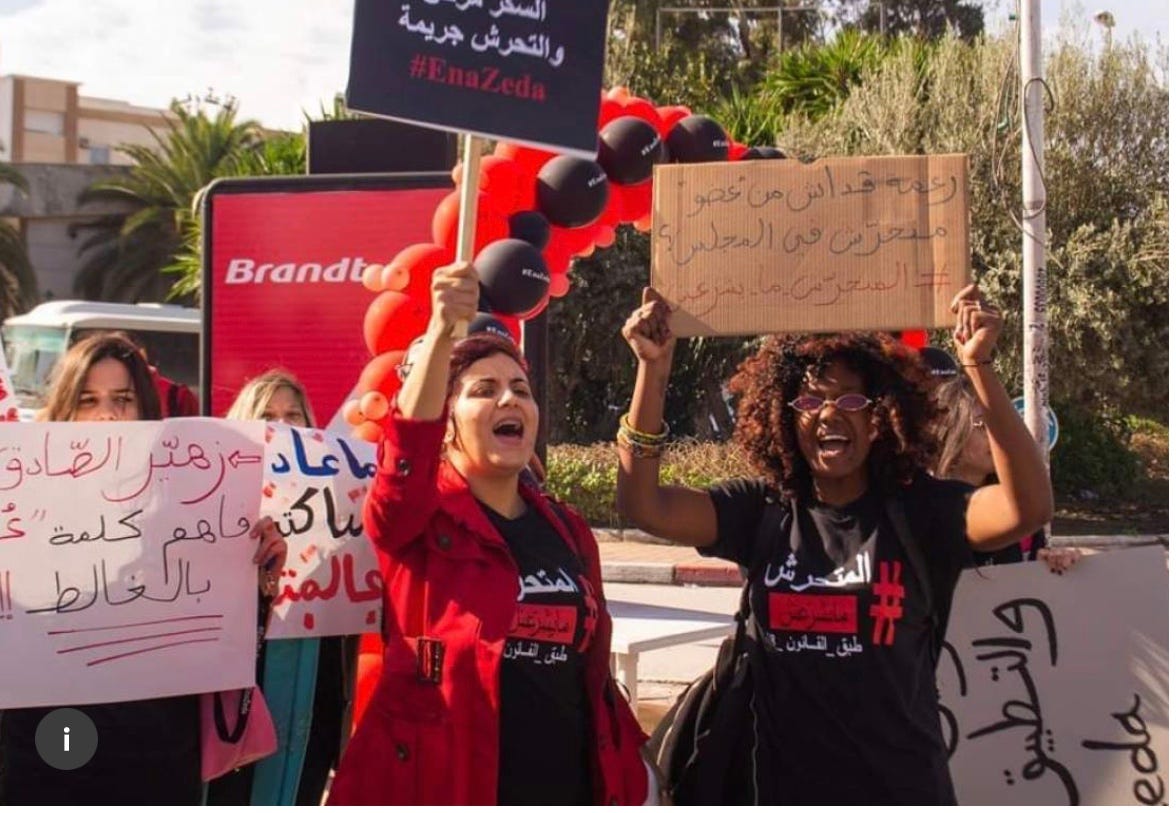 Tunisian activist Khawla Ksiksi (right) holding a poster during an #EnaZeda protest outside parliament on Nov. 14, 2019. Courtesyof Khawla Ksiksi via Thomson Reuters
In Tunisia, women's rights activists started a movement in 2019 called #EnaZeda, which translates to "me too" in Tunisian Arabic. This movement was inspired by the global #MeToo movement that aims to give women a platform to talk about their experiences with sexual violence. However, when Black feminist activist Khawla Ksiksi tried to use #EnaZeda to shed light on the unique ways in which Black women in Tunisia face both sexism and racism, she was met with backlash.
Racism for Tunisians means beating or killing a Black person - anything else is not considered racism - Khawla Ksiksi
When another Black activist documented her experiences with racism in Tunisia in an #EnaZeda Facebook group, she was accused of playing the victim and was told racism does not exist in Tunisia. Tunisians' resistance towards the fact that racism does in fact exist in their country does not make it untrue. Black Tunisian women experience unequal job prospects and the media often portrays racist beauty ideals. Furthermore, Khawla talks about how Black Tunisians are subject to harassers waving money at them from their cars, as Black women are thought of as easy to get. 
To combat these issues, Khawla co-founded the Voices of Black Tunisian Women, a feminist collective that "provides a safe space for Black women to share their experiences of everyday harassment and to discuss beauty standards and the country's legacy of slavery". Khawla is insistent that Black women must take up space in #EnaZeda and that they are vital to social movements.
Considering that Black American activist Tarana Burke coined the phrase "Me Too" in 2006 to support marginalized women of colour from low-income communities who have experienced sexual assault, it is ironic that Black Tunisians are being silenced in #EnaZeda. Then again, Burke's work did not gain much traction at the time and was co-opted and popularized in 2017 by white celebrities - so maybe it is actually not that ironic. If we want liberation for all women, we need to complicate our movements with an intersectional approach and centre those with lived experiences of multiple systems of oppression.
———————————-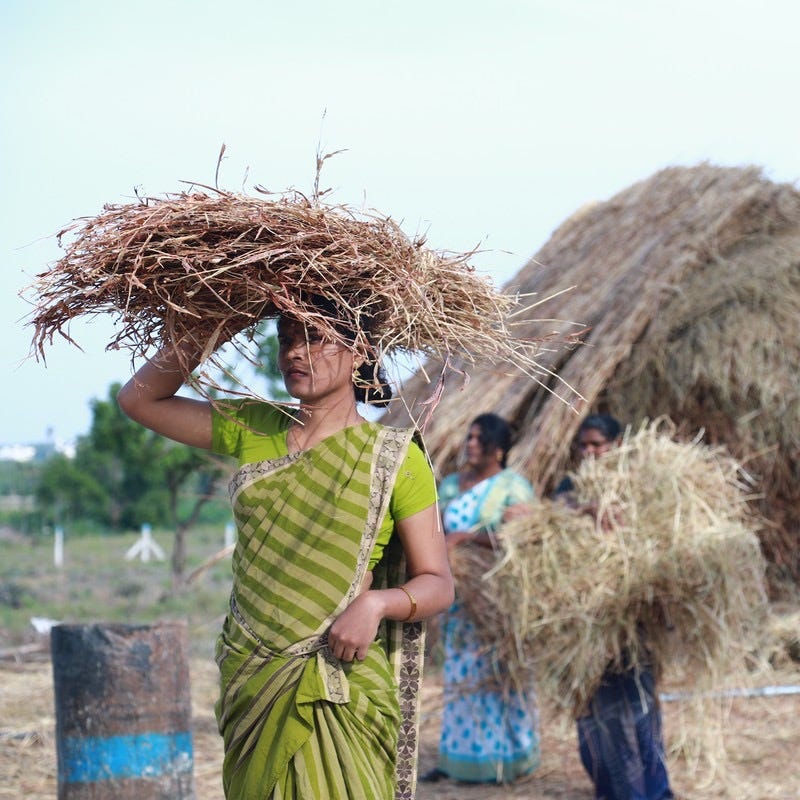 COURTESY OF THOOTHUKUDI DISTRICT COLLECTOR'S OFFICE via Vice
In the Indian city of Kovilpatti, there is a small town called Sandeep Nagar. This small town has made history recently as the first town in India for housing transgender people and providing them with employment opportunities. Currently, it is a milk farmer's society where residents sell milk to the state milk company. 
Grace Banu, a transgender activist, and her organzation Trans Rights Now Collective, spent years campaigning for her vision to become a reality. When Sandeep Nagar was appointed as district magistrate and chief administrator of the area, he ensured Grace's vision came to life very quickly. The women were thrilled with Nagar's support and enthusiasm and therefore decided to name the town after him.
In India, transgender people face various forms of systemic marginalization. According to a 2018 National Human Rights Commission report, 92% of transgender people in India are excluded from sanctioned economic activities. Furthermore, transgender people face barriers to stable housing, welfare access and completing school. Not only does the state create these conditions, individuals also bully and abuse transgender people.
I don't feel cut off from Kovilpatti. I am relieved that no one can drive me out of here, like landlords did when I lived in rented homes. This is my home, registered under my name - Bhoomika, president of the cooperative
Grace plans to incorporate other businesses in Sandeep Nagar as well. She will also be creating a skill development centre where women can finish their education, take computer courses and learn tailoring. Ultimately, she would like to see this model of a town scaled up and replicated across India.
Trans people, activists and myself envision a world where trans people can roam freely  anywhere they wish while expressing their authentic selves - a place with no housing or employment discrimination, no harassment, no abuse, no shame. It is still inspiring to see trans women working together to collectivity create an environment where they can thrive.
----------------------------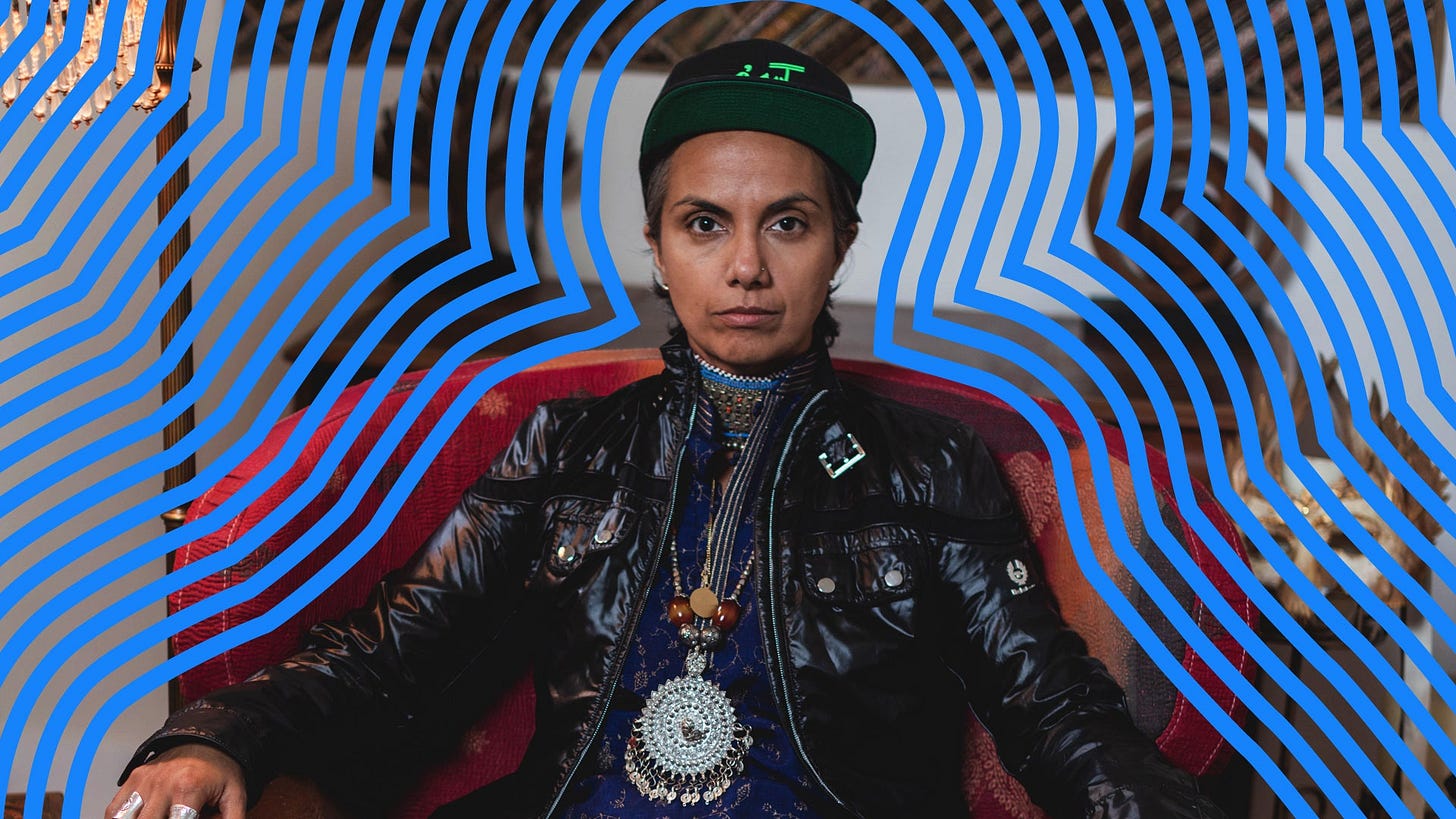 Photo: Ernesto Borges via them.com
Fawzia Mirza is a Muslim Pakistani writer and filmmaker. In a recent interview series for National Coming Out Day on October 11th, she discusses what coming out means to her and queerness for South Asians.
No one's situation is the same. Just because I'm out and can talk about it doesn't mean 10 years ago, I could. There's plenty of people who can't. It's not safe for them to - Fawzia Mirza
Fawzia knows the notion of coming out is a staple in the mainstream Westernized queer narrative. However, for her, there is no language to even express her queer identity to her mother, as it is a culture where topics such as sex and relationships are not openly discussed. Fawzia also recognizes that queer culture exists in Asian history, but has been erased and marginalized through colonization. She uses her art to navigate her pain of not being accepted by her mother, grappling with her multiple identities and how the "trauma of the land" influences how South Asians view queer people. 
While coming out is important for many queer people, not being out does not make a person any less queer. They are just as valid. Some people are unable to come out and some cultures don't even have the concept of coming out - it is not something central or important to them. Queerness also looks different in various communities and deviates from the white queer we typically see represented. Fawzia makes it clear that we need to have multiple queer realities represented in media. Her work is a great example of the power of storytelling from those whose narratives are rarely told. 
--------------------------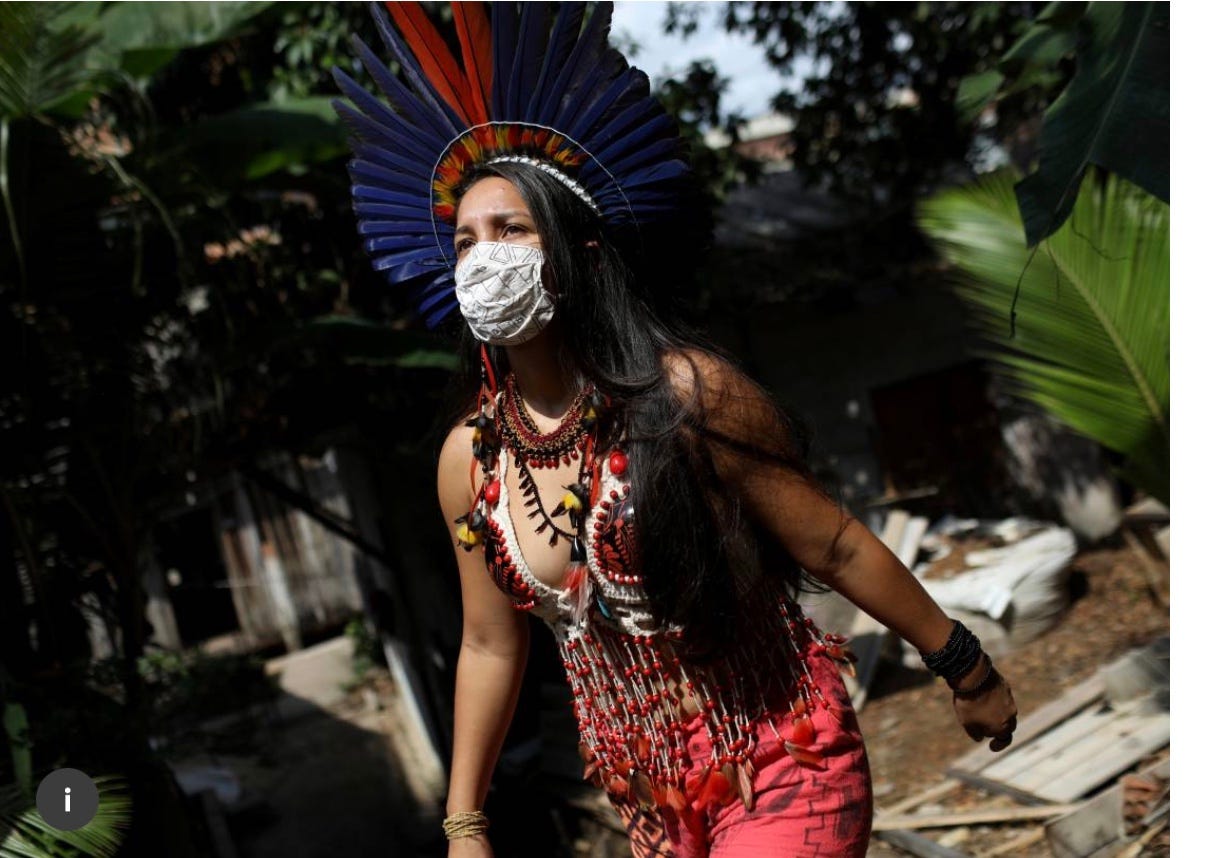 Samela Satere-Mawe, a 24-year-old biology student and Indigenous activist walks near her home, which is also the headquarters of the Satere Mawe WomenÕs Association in the Compensa neighborhood in Manaus, Amazonas state, Brazil, October 2, 2020. REUTERS/Bruno Kelly via Thomson Reuters
Samela Sateré-Mawé is a 24-year-old biology student and Indigenous activist passionate about preserving the land of her people. She says that the Sateré-Mawé, whose ancestral land is by the rivers of the Amazon, have been doing for centuries what we now call "environmental activism". Her activism is rooted in Amazon Indigenous culture. Before Samela was born, her parents had to move to urban areas due to illnesses brought by European outsiders and their intrusion on the forests, as was the case for 13,350 Sateré-Mawé as well.
Brazilian President Jair Bolsonaro has reduced environmental protection policies, which has led to illegal gold miners and loggers invading indigenous reservations. Furthermore, fires started to clear land for cattle and farming in the dry season were at a ten-year high earlier this year. Samela is worried about the future of the forests and believes that Indigenous peoples are best suited to protect it because "they depend on its biodiversity to survive and are not motivated by greed driving environmental destruction". 
Capitalism, colonialism and patriarchal fuckery will burn this planet to the ground if left unchecked. Young activists like Samela are vital for calling out these systems that threaten the forest and raising awareness for environmental issues. We need to listen to and support women like Samela and push for Indigenous peoples taking leadership in protecting their land. 
-------------------------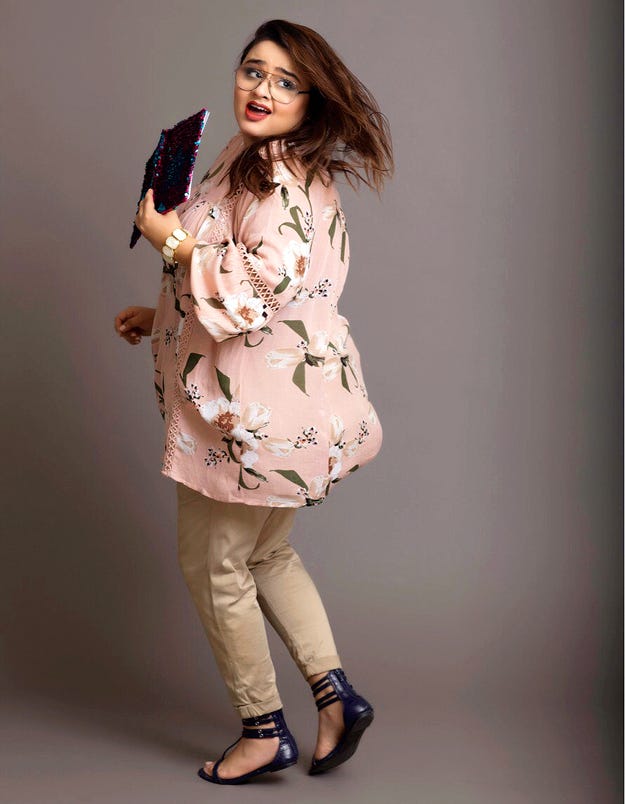 Photo via The Express Tribune
Who says social activism can't have some humour? Certainly not Faiza Saleem, who is a comedian and Pakistan's first female social media entertainer. She posts skits on the social media platforms Youtube, Facebook and Instagram, which are viewed by hundreds of thousands of people. She uses her skits to promote body positivity and contest common stereotypes about women. 
Some of my favourite videos of hers are ones where she pokes fun at diet culture and one about common things unmarried South Asian women hear including criticism if they wear too much makeup and negative comments on raising children at an older age. Faiza is an expert at getting into character and knows how to elicit laughs from her comical depiction of scenarios many South Asian women are all too familiar with.
Female comedians can make you laugh at their jokes, but they don't have to be the joke -Faiza Saleem
Faiza has challenged the male-dominated field of comedy by founding Pakistan's first female comedy troupe, the Khawatoons. The other young women in the Khawatoons say Faiza has empowered them to pursue their passion for comedy. 
In times when I feel overwhelmed by everything going on in the world, I can look to women like Faiza and remind myself that it is okay to laugh and that there is resistance through creative ways of expression. There is power to be had from that kind of resistance in a society that profits off of our pain and misery. 
—————————-
Samiha Hossain (she/her) is a student at the University of Ottawa. She also works with survivors of sexual violence in her community from an anti-oppressive and trauma-informed perspective. A lot of her time is spent learning about and critically engaging with intersectional feminism, transformative justice and disability justice. 
Samiha firmly believes in the power of connecting with people and listening to their stories to create solidarity and heal as a community. She refuses to let anyone thwart her imagination when it comes to envisioning a radically different future full of care webs, nurturance and collective liberation.