Discover more from FEMINIST GIANT
Global feminist resistance to patriarchal fuckery
Global Roundup: Feminist Protests in Poland, Feminist Talk Show in South Africa, and Feminist Lessons from Indigenous Women
Compiled and written by Sahra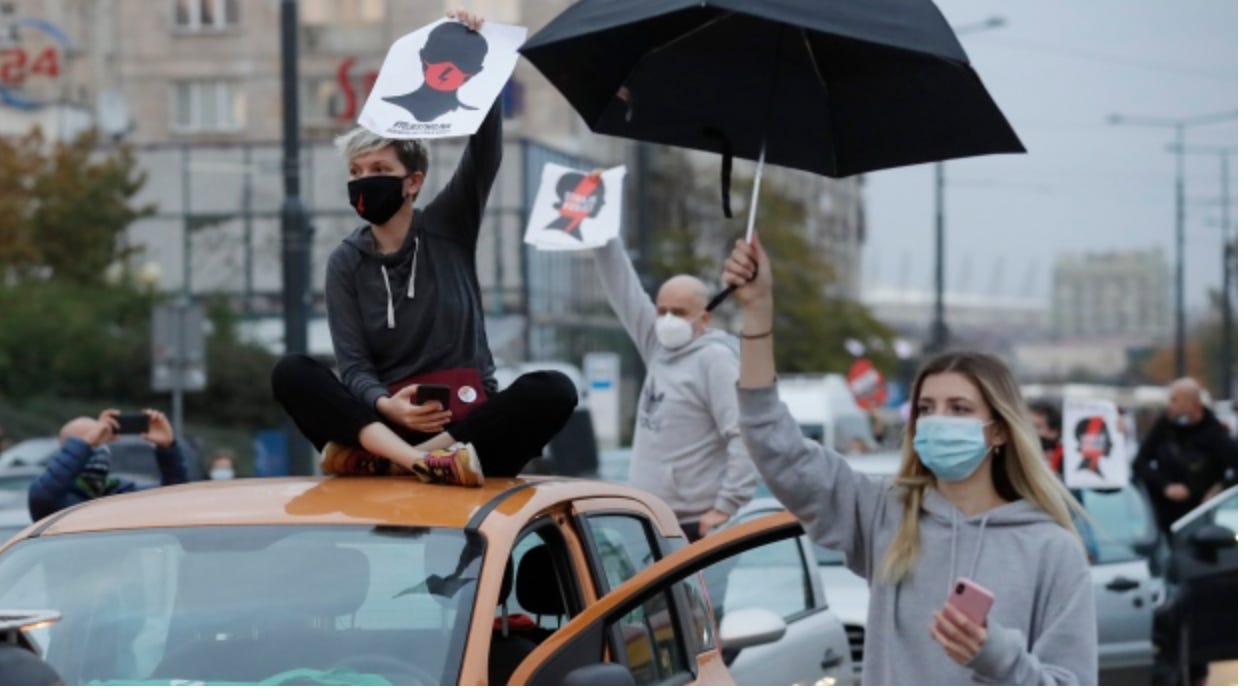 Angered women's rights activists and their supporters block rush-hour traffic at a major roundabout on the fifth day of nationwide protests against recent court ruling that tightened further Poland's restrictive abortion law, in Warsaw, Poland, on Monday, Oct. 26, 2020. The court effectively banned almost all abortions. (AP Photo/Czarek Sokolowski) via cp24.com
Women in Poland continue to protest a recent top court ruling that bans nearly all abortions. This Monday marked the fifth day of ongoing protests against this new ruling which has rightfully caused public outrage. Women's rights activists and supporters across the country have taken to the streets using drums, firecrackers and blocking rush hour traffic to actively demonstrate their resistance to further restrictions on abortion.
On Thursday the constitutional tribunal ruled it unconstitutional to terminate a pregnancy due to congenital defects. What this means for women in Poland is that now abortions are legal only in the cases of rape, incest or if the pregnancy threatens the health of the mother. The ruling overturns the 1993 law that was at the time considered to be one of Europe's strictest abortion law.
Many gynecologists criticize the ban saying that it will lead to an increase in illegal abortions which are unsafe. They say that better sex education and access to contraceptives is a better way to decrease abortion rates. The health ministry data shows that in 2019, there were 1,110 legal abortions in Poland. The non-governmental Federation for Women and Family in Poland estimates that the number of illegal abortion ranges between 100,000-150,000 per year, which is bound to increase after the new ruling.
The Women's Strike group says forcing women to carry out pregnancies that involve fetuses with severe defects will cause unnecessary physical and mental suffering. They plan to continue protesting across 50 cities in Poland.
—————————-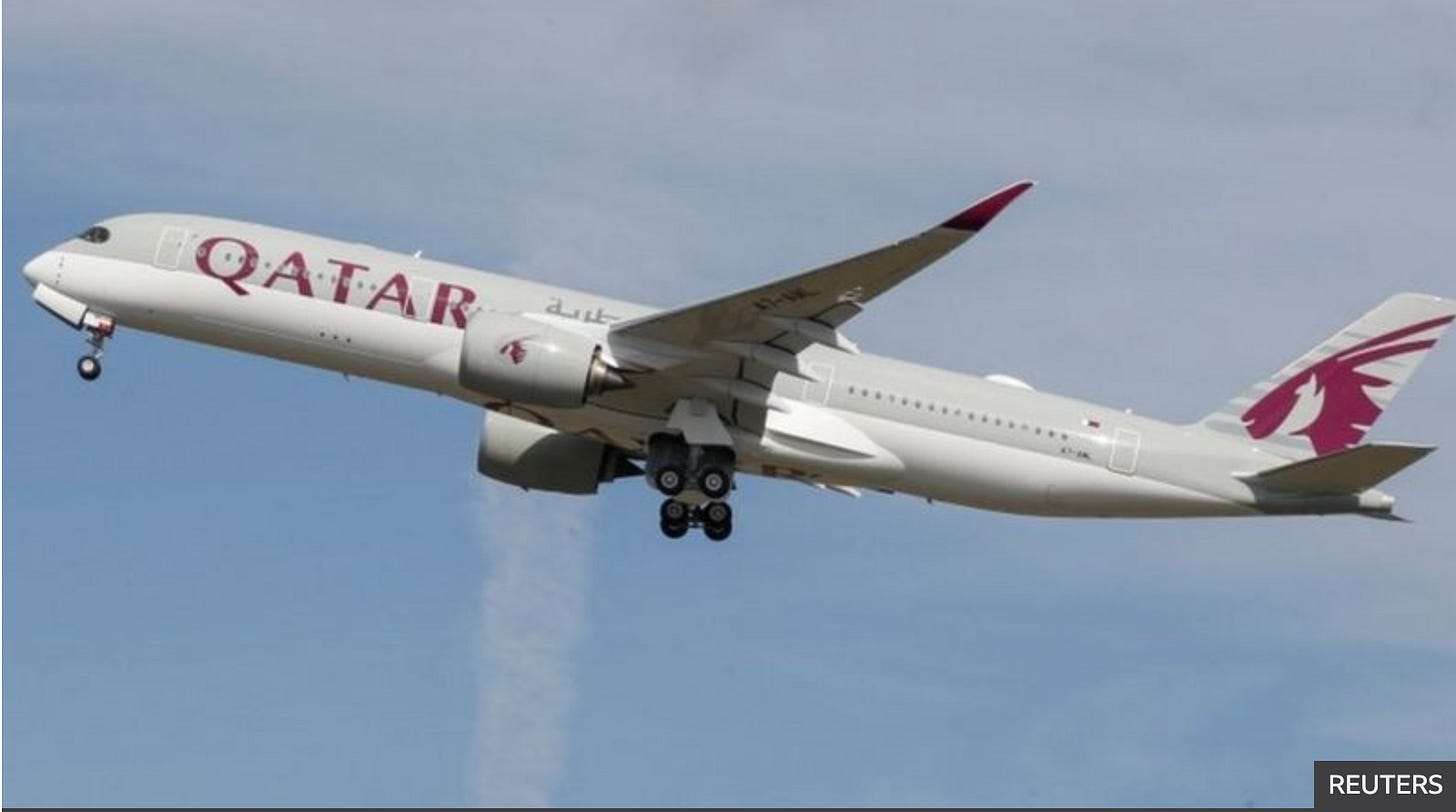 Female passengers were strip-searched and subjected to medical exams at Doha airport after a baby was found via bbc.com
Qatar has launched an investigation after women booked on 10 flights traveling through Hamad airport were subjected to invasive strip searches to check whether they had given birth after a newborn baby was found in a plastic bag in a trash can at the airport on October 2. Qatar said the baby girl was safe and in medical care.
Australian officials said 13 of its citizens and five women from other countries were taken off one plane traveling from Doha to Sydney, but not all were ultimately examined. The nationalities of the other women has not been revealed.
Australian media reported the women were taken to an ambulance on the tarmac and told to remove their underwear before being examined. Many women were distressed afterwards and had to receive health support from the Australian government.
The Australian foreign ministry said that the situation was "beyond the circumstances in which women could give free and informed consent". Australia has referred the case to federal police and is working with Qatar and other countries whose citizens were impacted. As for Qatar, they said they were sorry for any distress or infringement on personal freedoms of travelers that the searches caused. In other words, they are sorry about the impact of their actions but not sorry about the action itself.
—————————-

Image via Feminism in India
Recently a video detailing some of the explicit unsolicited direct messages (DMs) women get went viral on Instagram. The video was taken and posted by a young woman who shared her reaction to a series of screenshots from a man. The screenshots detailed continuous and unsolicited sexually explicit messages directed to the young women. Her response to the messages as demonstrated by the video was to email his school and text his friends, using a combination of shame and accountability to highlight the issue and to stop the messages.
Within weeks of the video being posted it reached 6.6 million views, sparking a bigger conversation about the issue. However, some took it as a moment to victim blame and shame the young woman for her decision to publicly shame the man and to share his information/profile.
Her response was clear:
His mother can raise him. His school can raise him. His father can raise him. But that's how they decided to raise him. I will not be raising other people's children.
It was just one of many examples of women using social media to publicly out and shame perpetrators of unsolicited sexually explicit messages and also of the pushback they face from those who seek to uphold the patriarchy. Women have the right to fight back!
——————————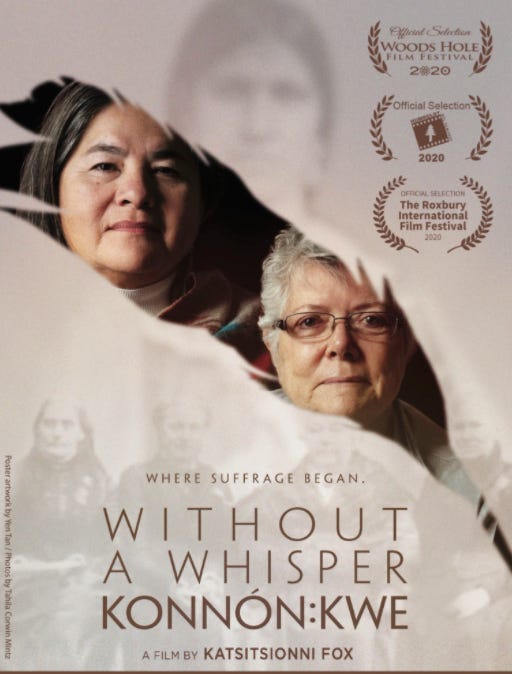 This summer marked the 100th anniversary of white women gaining the right to vote in the USA. A new documentary detailing the influence of Indigenous women on the early leaders of the women's suffrage movement has been released to coincide with the anniversary. The short film was directed by filmmaker and educator Katsitsionni Fox who resides in the Mohawk territory of Akwesasne. It highlights the unexamined role of Indigenous women, who are often erased from history.
The film recounts that when the early suffragists were looking for examples of a society based on gender equality, they turned for inspiration to Haudenosaunee women for inspiration. The Haudenosaunee are matrilineal societies, which contrasts with the patrilineal society of Europeans. While European women had little to no political and social rights, Haudenosaunee women owned property and held leadership positions in their communities. Fox hopes that this film will change how we look at Indigenous women in North America today as well as at their historical - and overlooked - role in women's fight for equality.
————————
South Africa has its very first feminist TV talk show. Called It's a Feminist Thing, it is produced by the Soul City Institute for Social Justice. and will begin airing on Nov. 1. Watch the promo!
—————————————
Sahra is currently pursuing her undergrad in Sociology, Feminism and Gender studies. She plans to redefine the terms of life to suit her needs and those around her by challenging the patriarchy and other oppressive systems that shape our world. She loves to paint, laugh and spend time with her loved ones.