Discover more from FEMINIST GIANT
Global feminist resistance to patriarchal fuckery
Global Roundup: Fighting patriarchy in Namibia, Nigeria, Bangladesh, Egypt, USA
Compiled and written by Inaara Merani
cw: sexual assault, rape, domestic violence
Young people in Namibia took to the streets and social media to protest sexual and gender-based violence (SGBV) after a body was found that is believed to be of a woman missing since April. According to the Namibian Police Force 1604 rape cases were reported in the country during January 2019 - June 2020. In other words, three rape cases were reported to the Namibian police every day for 18 months. And that's just the reported cases. Many cases of rape are unreported. The hashtag #ShutItAllDown was created to stand in solidarity with victims and bring awareness to the increasing numbers of SGBV cases.
The #ShutItAllDown protests coincided with young people in Nigeria rising up to demand #ENDSARS #SARSMustEnd, in a campaign against police brutality. The protests targeted the Special Anti-Robbery Squad which young people in the country say particularly profiles and targets them. Feminist and queer participation in the #SARSMustEnd protests was, Nigerian activists say, a reminder of the intersectionality of oppression as well as the pushback necessary to fight it. Police brutality is one of the many manifestations of patriarchal violence.
The incredible support between the two nations, each seeking justice for their own causes but recognizing the events occurring in the other, is a reminder of the intersectionality of anti-patriarchal resistance. The support is amazing, but the fight is not over. Violence against women and girls is too prevalent all over the world. It is time to #ShutItAllDown.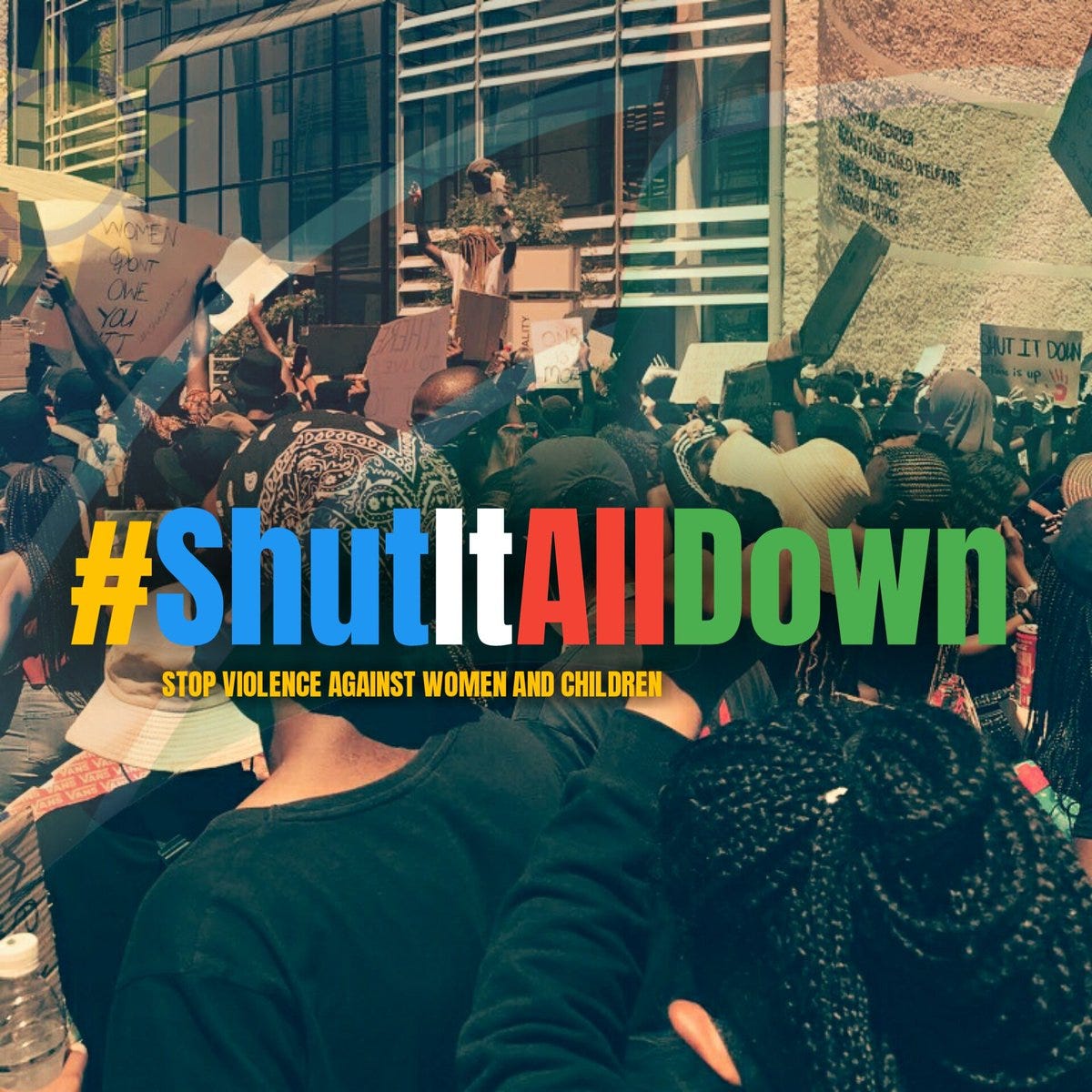 ——————————
Democratic Presidential candidate and former Vice President Joe Biden and President Donald Trump participate in the first presidential debate, Sept. 29, 2020, in Cleveland. AFP/Getty Images via ABC.com
Anyone who watched the first US presidential debate on September 29th would probably say that it was a complete and utter shitshow. Former Vice President Biden and President Trump argued with each other like children would! After the debate and the conversation that followed, it is difficult not to notice the toxic masculinity that took centre stage at the debates.
Because men have always been president and because presidential candidates have overwhelmingly been men, that means men — more specifically, cis white men — are still the default in American politics. That can obscure how much of a role masculinity plays in American political discourse - As Danielle Kurtzleben, NPR.
To understand the "power game directly related to the gender of both opponents," imagine what would have happened if the presidential candidates were both women who debated the way Trump and Biden did.
If a woman behaved the way President Trump behaved, she would probably be referred to as the B-word…The perception [and] optics of a woman being forceful is offensive to some people…I don't agree with that, but that's the way the mind of some voters happens to work - Alice Stewart, a CNN commentator who worked on Texas Republican Sen. Ted Cruz's 2016 presidential campaign and former Minnesota Republican Rep. Michele Bachmann's 2012 campaign.
If two women debated in the same manner as Vice President Biden and President Trump, they would be ridiculed for letting their emotions get in the way of the debate. But when two white men yell and scream like children, the world just says "boys will be boys." 
In a reminder that real life is sometimes so absurd that it's easy to read satire as the truth, the satirical site Reductress "reported" a study that found that Vice President Biden was interrupted almost as much as an average woman in a meeting. It's so close to the truth and another reminder of how absurd patriarchy can be! In the workplace, women are constantly silenced and yet when they fight back or complain they are accused of being emotional, irrational and inferior beings.
———————————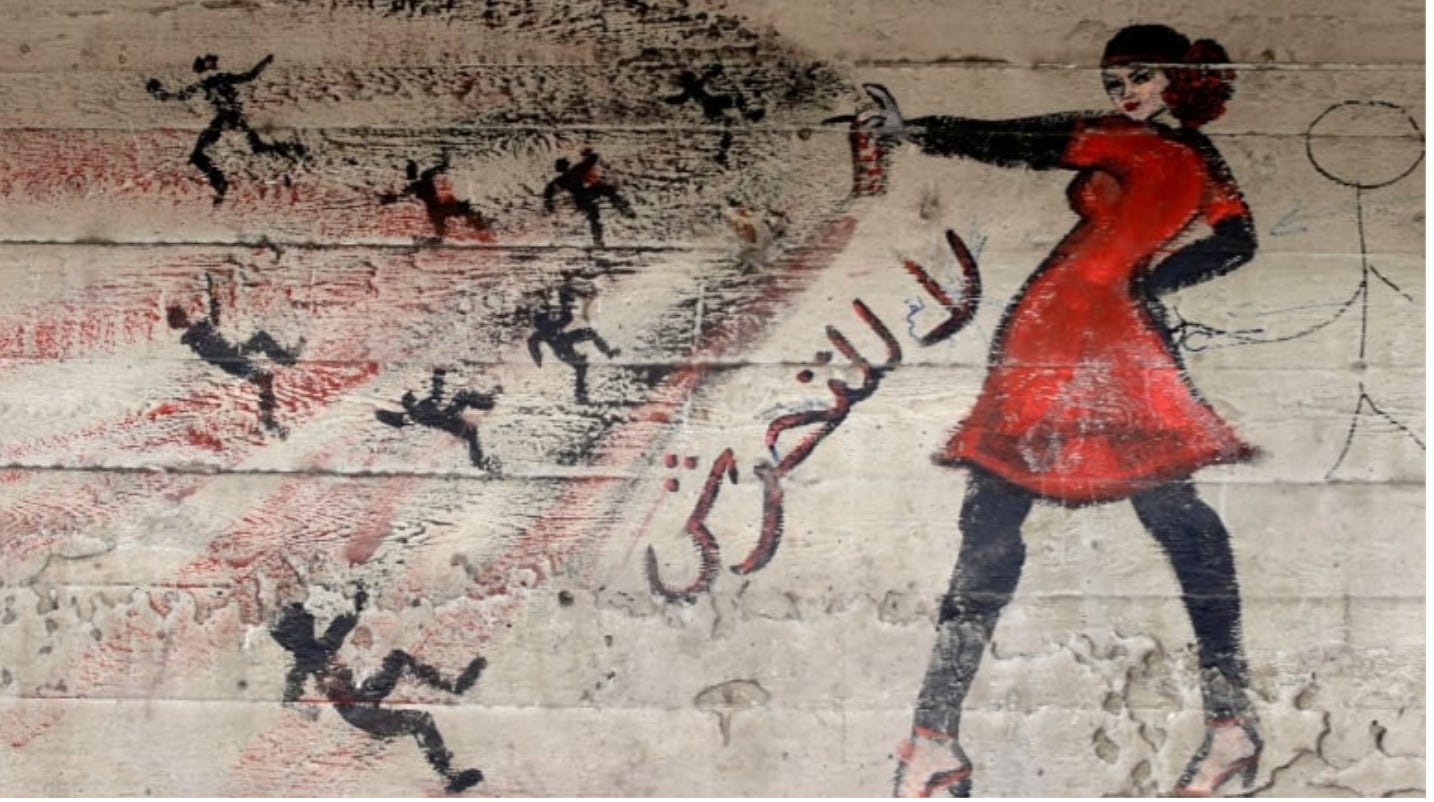 A mural that reads 'no harassment' in Arabic is seen on a wall in Cairo, Egypt, in May 2013. A United Nations survey that year found that 99 per cent of Egyptian women polled said they'd experienced some form of sexual harassment. Women in Egypt today say not much has changed. (Hassan Ammar/The Associated Press) via CBC.com
Over the summer, hundreds of Egyptian women turned to social media to call out their abusers and rapists. Mozn Hassan, head of the women's rights organization Nazra for Feminist Studies, noted that social media offers a safe and public sphere where women can come together and share their stories. The surge of posts on social media has led to open investigations regarding two men from wealthy and influential families. In July, Ahmed Bassem Zaki was accused of raping multiple women, as well as blackmailing them for sexual favours; his trial began on Saturday. The movement is ongoing and societal change is beginning to take place in a conservative country where the patriarchy always takes precedence. It is time to say fuck the patriarchy!
And enough victim blaming! Predators are able to hide in a society where victims of sexual harassment and violence have long been blamed and shamed into silence.
It will be like, oh, he's bad, but you're also wrong…And goodness, you don't want to be wrong and a woman in the Middle East because you're not forgiven for being wrong. It's like you don't make mistakes. You're born a mistake. And that's really it - Sabah Khodir, an Egyptian writer and poet.
——————————-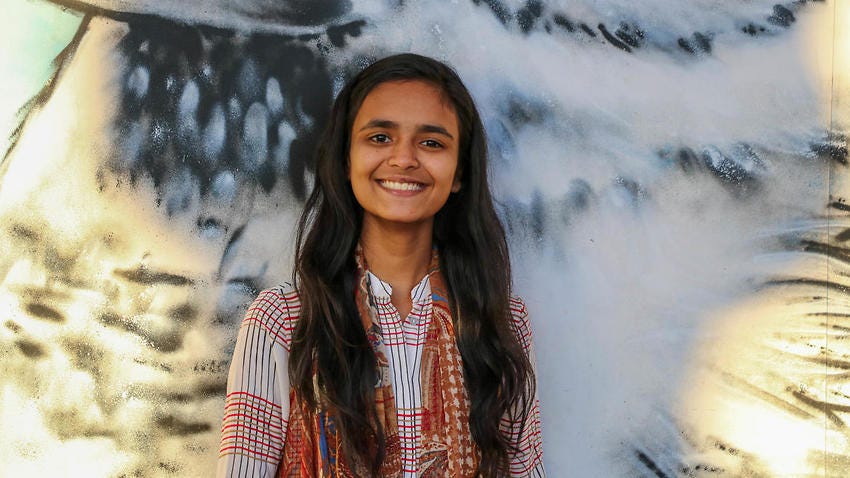 Dola Akter Reba's mum was married when she was 13. Source: World Vision
Dola Akter Reba was only 12 years old when matchmakers in her community approached her family and told them that she would make a good wife. Her own mother was married when she was 13 to a man eight years her senior. Now 16, Dola is working with World Vision to advocate for an end to violence against children. Over the past two years, the group has stopped more than 600 child marriages by working closely with communities in Bangladesh to prevent child marriages. Dola, and many others, are paving the way for the future. It is imperative that young people get involved in the movement.
We, as children, engage in actions to end child marriage because we know other children's pain and how much they suffer. When a child gets married under the age of 18, they face many challenges including increased risk of child and mother mortality, school dropout, domestic violence and abuse - Dola Akter Reba 
It is not uncommon for children around the world to get married when they are under the age of 18. According to the United Nations Family Planning Association, 23 girls under 18 are married every minute and 13 million child marriages will likely take place over the next decade because of the economic impacts of COVID-19. This is an astounding number. It is difficult to know that families marry their children off at young age in order to survive poverty. Click here to learn more about what teen activists and World Vision are doing to eradicate child marriage in Bangladesh.
——————————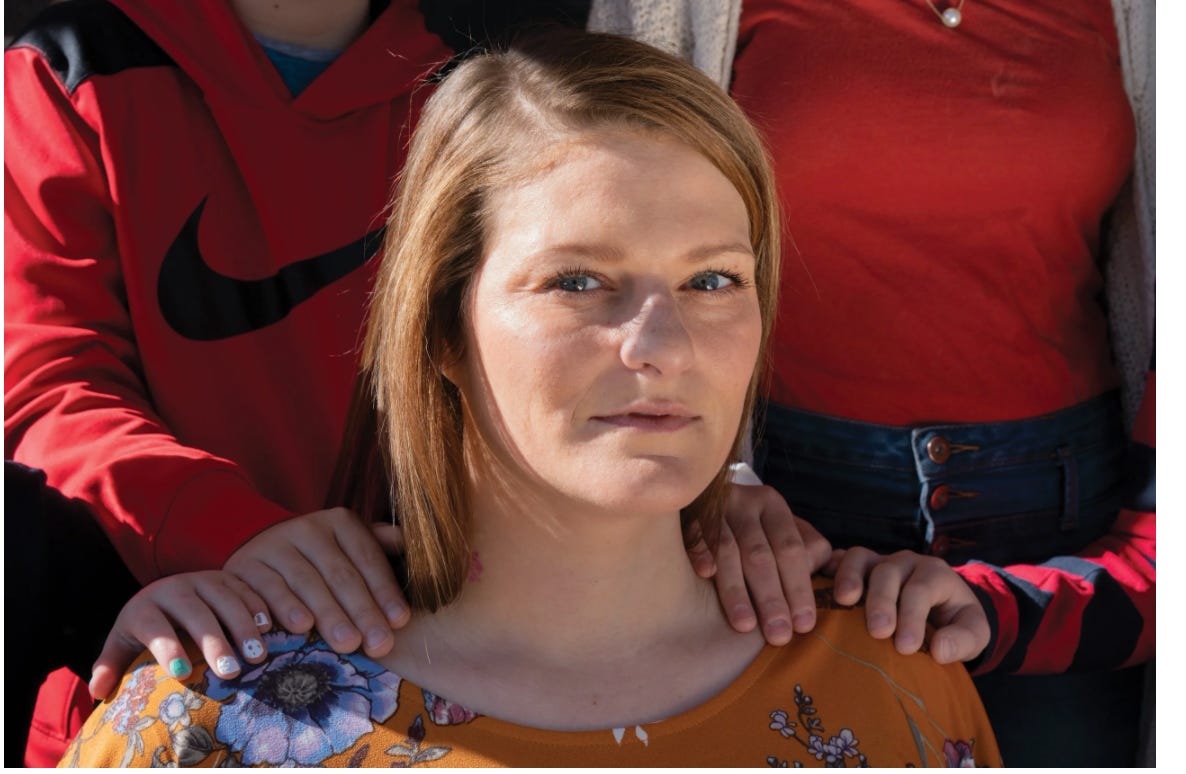 Brittany Smith who pleaded guilty to murdering her rapist was sentenced to 20 years in prison of which she will serve 7 months. Photograph by Nydia Blas for The New Yorker
cw: sexual assault, rape, domestic violence
Brittany Smith, a woman in Alabama who pleaded guilty to murdering her rapist has been sentenced to 20 years in prison, of which she will serve seven months. She pleaded guilty to murder a month before her trial was due to start. If she had been convicted she faced life in prison.
This case has sparked a lot of debate in the US around a woman's right to fight back against violence. Fighting against a rapist or an abuser is legal self-defense, but then why are so many women convicted of murder for fighting back? How is it okay to give women decades in prison for fighting back against an abuser, when her abuser probably would have received little to no time in prison?
According to The New Yorker, the man who raped Brittany had been arrested eighty times, at least six times for domestic violence, prior to assaulting her.
The system is completely unjust and continues to work against women. This notion of inequality is present is almost every case involving gender-based violence and/or sexual assault. Women are the fastest growing segment of the incarcerated population in the United States. According to the ACLU as many as 90 percent of the women who are incarcerated for killing a man were battered by that same person and 79 percent of those in prison have suffered physical abuse before their arrest.
Men will always get away with it whereas women will face the consequences. Whether they are facing time in prison for killing their abuser, or living with the emotional trauma of their assault, women will always be at a disadvantage and are never be treated equally. 
Race, class and gender are always factors. While the United States is one of the top incarcerators of women, the rate of imprisonment of Black women is twice that of white women. And the Vera Institute of Justice explain in a report that two thirds of the women in jail are of colour, and the majority of that population are also low-income.
Patriarchy uses many oppressions to abuse women and just as many to punish them for fighting back.
——————————
Inaara Merani (she/her) is a fourth-year undergraduate student at the University of Ottawa studying International Development and Globalization with a minor in Women's Studies. She is a Muslim Canadian who is passionate about human rights, social justice and feminism. She is deeply interested in destroying the patriarchy and ensuring that all women have safe and equal access to all their rights. She hopes to pursue a career in law so she can fight for women's rights! She also enjoys reading, travelling and spending time with her beautiful cat.