Discover more from FEMINIST GIANT
Global feminist resistance to patriarchal fuckery
Global Roundup: Fighting to end racist and fatphobic nudity policies, witch hunting, and transphobia at the polls
Compiled and written by Miriam Batal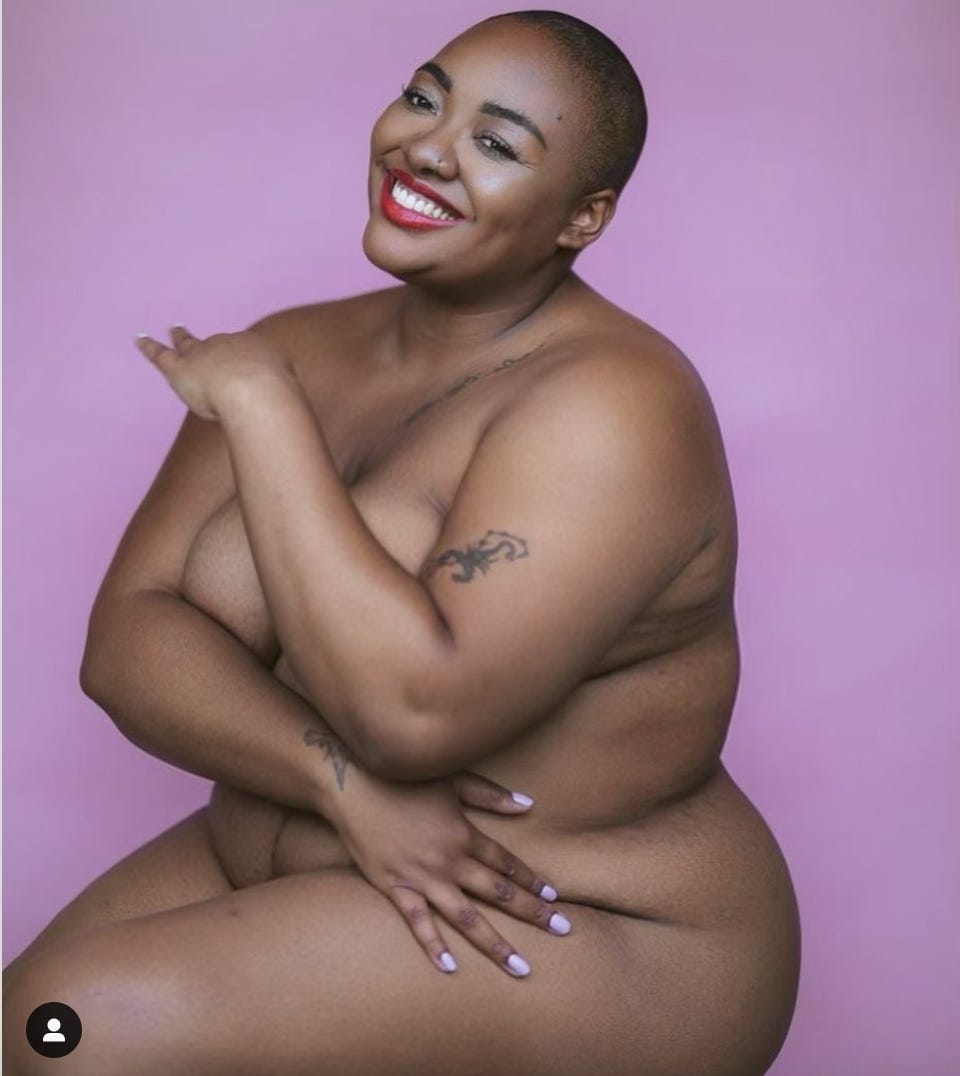 @curvynyome via instagram
CW: This article contains fatphobia. This can be upsetting or triggering for folks who might have directly or indirectly been affected. If ever you feel the need to reach out, please do and know that you are strong.
At the end of July 2020, model and influencer Nyome Nicholas-Williams (Please follow her, if you haven't already. Her content is amazing!) was approached by photographer Alex Cameron to work on a photo collection. Not a nude photo shoot, not a provocative photo shoot, nor a photo shoot designed to illustrate a clear statement.
You probably guessed what happened next. The posts despite being beautiful and not "pornographic" were removed. Both Nicholas-Williams and Cameron were threatened with account deletion after attempting to repost the photos, which are not quite as graphic as the imagery on the Playboy Instagram feed, or any number of the pictures shared on different Kardashians/Jenners' pages. Cameron approached her friend Gina Martin, badass feminist who famously fought to make upskirting illegal in the UK, noticing that similar photos of thin white bodies were not suffering from the same censorship.
People always talk about uplifting each other and supporting each other, but when it comes to standing behind women who aren't being listened to, we don't want to be the ones to speak out. Especially white women. We are so good at staying quiet when it comes to racial bias we're seeing, and after hearing about what was happening to Nyome, I thought, 'What do I have this platform for if not to raise awareness?' – Gina Martin
The #IWantToSeeNyome initiative emerged out of the discussion. Martin asked her fans to follow Nicholas-Williams and, alongside the hashtag #IWantToSeeNyome, to flood Instagram with the photos. The aim was to catch the interest of Instagram and urge a shift in their modesty policies over their double censorship standard for semi-nude bodies.
Currently, the hashtag has over 1,000 posts and has captured the attention of the Instagram team, as well as the global press and the general public, as intended. A campaign against the photos of Nicholas-Williams became a protest fighting online for the liberation and acceptanc e of Black, plus-size bodies.
People need to keep speaking up for fat Black women, and fat women in general, and to keep this conversation going. Because it's not just a today issue – we have to live in our bodies every day, and we encounter struggles due to it every day. Bigger changes need to be made to stop fatphobia from happening at all. – Nyome Nicholas-Williams
The photos have since been "allowed" back onto Instagram. And they are worth the likes and the shares. WE NEED TO NORMALIZE ALL TYPES OF BODIES. THIS SHOULDN'T BE UP FOR DEBATE AND OR CENSORSHIP.
—————————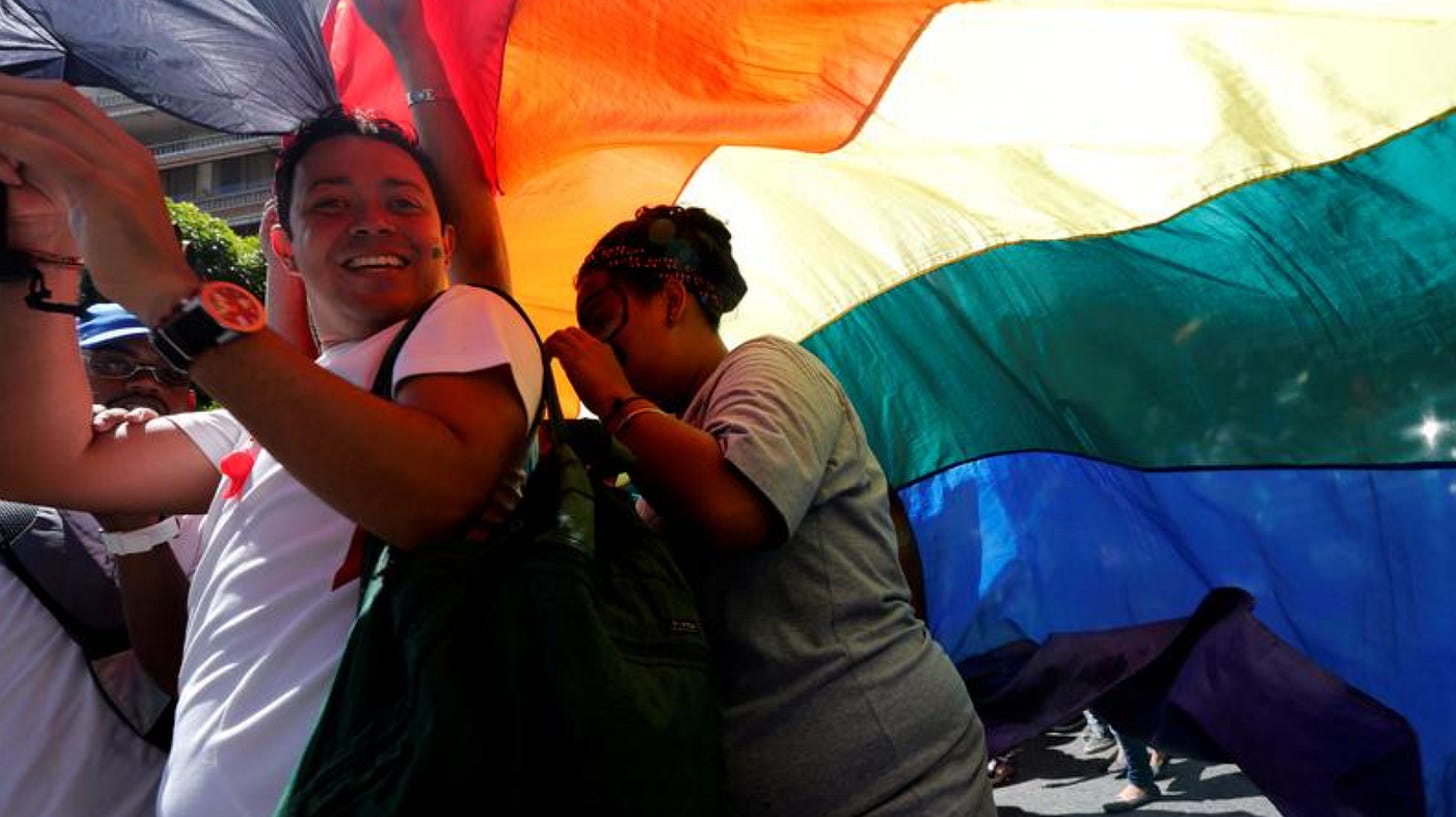 FILE PHOTO: Revellers smile as they hold a giant rainbow during the gay pride parade in Caracas, Venezuela July 3, 2016. REUTERS/Carlos Jasso/File Photo
Venezuelan President Nicolas Maduro urged the National Assembly on October 22 to consider the passage of a bill on marriage equality as the legislature convenes in January for its next term. This follows the Pope's comments supporting civil unions (about fucking time). Quick side note, I wonder what super religious folks will say now. Since the Pope (aka the "embodiment" of Christ) approved same-sex marriage. I don't know about you, but this will definitely be interesting.
I have friends and acquaintances who are very happy with what the Pope said yesterday - President Maduro
At the moment, Venezuela's LGBTQ+ community has relatively little rights and protections on a national scale. A constitutional amendment passed in 1999 describes marriage as "between a man and a woman," and it is also illegal for same-sex partners to adopt children. Conversion therapy is legal, and workplace discrimination regulation in the country only applies to sexual orientation, not gender identity.
The Pope's landmark acceptance of civil unions was the first time a pontiff has voiced support for LGBTQ+ relationship recognition. Argentina, Brazil, Colombia, Ecuador, and Uruguay have marriage equality and Chile is preparing to finally make progress on its long-delayed marriage equality bill,
—————————-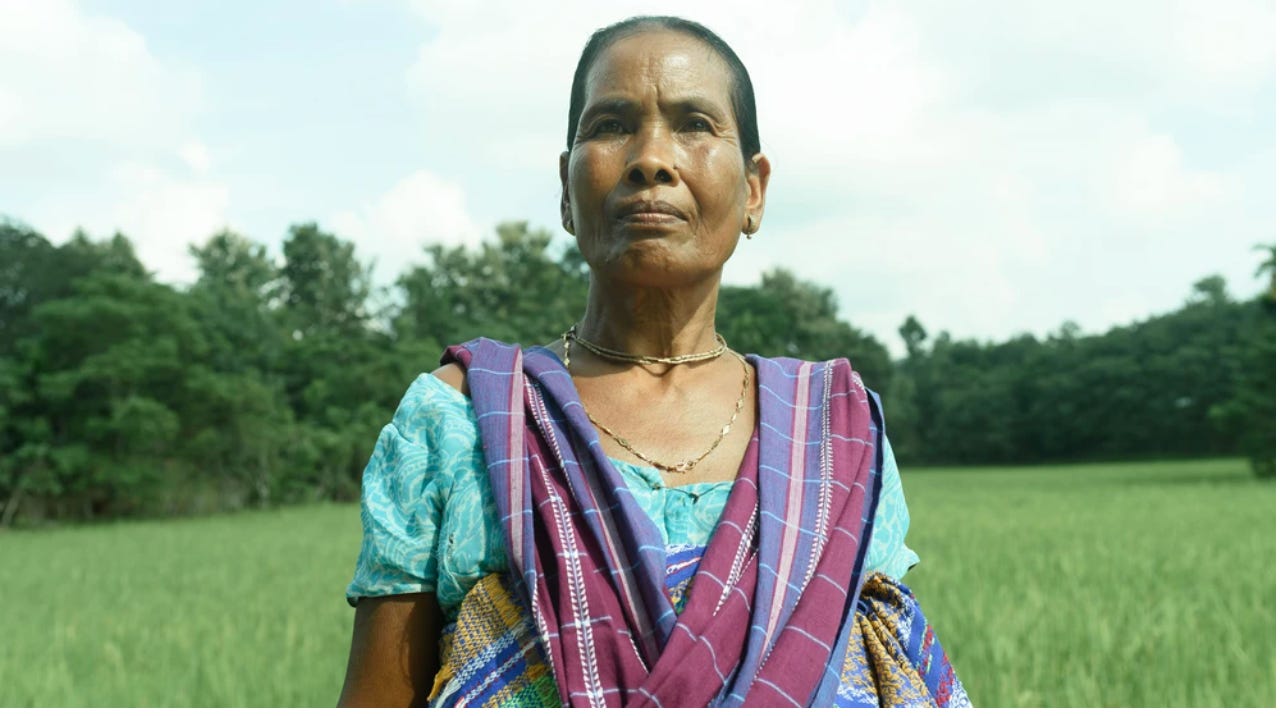 Photo via VICE
CW: This article contains violence against women. This can be upsetting or triggering since folks might have directly or indirectly been affected. If ever you feel the need to reach out, please do and know that you are strong.
In parts of northeast India, a large Eastern Himalayan region of eight states that shares numerous borders with China, Bangladesh, Bhutan and Myanmar, witch-hunting is remarkably widespread among some of the indigenous tribes.
People, mostly women, are targeted and branded witches whenever a calamity befalls a village – be it death, disease or drought. Many times, victims and survivors of witch-hunting are also women suffering from mental illness.
According to a research conducted by Partners for Law in Development, witch-hunting is rooted in patriarchy, financial disputes, superstition and other personal and social conflicts. More often than not, these conflicts arise out of jealousy or tension between the victim and their relatives, friends or acquaintances.
Lack of education, little or no access to sufficient health services and years of administrative negligence have enabled local witchcraft and sorcery practices to prevail well into the 21st century.
I still remember how people were cutting down trees to make canes and beat me up with it – Raneshwari Rabha
According to North-East Network (NEN), a local women's rights organization, accusing others of practicing witchcraft is a simple scapegoat in land conflicts or disagreement within the family about material resources. Between 2001 and 2017, there were 193 witch-hunting deaths in Assam province (79 male and 114 female). A 50-year-old widow in Assam's Karbi Anglong District was killed in October after being accused of practicing witchcraft, causing the death of two women in the village.
Birubala Rabha, Founder of the NGO Birubala Mission has been working for over two decades to better educate officials and the public on witch-hunting and put an end to the killing of innocent people.
But real change will only happen when people have a change of heart and mind about this superstition of witchcraft – Birubala Rabha
——————————-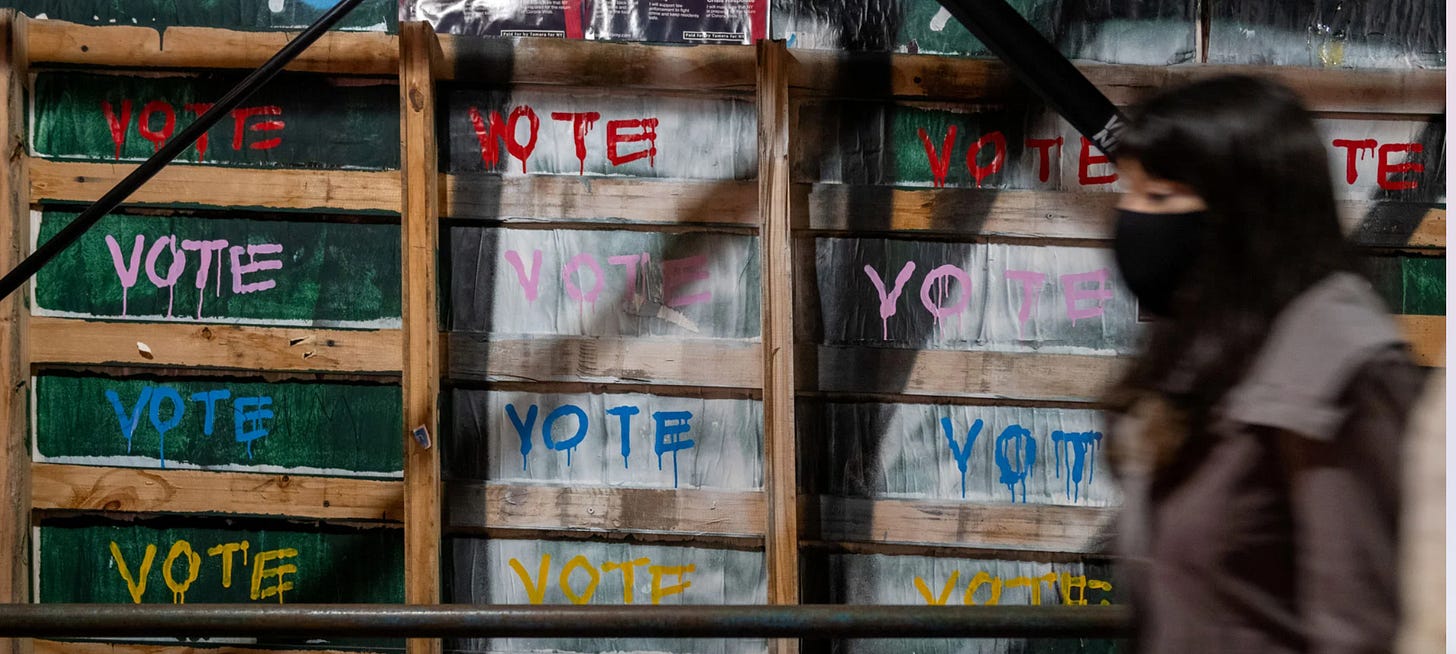 Alexi Rosenfeld/Getty Images via them.com
CW: This article contains transphobia. This can be upsetting or triggering since folks might have directly or indirectly been affected. If ever you feel the need to reach out, please do and know that you are strong.
The past four years have been a shit show in the United States – basic human rights and more specifically TRANS rights have been thrown out of the window. FUCK 45 AND HIS TRANSPHOBIC STATE BILLS, AND FEDERAL DEPARTMENTAL POLICIES! As part of the solution, several trans activists and lobbying groups urge voting out bigoted politicians. Yet this election may prove to be a dehumanizing experience for the same transgender Americans who bear the brunt of these assaults.
Trans voters can face structural and legal barriers, such as voter ID and felon voting laws. According to a survey conducted earlier this year by the Williams Institute, about 965,350 transgender adults will be registered to vote in the 2020 general election.
The voter suppression techniques that the current Republican leadership is using and the President himself, they're not about challenging people at the polling places: they're about getting people to not go in the first place. That impacts trans people probably more than other people – Mara Keisling, executive director of the National Center for Transgender Equality.
When trans voters go to the polls, they are frequently suppressed. Many are rightfully suspicious of subjecting their identities to careful inspection. And with recorded assaults against trans people hitting record levels this year, many will believe this scrutiny may lead to bodily harm, particularly if it is enforced by 45's supporters, as encouraged by him and his party.
This article contains advice on things that could help trans voters. Arli Christian, a campaign strategist at the ACLU, has recommendation for those who want to cast a ballot, but are worried about being stopped by any of the ways the state has of potentially disenfranchising trans voters.
"Do your best to exercise your right," they say. "No matter where you are in your process, it's worth getting in there and trying." Even if that means just casting a provisional ballot, they say, it's worth it. "Whoever you are, however, you've been able to update or not update your documents, try to vote. We need your voice."
It's important to remember that the hurdles faced by trans voters — particularly those who are of color and/or low-income — are daunting and numerous. The Marsha P. Johnson Institute have denounced calls to get out the vote that do not reflect an adequate understanding of the difficulties faced by some of the LGBTQ+ community's most marginalized members.
"We do not shame BLACK transgender people about voting," reads part of a recent open letter released by the Institute. "As we know that we share an experience that is not always welcome to fit into the society we live in."
—————————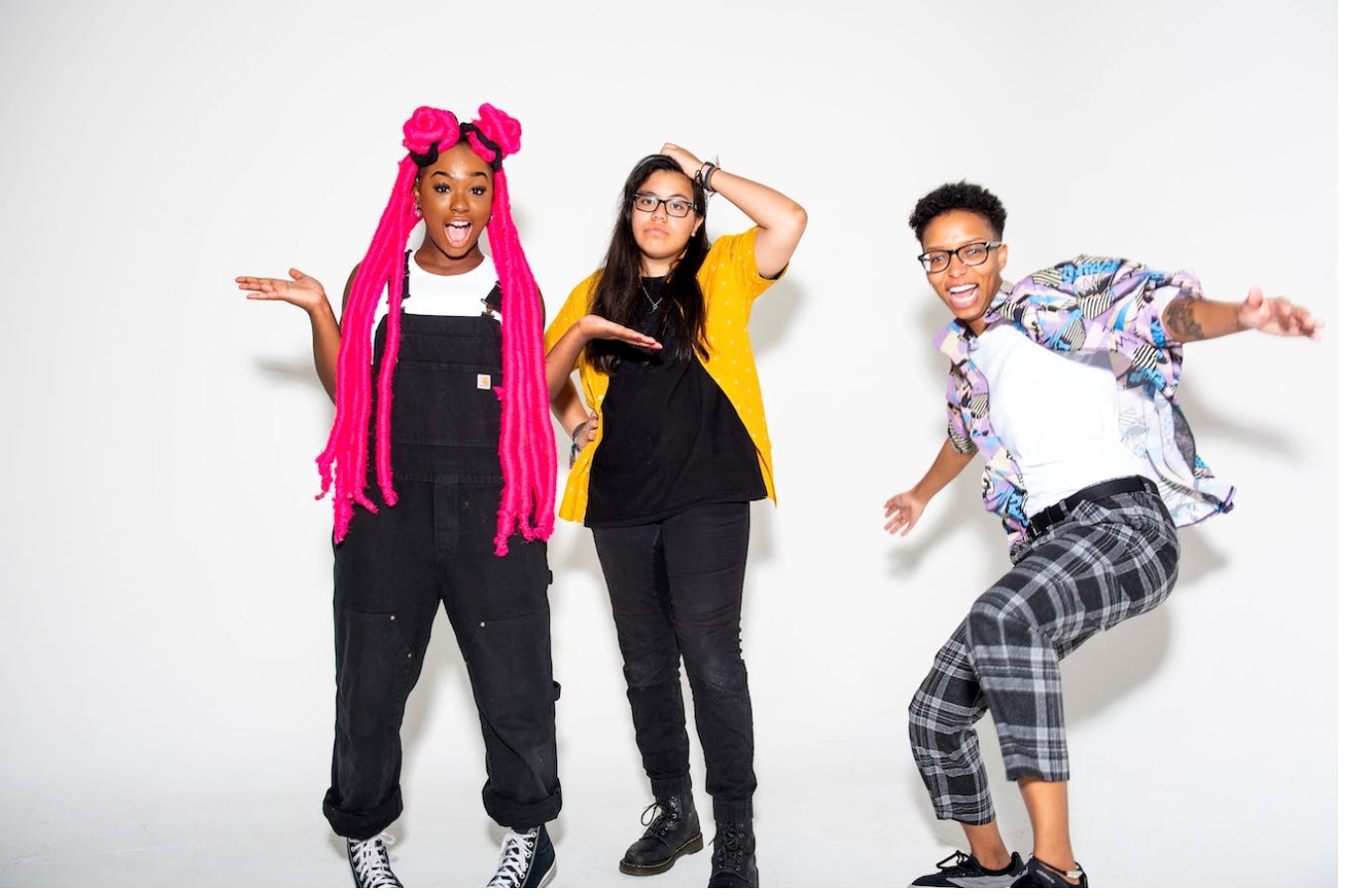 Lindsey Byrnes / Fueled By Ramen via Fader
Yes, it feels like the world is going to shit BUT if you need to escape from this madness I recommend you give a listen to Meet Me @ The Altar. This isn't your cis, white heterosexual dude pop-rock band. Fuck no! Meet Me @ The Altar consists of three members, 19-year-old guitarist Téa Campbell, 21-year-old drummer Ada Juarez, and 19-year-old vocalist Edith Johnson. OH how can I forget? They are three women of color, two of whom are gay – FUCK YA!
The group recently announced that they've signed with the emo bastion Fueled By Ramen (known for signing Paramore, Twenty One Pilots, Panic! At The Disco amongst other bands) releasing a hugely satisfying new single called Garden, and setting themselves up as one of the most exciting young pop-rock bands in the United States.
Garden is about being there for the people in your life who need you the most. We wanted to write a super energetic song that was really positive, because a lot of pop-punk isn't positive. It's not about white dudes, crying over their girlfriends – Meet Me @ The Altar
Make sure to give them a listen and rock out!
—————————
Miriam Batal (she/they) is a completing their fourth-year undergraduate bachelor's degree with a major in World Cinemas and minor in Feminist and Gender studies at the University of Ottawa. They are out and proud queer Lebanese – Canadian, they are abled-bodied, a settler of colour, intersectional feminist, body positivity, sex-positive, pro-sex worker, fully bilingual (French and English) person who lives on Turtle Island (Canada). She currently sits on the uOPride Executive team.
They are passionate about human rights, social justice and accessible mental health services and treatments. They are tired of cis white heterosexual men running politics and making decisions on their body and sexuality. They would like one day to make a positive change to this heteronormative world. When they are not protesting, or reading on queer theory/literature, Miriam enjoys spending time with their friends, going to the museum, attending drag shows, queer art exhibit, cinema and the theatre (pre-pandemic nonetheless) and video games.
They firmly believe that with education whether it be in academia or through lived experiences and conversation we are able to defeat ignorance, the patriarchy, colonialism and injustices.