Global Roundup: Indigenous Woman Brings MMIWG2S Crisis to Vatican Doorstep, Film Captures Women's March & Feminist Movement in Pakistan, NGO partners with South Africa Govt to Issue ID to Trans People
Curated by FG intern Jana Kortam
Palexelsiya Lorelei Williams has been wearing a red cape made by Morgan Asoyuf and the genocide flag of Canada in front of historic sites in Rome this week to raise awareness of the MMIWG2S crisis in Canada. She's seen here in Rome on March 29, 2022. Elizabeth McSheffrey/Global News
Lorelei Williams, a Skatin and Sts'Ailes First Nations woman from Vancouver, has taken the violence against missing and murdered Indigenous women, girls and two-spirit people (MMIWG2S) TO the Vatican.
Dressed in a stunning red cape with a trim of black hands and raising her fist high in the air in front of St. Peter's Basilica, she called on Pope Francis to acknowledge and act on the crisis.
If he starts to say this is an issue in Canada, maybe people will actually start listenin…In Canada, Indigenous women are at the very bottom and we're fighting. I'm struggling, trying to survive. - Lorelei Williams
Since her arrival in Rome last week, Williams has worn her cape and draped herself in the genocide flag of Canada to take photos in front of both sacred and historic sites.
It's a loud and powerful reminder of the strength, culture, and identity that Canada's colonial government, in partnership with the Roman Catholic Church and others, sought to wipe out. Pope Francis may not have seen the images, but Williams' work in Italy did not go ignored.
Sts'ailes Chief Ralph Leon and Coun. Kelsey Charlie were in St. Peter's Square as she took photos in front of one of the most sacred Catholic shrines in the world. They were so proud and inspired, that they spontaneously performed a ceremony and gave Williams her "sacred inheritance" – her first ancestral Indigenous name.
They named her Palexelsiya, after the meeting point where the upper and lower villages of the Sts'Ailes nation previously met. They explained while adorning her with a blanket and handmade headband, that it's a place name with significant ties in their family and community.
We love you, you're a woman warrior. - Chief Ralph Leon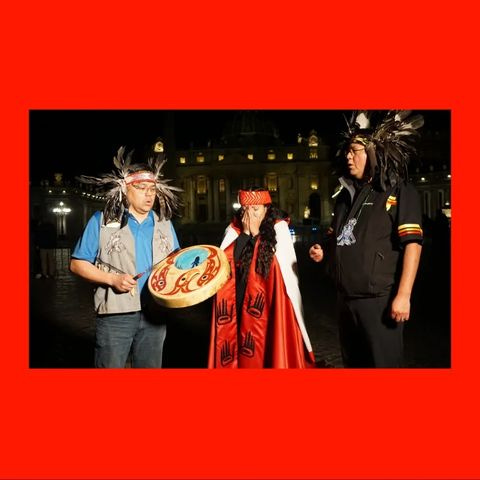 They tried to take our culture, laws and language away. We didn't lose it, it's still here. This is proof of that! - Lorelei Williams
Palexelsiya has been a long-time passionate MMIWG2S advocate.
Belinda Williams, her aunt, went missing in 1978, and Tonya Holyk, her cousin, was murdered by Robert Pickton in 1996.  In 2012, she founded Butterflies in Spirit, a Vancouver-based dance group that raises awareness about violence against Indigenous women and girls and the MMIWG2S crisis.
Her work has taken her all over the world, and she claims that far too many people in other countries are unaware of the Indigenous Peoples of Turtle Island, or the centuries of violence and discrimination they have faced.
That's exactly why she began taking the MMIWG2S photos in Rome, she explained.
This is where it all began, this is where it started. (Europe) is where all those people came (from) and killed our people…I really hope change happens, so it's very powerful to be here with the cape, with the genocide flag, because people need to know the truth. - Lorelei Williams
It's especially important to have representation from British Columbia in Rome, she added, because the province is home to the notorious Highway of Tears. Dozens of Indigenous women and girls have gone missing or been killed on or near the 725-kilometer stretch of Highway 16 between Prince George and Prince Rupert since the 1950s.
In his historic apology on April 1,  Pope Francis did not specifically mention the MMWIG2S crisis and made no mention of Indigenous women. He apologized for the role of some Catholic clergy members in Canada's harrowing residential school system.
The apology, delivered in Vatican City at the conclusion of meetings with a delegation of Indigenous Peoples to Rome, was always intended to address residential schools specifically, but the head of the Native Women's Association of Canada (NWAC) said she hoped MMIWG2S would be mentioned.
The crisis, Grandmother White Sea Turtle Lorraine Whitman explained, is a symptom of residential schools, intergenerational trauma and the colonial devaluing of Indigenous lives.
In my mind, you have to include everything, because we're like a tree of life and under that tree of life there are roots,…The missing and murdered Indigenous women and girls and two spirit, we're intertwined in it. - Lorraine Whitman
Whitman said seeing Palexelsiya's photos in front of monuments and churches in Rome brought "a lot of emotions" to her heart, knowing Palexelsiya is dancing out her pain.
She is not leaving the murdered, missing, Indigenous women, two spirit, and diverse community out of the picture. We know her voice, without even speaking, is being amplified and she's educating the people in Rome. - Lorraine Whitman
Palexelsiya was in Vatican City to hear the Pope's apology on Friday, and his acknowledgment of the great pain suffered by Indigenous people. Like others in the expanded delegation who departed Rome on Saturday, she said she looks forward to hearing Pope Francis deliver those words on Turtle Island.
---
Via Awards Daily
The documentary film This Stained Dawn follows a group of Pakistani women as they plan a women's march in Karachi. They navigate misperceptions in the media, staunch opposition from the radical religious right and other opposition groups, surveillance, and even physical violence in order to expand Pakistan's rapidly growing feminist movement and usher in a new era for women's rights.
These organizers are more than familiar to director Anam Abbas. She herself is one of them. She considers them close friends and allies on her activist journey. Abbas took on the role of the group's quasi-historian, documenting their efforts to plan a 2020 march while putting her camera away to participate in discussions.
The footage captured in This Stained Dawn encapsulates the wide range of emotions that come with working in a grassroots organization—frustration, exhaustion, and even the elation that comes from camaraderie. Abbas' physical and emotional proximity to these women acts as a magnifying glass, revealing how difficult and frightening fighting for women's rights can be in a patriarchal society. Despite her personal allegiances, Abbas brings a diverse range of perspectives to the piece.
While Abbas' plans to follow the women in the aftermath of the march were thwarted by the pandemic, the documentary makes use of animation to provide additional context.The result is that This Stained Dawn is a deeply affecting and necessary viewing experience, one that challenges the viewers' relationship with activism in their own lives.
This Stained Dawn was recently featured as part of the Women's Voices Now 2022 Film Festival, where it won the Tom Lantos Prize for best human rights documentary film. 
Awards Daily spoke with Abbas about This Stained Dawn—the filmmaking process, the evolving feminist movement in Pakistan that she aimed to capture, and the women at the center of it all.
Anam Abbas explained that she moved back to Karachi a few months before the march specifically to create This Stained Dawn. The documentary follows the activists that organized the women's annual march in 2020 in Karachi. The march started in 2018 and happens in multiple cities across Pakistan. The film was intended to archive the moments of the march since older feminist movements in Pakistan have not been archived in the same way. 
She also expressed the challenges she faced as she tried to actively participate while simultaneously documenting the events.
I had a lot of trust and unfiltered access, but I had to censor myself at times. I would think, 'Put the camera down, this is not a moment for the film, this is a moment for us.' There were times when I also wanted to participate. We'd be having discussions and debates, and I would like to put my two cents in because I was invested in what the march represents. - Anam Abbas 
The film was more of a countdown to the march, however initially the march was supposed to be the end of the second act and the third act would be the aftermath. Due to the pandemic,  filming was cut short only a week after the march. 
I filmed from November 2019 to March 2020, and we all had to pack up and go home. Some of the animations that came into the film weren't planned; they happened because I couldn't film anymore, and they still had more to say. So there's this thought, 'When do you stop filming?' Because this work never really ends, which formed some of the animations. - Anam Abbas
Abbas emphasized that the film is dedicated to honoring the Pakistani people and representing activists as well as making the invisible visible. She added that she is encouraged to continue her work as she is currently writing a fiction series about her first few years after moving to Karachi. 
---
Via Washington Blade
A non-profit organization based in Johannesburg has partnered with South Africa's Department of Home Affairs to issue identity documents for transgender people.
The partnership with Iranti was done in commemoration of the Transgender Day of Visibility, which saw several trans people getting their IDs.
Transgender or gender-diverse people that have identity documents that do not reflect their gender identity and expression face difficulties in their daily lives, including access to healthcare, travel, job opportunities, and voting.
(The Transgender Day of Visibility) is a day dedicated to celebrating the accomplishments of transgender and gender diverse persons, as well as a celebration of their contributions to society…The day is also focused on raising awareness of the work that still needs to be done to end the discrimination and exclusion faced by transgender persons worldwide and ensure the protection of their human rights…Iranti welcomes the Cabinet's approval of the Identity Management Policy which seeks to ensure the protection of the rights of transgender, intersex and non-binary persons. - Nolwazi Tusini, Iranti Communications and Media Manager
Tusini said that Iranti agreed with comments by the Department of Home Affairs Chief Information Officer Sihle Mthiyane that the current South African ID numbers are cisgender binary in nature and assume that all South Africans are either cisgender male or cisgender female, making them "unfair, exclusionary, and unconstitutional."
The NGO also supports the department's proposal for the introduction of a random unique ID number that is not linked to or founded on a person's sex. Potential harms towards intersex, trans and non-binary persons such as harassment, discrimination, economic exclusion and violence would thus be avoided as a result, as the current systems harms intersex born children.
Tusini said Iranti opposes the proposed introduction of a gender-neutral ID number "because we believe it will lead to the othering of intersex, trans and gender diverse persons and further expose them to violence and discrimination."
What we need is the complete removal of sex and gender markers from identification documents, not the introduction of a gender-neutral ID number…We call on the South African government to follow the lead of other countries such as the Netherlands and Malta and discontinue the registration of a person's sex in identity documents, as sex markers are unnecessary and add no additional clarity to who the person is. - Nolwazi Tusini
Iranti called on the Department of Home Affairs to remove gender markers from identity documents, repeal the Alteration of Sex Descriptors and Sex Status Act which is Act 49 of 2003 and "replace it with depathologized legislation, that grants trans and gender-diverse people the right to self-determination."
Except for Act 49, there is no law in South Africa that allows trans and gender non-conforming people to change their gender markers.
---
Jana Kortam (she/they) is a sociology and feminist and gender studies student at the University of Ottawa. They are experienced at advocating against gender-based inequality especially in the SWANA community. They are actively engaging with intersectional feminist ideologies in order to radically smash the patriarchal supremacist society. 
 She believes that in order to be able to achieve justice, we must offer a microphone for minority voices unheard rather than narrate their stories for them.