Discover more from FEMINIST GIANT
Global feminist resistance to patriarchal fuckery
Global Roundup: Indigenous women in the Philippines, mothers from Jordan, Trans News from India, abortion laws in Japan, and a young Pakistani footballer 
Compiled and written by Samiha Hossain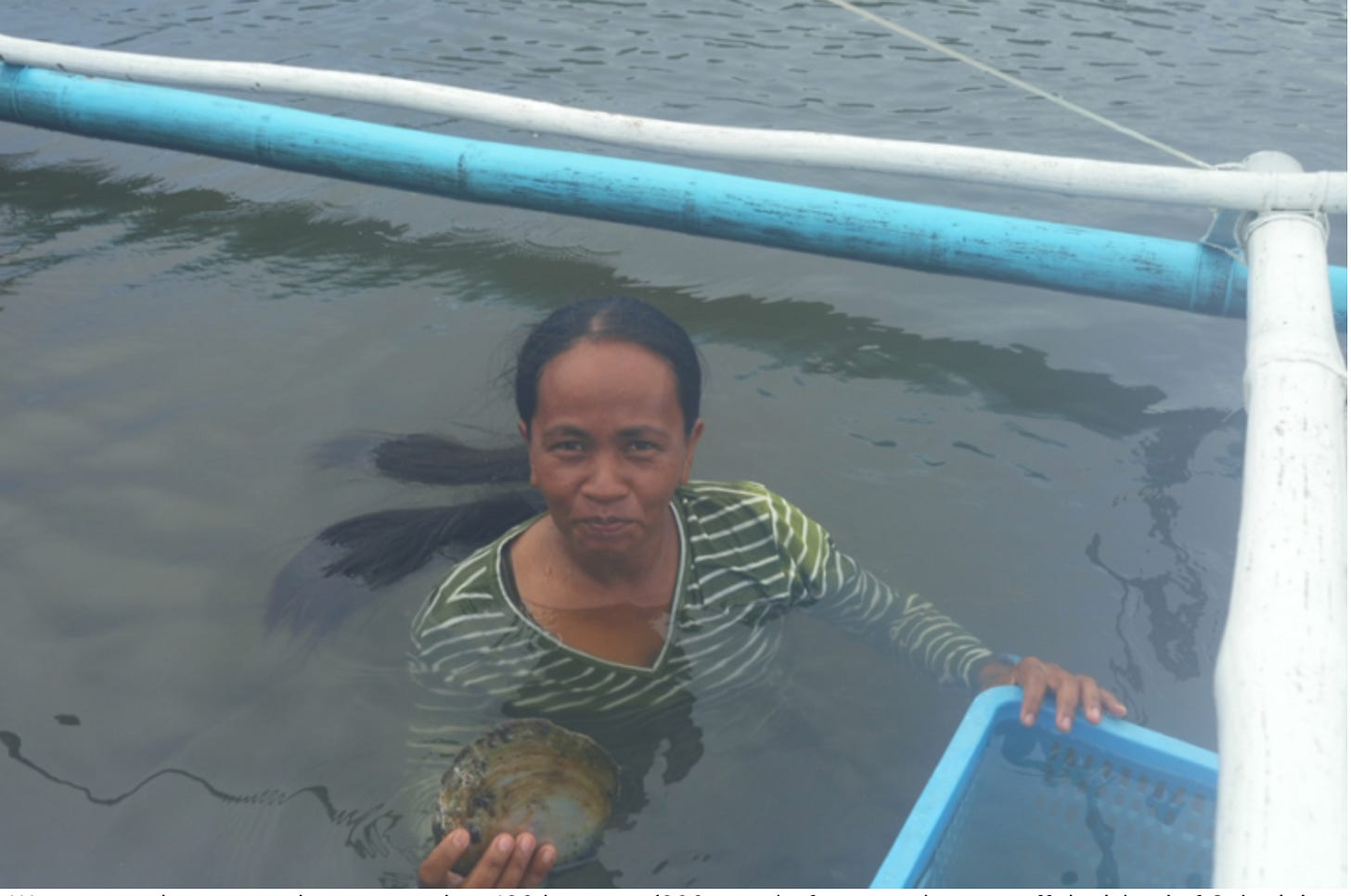 Women now have control over more than 130 hectares (320 acres) of ancestral waters off the island of Calawit in the Philippines. Image courtesy of C3 Philippines via Mongabay
Calawit, is an island that is part of the Calamianes Islands located in the Philippines'  western Palawan province. This is no ordinary island - 15 Indigenous women from the Tagbanwa group were given more than 320 acres of ancestral waters to harvest windowpane oysters, a type of clam. Local NGOs provided them with training to improve their technical fisheries management skills and decision-making abilities. This is a significant milestone, as Tagbanwa is a male-led group and management of ancestral waters is considered a male role. Although women have always actively contributed towards fishing, gleaning and picking, selling and trading, they are rarely involved in the decision-making process.  
It's in the Tagbanwa culture that men preside over our community, but these changes are gradually making our elders recognize our rights to rule as women - Vergara, female community leader 
Not only are oysters an important source of livelihood for the community during lean fishing seasons or when going out to sea is impossible due to the weather, they also provide an alternative to fish, which alleviates the effects of overfishing. The same goes for the seaweed, salt and tamilok the Indigenous women collect. Climate change, pollution and harmful fishing practices have damaged our marine ecosystems. Thus these women's actions have an important impact in healing the environment, as well as preserving Indigenous culture.
Calawit demonstrates the importance of Indigenous women taking leadership in their communities. Laws and environmental agencies must take gender equity as a serious issue directly related to natural resource management and biodiversity conservation. Community-led action is the key to tackling global issues as pervasive as environmental degradation. 
--------------------------------------------------------------------------------------------------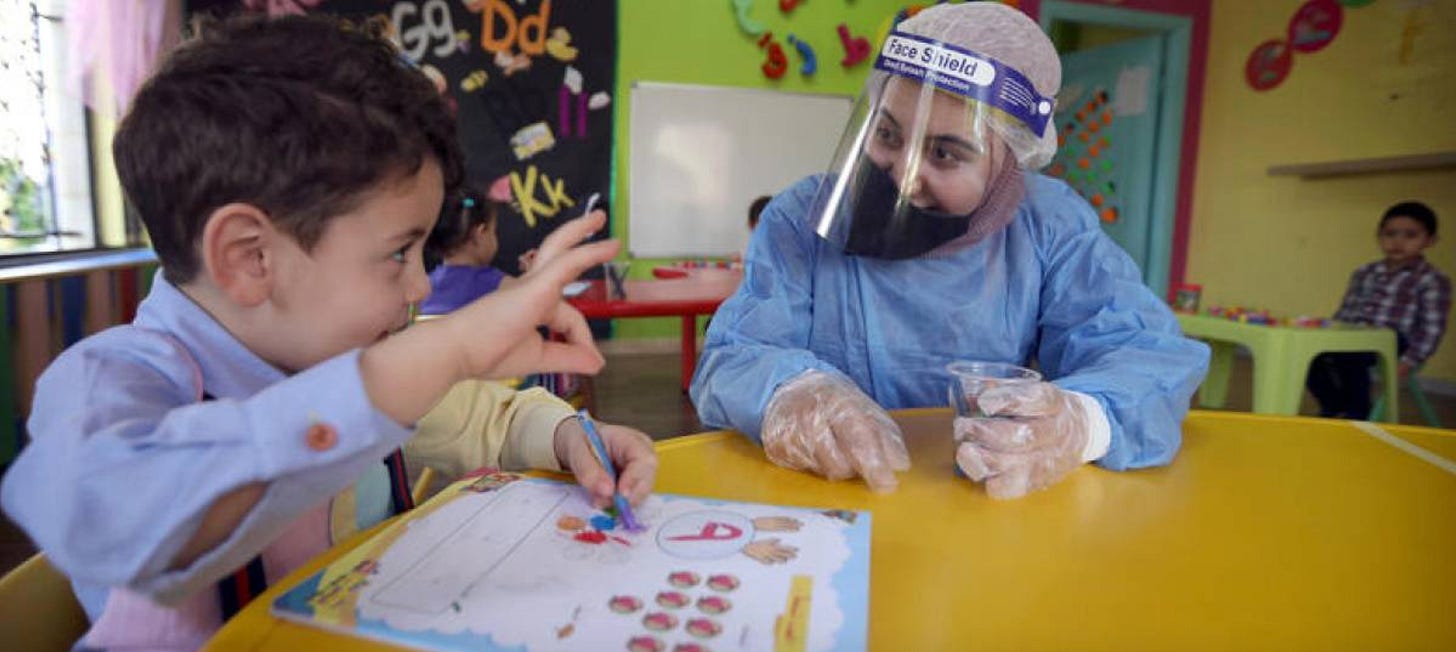 A teacher wearing a protective suit interacts with a child at a nursery after the government eased the coronavirus disease (COVID-19) restrictions in Amman, Jordan June 8, 2020. REUTERS/Muhammad Hamed
Working mothers in Jordan protested outside the Ministry of Social Development against the decision to close all nurseries until the end of the year, saying the decision disproportionately affects women during the pandemic. For one, it increases burdens of domestic duties and care work for them. Furthermore, many women do not have the option to work remotely.
This decision has taken us back to events of (the first lockdown), when mothers were in disarray and nurseries were collapsing - Rana Ali of Sadaqa, an organisation that advocates for women in the workplace
Nebal al-Haliq, an owner of two nurseries, is still paying off the debts from the first COVID-19 closure, one of the strictest in the region. Nebal is worried about securing the salaries of the staff, as the nursery is their only source of income. A dentist, Majd Hawamdeh, will be making a two-hour round-trip daily to drop her children off at her parents' house. She will also have to see less patients, which will cut her income in half.
The pandemic is disproportionately affecting women around the world. It is exacerbating already existing inequalities and could set back progress women have made by decades. The onus is always put on women to make difficult decisions between work and child care. COVID-19 adds another element: concerns about health and safety. On top of all that, women face additional barriers at work including pay gaps and harassment. 
--------------------------------------------------------------------------------------------------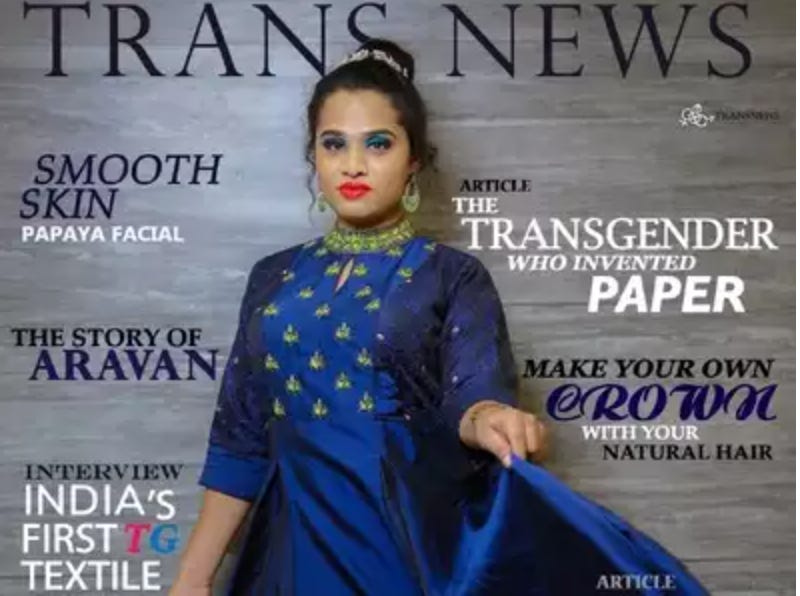 Image via Mumbai Mirror
India will be launching its first ever online magazine for transgender people on November 1 called Trans News. At first, the magazine will be available in Tamil and English, but it is set to be available in Hindi soon too.
Trans News will be a commercial portal with contents ranging from fashion tips for trans women to recipes, articles, stories and poems - Priyababu, Managing Trustee of Transgender Resource Centre.
Not only is this magazine for transgender people, it is also by transgender people. All the models will be trans, three reporters employed are trans and the magazine will have a platform for selling products made by transgender people. In addition, it will have a job section with available jobs for transgender people.
I for one am sick and tired of seeing the same old magazine with the same types of people and content. Not only does Trans News represent trans people, it seems like a powerful tool to access education and resources that are otherwise difficult to find. 
--------------------------------------------------------------------------------------------------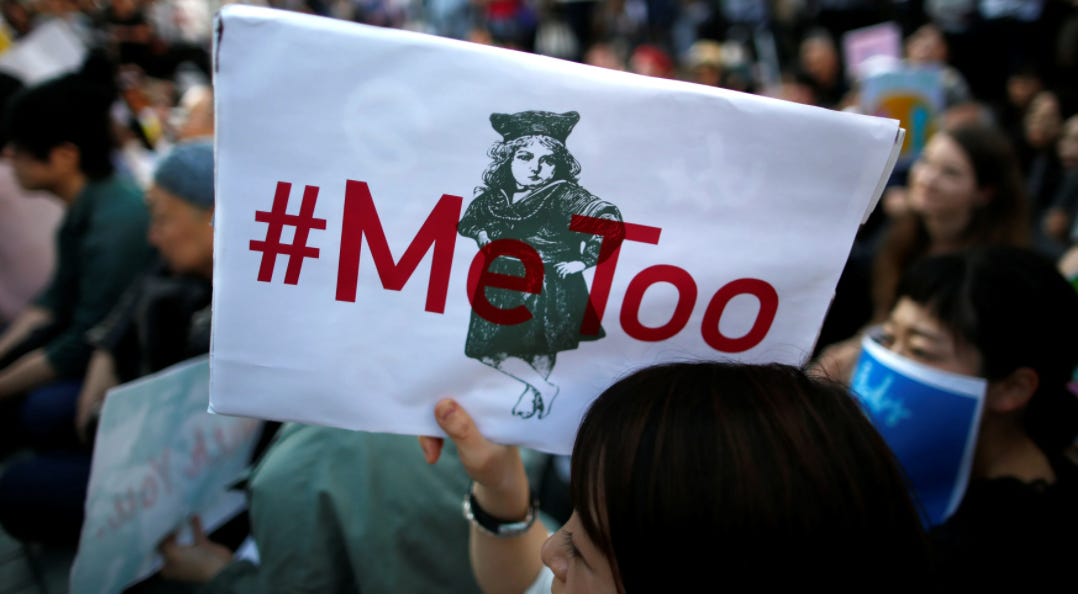 A protester carries a signing reading "#MeToo" at a rally in Tokyo. Only about 14% of sexual assault cases are reported in Japan, according to the Ministry of Justice.   © Reuters via Nikkei.com
Many sexual assault survivors in Japan are denied abortions by hospitals that require consent from their attackers.
This was the case for a woman in western Japan a few years ago after she was assaulted by an acquaintance. Hospitals refused to perform an abortion without consent from the father. It was only after she got a recommendation from a support group for women like her that she was finally able to get an abortion. However, by that time it was considered a second-term abortion, which is a significantly riskier and costlier procedure, which she was required to report to the government as a stillbirth. 
Support groups say these requirements retraumatize victims,
Being denied an abortion at the hospital could be a form of 'second rape, or a secondary victimization - Hisako Ura, head of the Fukuoka Victim Support Center
These restrictions are due to the Maternal Health Act, which requires consent from both the mother and her "spouse" to perform an abortion. Many hospitals have a dedicated field for the "spouse" on abortion paperwork, which they don't want to leave blank. Gynecologists may also request documentation like a bill of indictment or a court sentence from sexual assault victims seeking an abortion. This is particularly concerning as very few women report their assault. 
The Ministry of Health, Labor and Welfare has sent a letter to the Japan Medical Association to clarify that the Maternal Health Act does not require consent for abortions from rapists. Critics and organizations however believe that more needs to be done and that there should be a "nationwide survey to assess the situation". 
No one should have to go through these many barriers ever, but especially following a sexual assault, which is already incredibly traumatic. Abortion is health care. it must be carried out with the needs of women prioritized and centred, and in a way that does not retraumatize those who need it. 
------------------------------------------------------------------------------------------------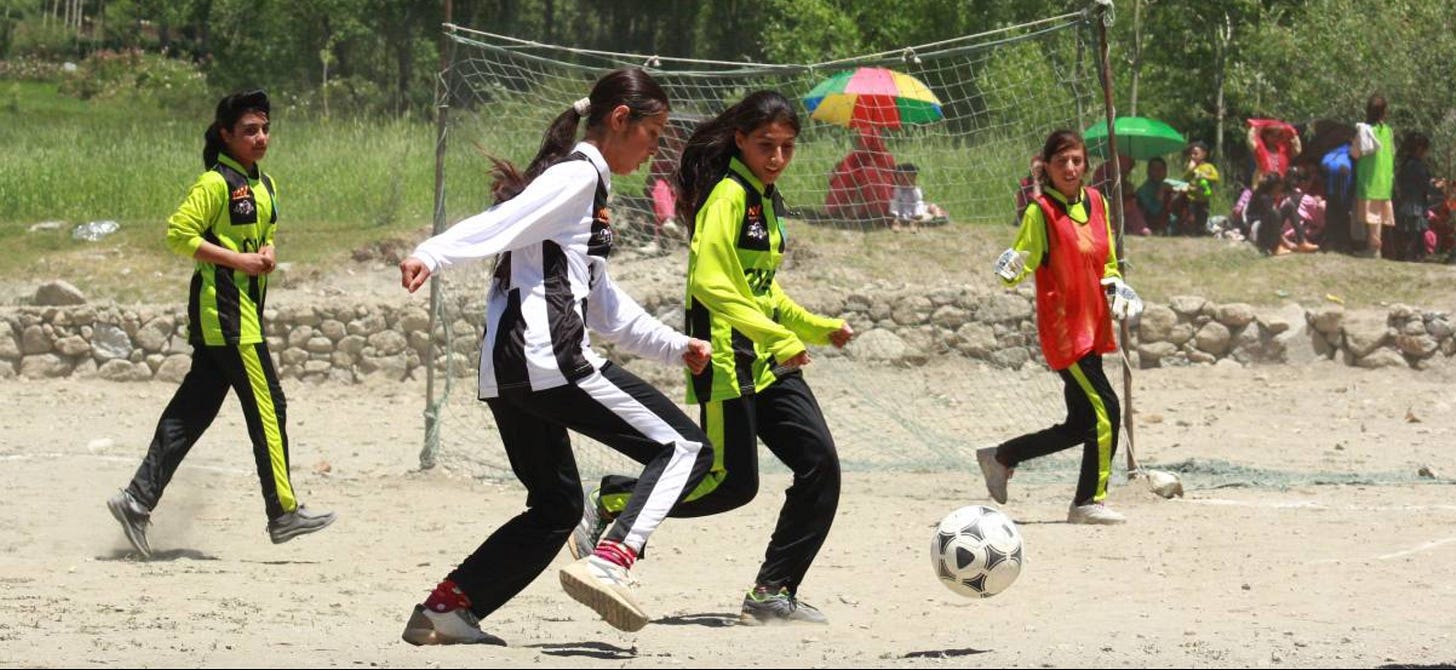 Young women play football in Karimabad, Pakistan, July 7th 2020. Thomson Reuters Foundation/Handout by Karishma Ali
Karishma Ali is a 23-year-old footballer from Pakistan. Even during a global pandemic, she is running a football club for girls in her native Chitral region, in the Hindu Kush mountains. Her goal is to give girls more opportunities that are generally not available to them.
Unlike boys, who could go out and play, girls remained cooped up, specially since even schools were closed. Many had to help with household chores, which certainly was not much fun - Karishma Ali 
Not only has Karishma represented her country at international football tournaments and been selected for Forbes magazine's 30 Under 30 Asia list of rising stars in 2019, she has also just finished a degree in business and management. Furthermore, her high altitude sports club now has 150 members. She wants to help girls that deal with the intersecting effects of sexism and poverty in a culture where boys are prioritized. 
Karishma's own journey has not been easy. She has dealt with hostility and death threats from her community because of her football career. Karishma dreams of playing for a national team one day, but currently Pakistan does not have a women's football team. She would like to see better sports management in her country.
Karishma is an accomplished and passionate woman who is certainly an inspiration for girls. It is disheartening that women have to go over so many hurdles. For each success, how much sexist backlash and violence must we face? It is exhausting. Yet, Karishma and so many more women will not accept defeat, nor the status quo. 
——————————
Samiha Hossain (she/her) is a student at the University of Ottawa. She also works with survivors of sexual violence in her community from an anti-oppressive and trauma-informed perspective. A lot of her time is spent learning about and critically engaging with intersectional feminism, transformative justice and disability justice. 
Samiha firmly believes in the power of connecting with people and listening to their stories to create solidarity and heal as a community. She refuses to let anyone thwart her imagination when it comes to envisioning a radically different future full of care webs, nurturance and collective liberation.