Discover more from FEMINIST GIANT
Global feminist resistance to patriarchal fuckery
Global Roundup: Protesting GBV in Zambia, Delhi Metro Station Mural, EU Rural Women Farmers, Connecting Women Through Art, African Women in Tech
Curated by FG Contributor Inaara Merani
tw: rape, sexual assault
On March 4, a rally in Zambia was organized to protest gender-based violence. In 2021, 20,540 cases of GBV were reported; 16,301 of those reported cases were women and girls. The protest was organized by the ecofeminist, volunteer-based, grassroots NGO that promotes women's rights in Zambia, the Sistah Sistah Foundation. 
Women and other allies took to the streets to protest the sexual assault of a 17-year old girl who was trying to seek medical attention when she was raped by a guard. Just a week before, a woman was raped at a police station while in custody. Coinciding with International Women's Day this year, this march was to stand in solidarity with victims of sexual assault, especially for those that rarely get the attention they deserve.  
Despite the success of this rally, the Sistah Sistah Foundation is being slammed in the media for promoting homosexuality and queer ideals, as a number of pride flags were spotted at the protest.
The news, blog sites and personalities have pushed a different narrative about the march, and deflected the conversation and peddled false information about the detriment of the cause of the march which was intended to bring awareness to sexual and gender based violence: and all victims of sexual and gender based violence. – excerpt from the Sistah Sistah Foundation's official statement 
Since the protest took place four days ago, three members of the Sistah Sistah foundation have been arrested and detained under charges of unlawful assembly and giving the police false information, despite having permits to protest and police escorts during the protest. This is not the first time that women's rights activists have been targeted for standing up for the women and girls of Zambia. The women have been released on bond and are pending a court date, but the organization has made it clear that they will not be stopping their fight to advocate for all Zambian women and girls.
---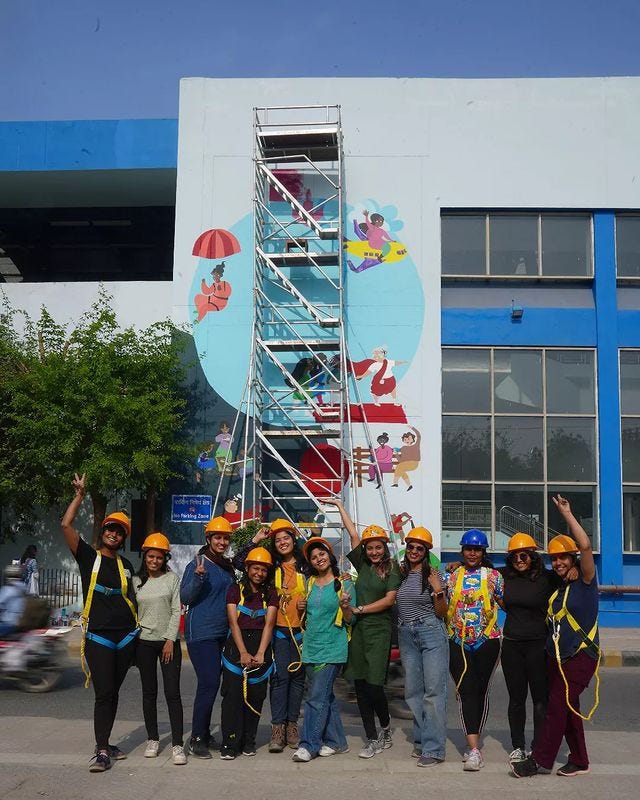 The Dwarka Sector-14 metro station in Delhi, India is the home of a new mural to promote women's safety when taking public transportation. In Delhi, women often feel unsafe while they're out; this mural is meant to show solidarity with women and reinforce the idea that women deserve to be safe everywhere, to raise discourse about what life should look like for women living in Delhi. 
The mural was organized by the nonprofit organization in Delhi, Chronicle of Colors. Chronicle of Colors creates many different forms of art, but is known for their breathtaking murals. This initiative was undertaken in partnership with the Delhi Metro Rail Corporation (DMRC). 
The murals aim to show Delhi as a 'City Of Women'. We aim to change a common perception that the city isn't safe for women. The more they go out, the safer it will be for them. We have seen boys loitering around on their bikes purposelessly too, but women aren't seen doing that much. Our goal is to show that more and more women are able to do that, owning the city space. We want them to feel safe enough to even travel without a purpose. – Shruti Maheshwari, co-founder of Chronicle of Colors 
For the first time ever, ten women artists came together from across the country to paint this mural and work together to spread the message about women's safety and security. After this project was initiated through Instagram, these women came together to create a symbol of hope for the future of women in Delhi. 
I just started pursuing art as a hobby and I kept wanting to paint on a bigger campus. This is where I started painting my house walls and now my house has turned into an art gallery. Here again, I thought why didn't I do something like this earlier?...I have put my heart and soul into these murals and I believe all hard work was really worth it. – Akansha Agarwal, professor from Mumbai and member of the initiative 
---
Photo Caption: (left to right) Dr Patricia Bowe (Head of Department of Management & Organisation, SETU Waterford), Dr Muireann Prendergast (Postdoctoral Researcher, School of Humanities, SETU Waterford), Dr Geraldine Canny (Head of Research, SETU Waterford), Prof Sally Shortall (GRASS Ceiling Project Coordinator) Dr Suzanne Denieffe (Head of School of Humanities, SETU Waterford), Dr Jamie Power (European Research Programme Officer, Research Support Unit, SETU Waterford), Dr Leana Reinl (Lecturer, Enterprise & Management/ Academy Lead, Tourism & Rural Development, RIKON, SETU Waterford)
Photo Credit: Patrick Browne/SETU. 
A new initiative on the European continent is empowering women in rural areas with the knowledge and resources to engage in sustainable farming practices. Led by the South East Technological University (SETU), this new project will also increase the number of socio-ecological innovations led by women in rural communities. 
The Grass Ceiling project began in January and will run until December 2025. It will create living labs in nine countries across Europe, will train 72 rural women innovators, and it will also establish a network-learning program throughout the continent. The purpose of this project is to equip women in rural communities with the skills necessary to succeed in farming practices and other socio-ecological innovations, in order to promote sustainable development, gender equality, and to strengthen the resilience of rural areas. 
This is an exciting EU funded programme for empowering women's innovation in rural and farming communities. We will work across Europe with leading women innovators to capture and share the key elements of their success, with the aim of increasing grassroots impact for women in rural and farming communities. The project will work together with both men and women to build a positive and empowering environment for socio-economic and green growth. – Professor Sally Shortall, Project Coordinator 
The living labs will operate in Ireland, Croatia, Italy, Lithuania, Netherlands, Norway, Scotland, Spain, and Sweden. Each lab will train between six to eight women in ways that strengthens their innovative identity, and helps transform preconceived gender norms and stereotypes. This program will also provide insight into how women's livelihoods in rural areas can be improved and what supports need to be provided at the institutional level.
As the program commences, it will inform policy and practice in the EU pertaining to women in rural communities specifically, but it will also provide leadership, learning, and growth opportunities to countless women. 
FEMINIST GIANT is a reader-supported publication. To receive new posts and support my work, consider becoming a free or paid subscriber.
---
"The idea of Artdom is for the artists to have faith in each other through the artistic process," Arghavan said (Source: The Quorum). Photo via Indian Express. 
"Artdom – Building Bridges with Art" is an international collaborative art project, which was created by the Swedish-Irani artist and activist Arghavan Agida. Agida also formerly served as UN Goodwill Ambassador. The purpose of Artdom is to bring women artists from two countries together to complete one art project together. 
The idea of Artdom is for the artists to have faith in each other through the artistic process, courage to be in a creative dialogue with artists from other parts of the world, create new angles, and establish a stronger voice together. Their artwork is a message about freedom, feminism and equality — about a world where no geographical barriers and unjust laws hinder women from expressing themselves. Each year, we focus on two countries with contrasting levels of women's rights. – Arghavan Agida 
The Artdom project strives to inspire action and advocacy for women's rights. Through the thought-provoking art created by this initiative, Artdom also engages audiences and encourages them to support actions and/or organizations that are committed to advancing women's rights. 
This year marks the third edition of the project. The invited artists are from India and the UK, countries with deep-seeded history and contrasting statistics in women's rights. According to the Gender Inequality Index (GII), the UK ranks 27 out of 191 countries in matters such as reproductive health, the labour market, and empowerment, whereas India ranks 122 on the list.
I chose India and UK because these two countries have a deep relationship and shared history, and such a project helps to create a deeper understanding and appreciation for different cultures and ways of life. The artworks also challenge the viewers' assumptions and perspectives on women's rights issues, and encourage them to reflect on their own roles and responsibilities in promoting gender equality and social justice. – Arghavan Agida 
This year, Artdom's artists include the pairs: Rosso Emerald Crimson and Nilisha Phad, Melissa Magg and Nidhi Mariam Jacob, Anna Sudbina and Premila Singh, Sarah Jarrett and Manjri Varde, Amy Dury and Sej, Naila Hazell and Atia Sen, Jackie Berridge and Monica Ghule, Harriet Pattinson and Bhakti Lad, and Mahshad Afshar and Karishma Wadhwa. 
Each of the works created share a message about the need for positive change in the fight for women's rights and gender equality. Agida has been known to convey messages related to women's rights through her art, and it is apparent that the artists that participate in Artdom share a similar sentiment. The artwork created through this initiative will be available for viewing in London and Oslo later in the year. 
---
In light of the lack of women in STEM in African countries, ALX Africa announced its first-ever all-women software engineering cohort in celebration of International Women's Day (IWD). ALX Africa is the leading technology education provider in the continent, and is undertaking this project in cooperation with the Mastercard Foundation. 
This project will enable up to 50,000 women across the African continent to be at the forefront of the global technology revolution. Together, Mastercard and ALX want to employ thousands of young women, and equip them with employable skills to enter careers in STEM and begin their career within the newly emerging digital economy. 
ALX and Mastercard's new project coincides with the theme for IWD 2023 is "DigitALL: Innovation and technology for gender equality". Although ALX Africa is already recognized as a champion of women's rights – with 35 percent of ALX programming catered towards women – but is trying to match their success and cater 50 percent of all programming towards women and women's development in technology. 
The exclusively female software engineering cohort we are introducing helps to reduce this significant divide and empower women with the skills necessary to become software engineers. – Vatiswa Gilivane, Activations Manager at ALX South Africa
Applications to enter this year's cohort close on March 27 on the ALX website. The organizations involved are hopeful that this new initiative will open up doors for women as they navigate a field traditionally dominated by men. Applicants do not need experience or any background in IT; the only requirement is the dedication and commitment to learn software engineering, and to continue to learn and grow from the process and from one another. 
---
Inaara Merani (she/her) recently completed her Masters degree at the University of Western Ontario, studying Gender, Sexuality, and Women's Studies with a specialization in Transitional Justice. In the upcoming years, she hopes to attend law school, focusing her career in human rights law. 
Inaara is deeply passionate about dismantling patriarchal institutions to ensure women and other marginalized populations have safe and equal access to their rights. She believes in the power of knowledge and learning from others, and hopes to continue to learn from others throughout her career.