Discover more from FEMINIST GIANT
Global feminist resistance to patriarchal fuckery
Global Roundup: Raising feminist boys, Black female artists taking up space, and queering "Macho Man"
Compiled and written by Lauren MacDonald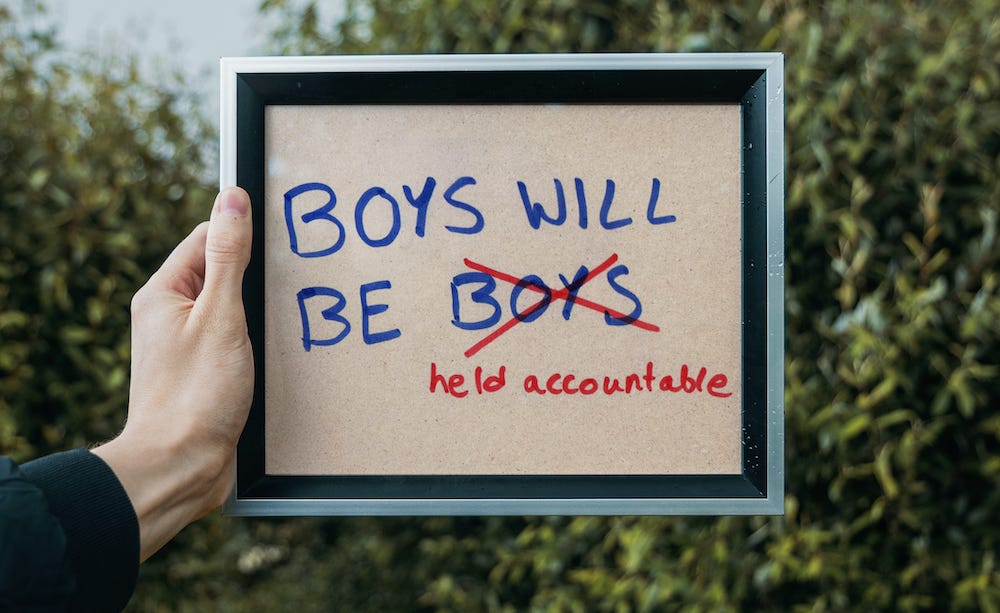 Boys will be held accountable. Photo courtesy of Noran Morsi and Rolands Zilvinskis via Egyptian Streets
Challenging patriarchy must not just fall on women. Men too must fight against a system of oppressions that hurts them as well. It hurts women more - a quick look at statistics will show you that men commit more violence against women than the other way around, for example, and yet women are constantly told to protect themselves against it. We must raise sons, as well as daughters, to be feminist.
I don't think you can ever protect your child from the patriarchy, but you can educate your child to recognize what it looks like and give them the tools to combat it," Salma El-Wardany, feminist author and poet.
Patriarchy begins its work early - at home, with how children are raised and the behaviour they see there. According to the University of Utah, the largest health threat to women is violence in the home via intimate partner violence. Girls are raised to protect themselves and obey and live by high behaviour standards, whilst boys are taught they can essentially get away with anything because, well, "boys will be boys". In school, via popular culture, even by anti-rape campaign, girls are taught how to not get raped. Boys are not taught to not rape.
Given the social science research, the imposition of strict gender roles is limiting, constraining and not healthy for anyone (for example, toxic masculinity) and one of the goals of the feminist movement is convincing parents to socialize/raise their children differently - Helen Rizzo, associate professor of Sociology at The American University in Cairo
Although changing the landscape of parenting is a multi-generational and slow process, it is time to start raising the boys as feminists who are also committed to smashing the patriarchy. 
———————————-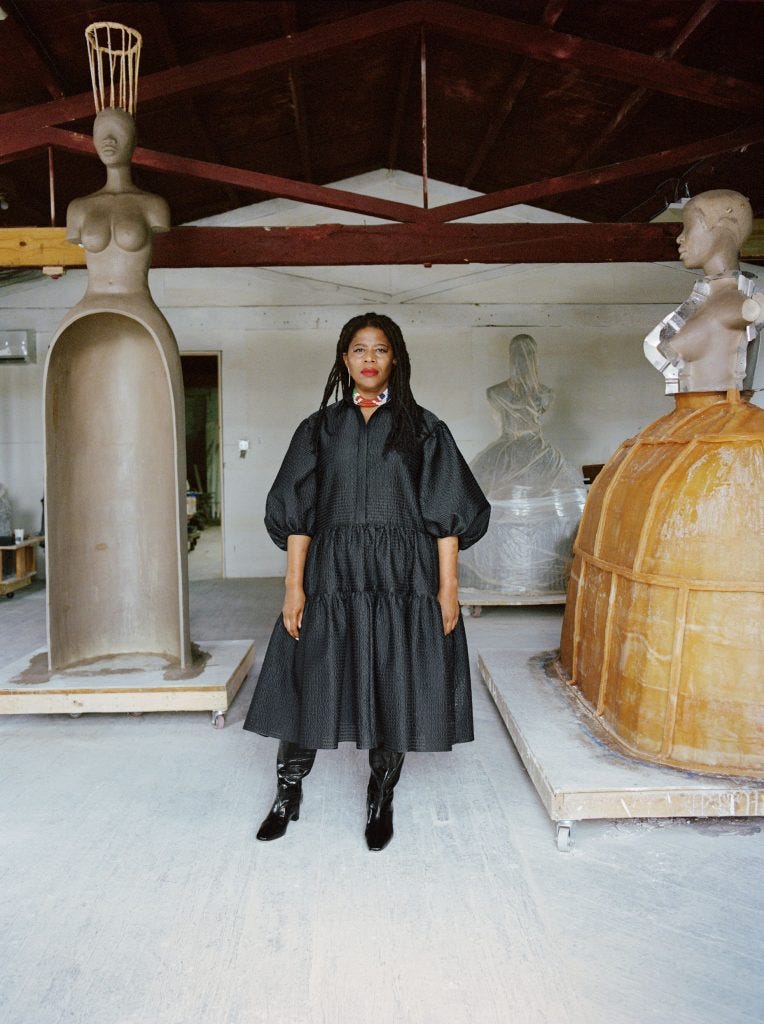 Simone Leigh at Stratton Sculpture Studios in 2020. Photo by Shaniqwa Jarvis, courtesy of the artist and Hauser & Wirth, ©Simone Leigh via ArtNet
Simone Leigh is set to become the first Black woman artist chosen to represent the U.S. for the prestigious international art exhibit, the Venice Biennale.  Leigh's work exploring Black female subjectivity blends African art history, ethnographic research, and feminist and post-colonial theory.
In an art world that sorely lacks diverstiy, Leigh's selection "disrupts 400-plus years of Black women being excluded from this global platform and from our history," said Jill Medvedow, director of the International Centre of Art, which is commissioning the US pavilion at the biennale.
Leigh's art was ignored for years by the mainstream art establishment, but that too often-white and male dominated world is finally learning to appreciate her. She won the Studio Museum in Harlem's $50,000 Joyce Alexander Wein Artist Prize in 2017, and the prestigious $100,000 Hugo Boss Prize—which comes with a solo show at New York's Solomon R. Guggenheim Museum—in 2018..
Her feminist art is amplifying Black women's representation and interrupting what is typically a white space. And it TAKES UP SPACE: "Her art really demands visibility," Medvedow said. "It takes up space, and so much of it is incredibly solid."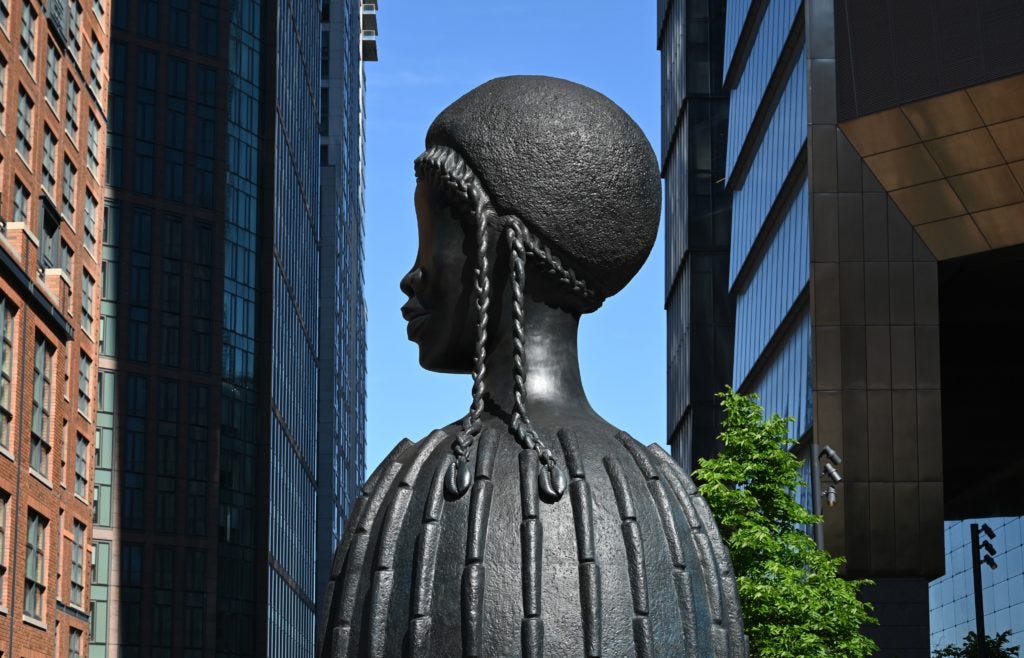 Leigh's Brick House, her 16-foot-tall inaugural commission for New York's High Line Plinth in 2019. Photo by Timothy A. Clary/AFP/Getty Images via ArtNet
—————————————-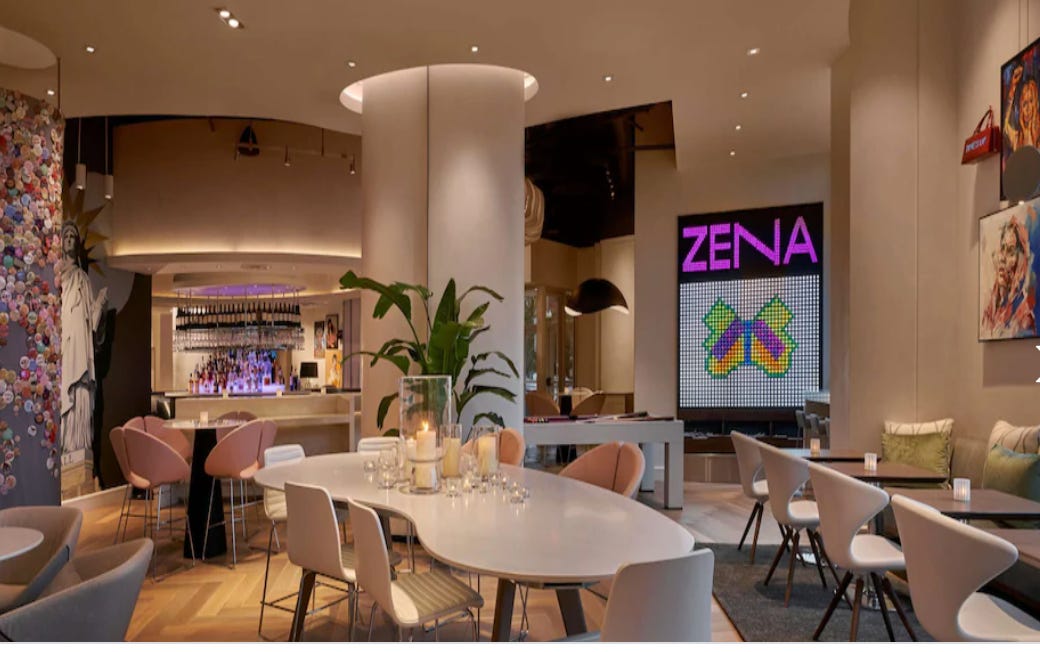 Hotel Zena
It seems as though in the demand for equal rights and just treatment, feminists have received everything but exactly those things they have demanded for years. Corporate feminism instead interrupts with ways it wants you to spend your money and hollow tokens: e.g. a portrait out of organic tampons! And now corporate feminism has invaded the hospitality industry in the form of newly opened Hotel Zena in Washington D.C.
The hotel describes itself as "a groundbreaking hotel dedicated to female empowerment". This sounds great, except for the fact that this theme seems to abruptly disappear when you take a look at management: the head chef of the hotel's bar and restaurant, Figleaf, is a man.
Feminism and women's empowerment must extend beyond the realms of performativity and to action and representation. The COVID19 pandemic has exacerbated existing inequalities around the world and is proving to be particularly disastrous for women. We want real change, not just a hotel with pink pool tables and the Empowerment cocktail at $US16! 
—————————-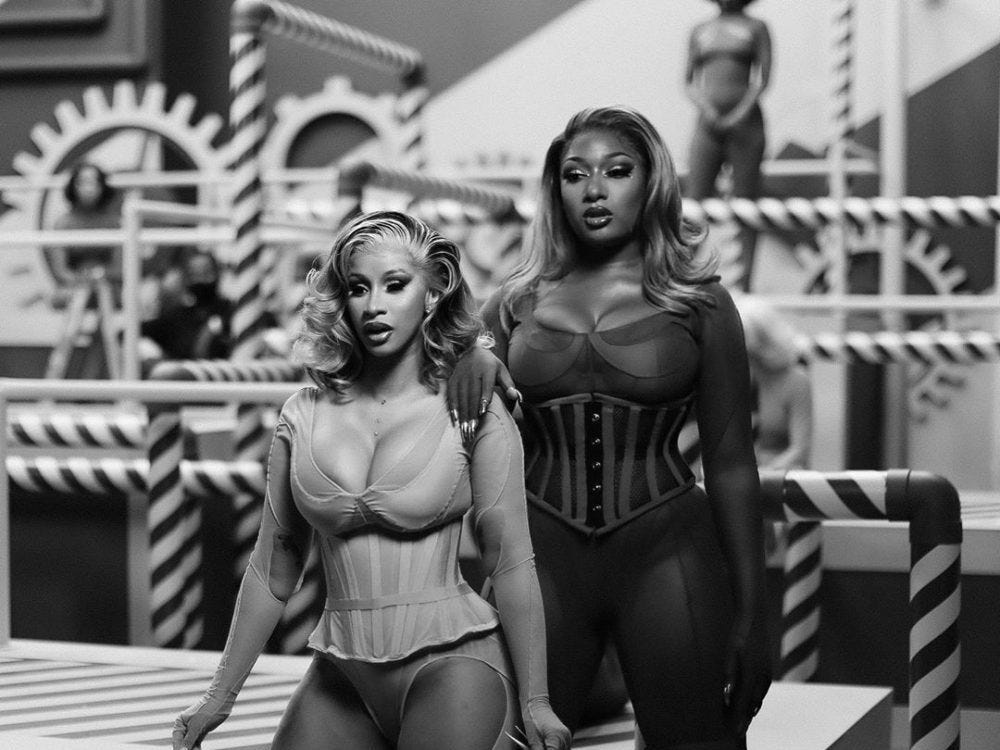 The music video for Cardi B and Megan Thee Stallion's "WAP" has a lot of people up in arms. (Image via instagram/@iamcardib)
It has been two months since the debut of "WAP". By Cardi B and Megan Thee Stallion, a song that is intended to be sexually empowering for women and one of the most popular tunes so far this year. Arianna Taylor says that Gen Zers and millennials should celebrate how "WAP" has become a cultural touchstone and what it means especially for Black women and Black women rappers.
And yet, some continue to criticize the song for promoting hypersexualization, being a poor example for young girls, and negatively stereotyping women. Arianna Taylor argues instead that the misogyny and anti-Blackness at the heart of such critiques must be fully unpacked. For example, Black women and girls have since the days of enslavement been portrayed as hypersexualized. That should be condemned, not two Black women owning their sexuality.
Feminism means women get to choose what they want to do outside of the roles assigned to them by the patriarchy — and if that means those women want to have sex with many guys and celebrate their 'WAP,' then we should let them because it's their choice.
For many women, the song has been celebrated for its sexual liberation, sex positivity and body positivity. Taylor says it is important that Cardi B and Megan Thee Stallion have centred their arousal in a male-dominated industry—WAP stands for Wet Ass Pussy—and thus brought a taboo subject out into the open.
Women have had to listen to songs about dicks and men having sex for forever, can we just have this one? It is an important message that needs to be heard, especially in the music industry. Hopefully, WAP continues to inspire Black women and all women to be as sexually liberated as men are allowed to be.  
——————————-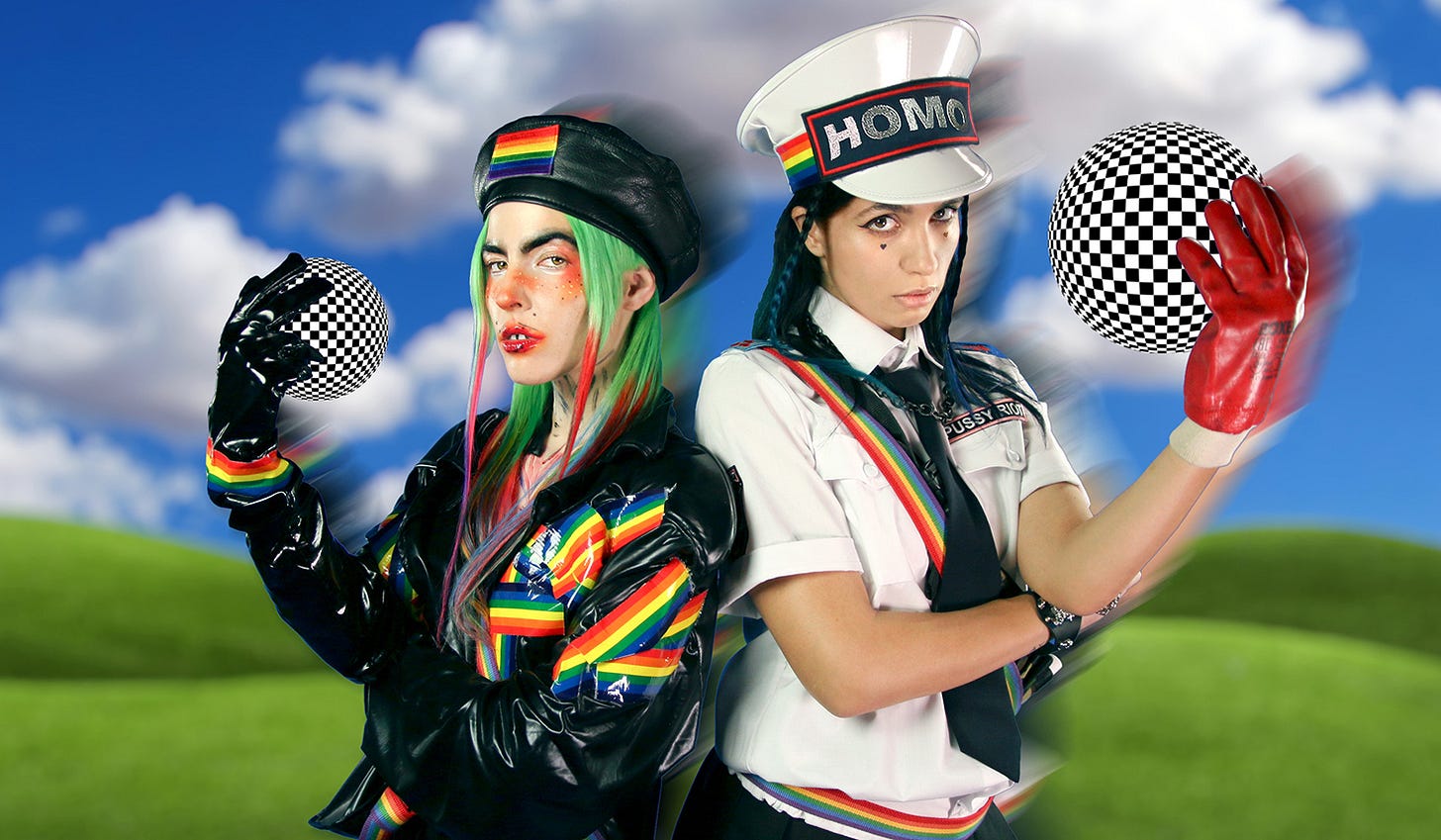 Dorian Electra and Nadya Tolokonnikova photographed by Kevin Ulibari via Gay Times
Do you feel like smashing the TV screen when you see Donald Trump start his rallies with Village People's Macho Man? Listen instead to Dorian Electra, the transgender and genderfluid artist whose new song is a collaboration with Village People and Pussy Riot's Nadya Tolokonnikova.
In this conversation with Nadya, Dorian explains that through the song My Agenda, from their album of the same name, they "wanted to look at the more political overlap of this kind of new internet breed of misogyny and conservatism that has spawned in the last 10 to 15 years, but really, in the last five years," and is part of the way they want to examine the "crisis in masculinity" through a queer lens.
—————
Lauren MacDonald is a third-year student at the University of Ottawa studying International Development and Globalization with a minor in Women's Studies and a settler on traditional Mi'kmaq land. Looking to pursue a career in urban planning/community development, she is interested in gaining as much feminist knowledge as possible in her academics to help build more healthy and equitable communities in the future. She is delighted at the opportunity to shed light on everything feminism around the globe through FEMINIST GIANT!