Global Roundup: Women in Kashmir, Sudan and the USA confront State violence, a queer poet and a film in India take on gender and identity
Compiled and written by Inaara Merani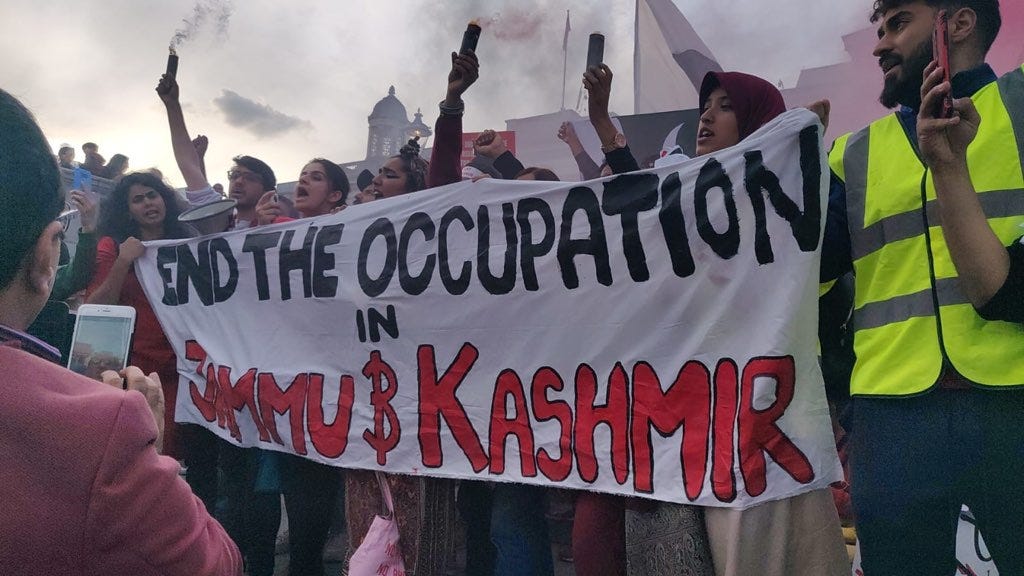 Photography of 2019 London protests via Kashmir Student Action via gal-dem
cw: mentions sexual violence, domestic abuse and physical violence
Living through Covid-19 has been a challenge for almost everyone around the world. We faced toilet paper shortages, the inability to eat at our favorite restaurants, and ongoing frustration with wait times to get into stores. But, have you ever thought about what others are going through? Kashmiri citizens have been living through the world's longest lockdown. Not only have they had to deal with the global pandemic, but Kashmir has also been in the midst of a political battle for decades. The Indian government has enforced curfews, increased militarization and implemented an internet shutdown lasting five months. This conflict is ongoing and women are bearing its brunt.
In an article for gal-dem, Sunny Shergill amplifies the voices of Kashmiri women.
The lockdown that has been enforced on them has mentally, financially and politically attempted to stifle them. What they have shown is a resilience and strength in controlling their stories, far from their portrayal as victims needing to be saved." - Sunny Shergill
Arshie Qureshi is a member of Mehram, a women's charity which fights against gender-based violence in Kashmir. Arshie argued that this political conflict has worsened the state of women's issues. For example, women have been unable to report gender-based violence because the internet had been shut down and LGBTQIA2S+ women now have limited safe spaces. The situation is extremely fucked up. The military patriarchy in Kashmir is threatening the livelihood of women. In the most militarized region in the world, there are eight soldiers for every Kashmiri - women cannot easily escape the patriarchy. The patriarchy must be destroyed!! Everywhere.
——————————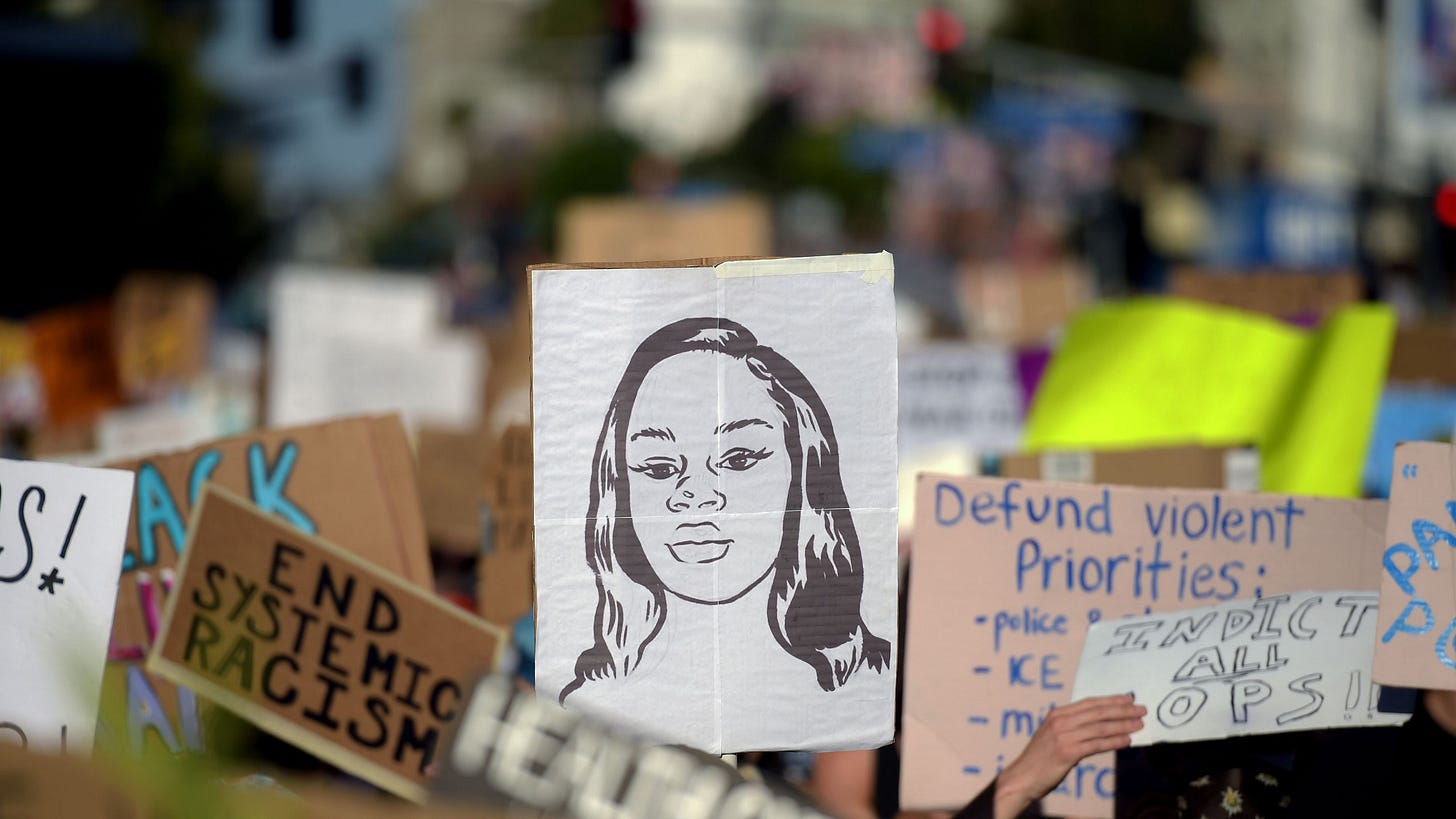 AGUSTIN PAULLIER via TeenVogue
"The most DISRESPECTED person on earth is THE BLACK WOMAN!" It is true though, right? Black men and women are subjected to anti-Black racism, yes. Black women are also subjected to sexism. In December 2014, the African American Policy Forum and Center for Intersectionality and Social Policy Studies, launched the #SayHerName campaign to "bring awareness to the often invisible names and stories of Black women and girls who have been victimized by racist police violence, and (to) provide support to their families."
Since the Black Lives Matter uprising began in the U.S. in protest against the police murder of George Floyd, #SayHisName began to be shared in an important reminder of the brutality that Black men are subjected to, but we must not push aside the names and experiences of Black women - cis and transgender
Precious Fondren points out in an oped for TeenVogue that protests she had reported on were quick to chant George Floyd's name, but not that of Breonna Taylor, the Black emergency medical technician who was murdered by police in Louisville as she slept at home. Remember that not a single police officer has been charged for Breonna's killing. Four police officers were fired from their jobs and charged in the killing of George.
LeBron James expressed the pain and rage of many at the decision of the grand jury in Kentucky not to charge any of the officers.
In July 2020, rapper Megan Thee Stallion was shot in both feet by supposed "friend" Tory Lanez, the reaction by too many people was a reminder of the double load of racism and sexism Black women face. In a statement, Megan named Tony as her shooter.
I suffered gunshot wounds, as a result of a crime that was committed against me and done with the intention to physically harm me - Megan Thee Stallion
Soon after, thousands took to social media to criticize Megan for snitching on Tory. What the fuck??? A woman was shot by a famous rapper, and all the world could think about was how she should have stayed quiet. It was both appalling and disturbing to witness this. Society needs to do better and needs to stop disregarding Black women and their stories. We cannot keep forgetting. In an essay connecting the violence she was subjected to and Megan's shooting, Olatiwa Karade asks difficult and necessary questions.
Is your protection for Black women conditional? Being Black and woman is not a strike against the value of my life. It is your responsibility to respect our humanity - Olatiwa Karade 
—————————————-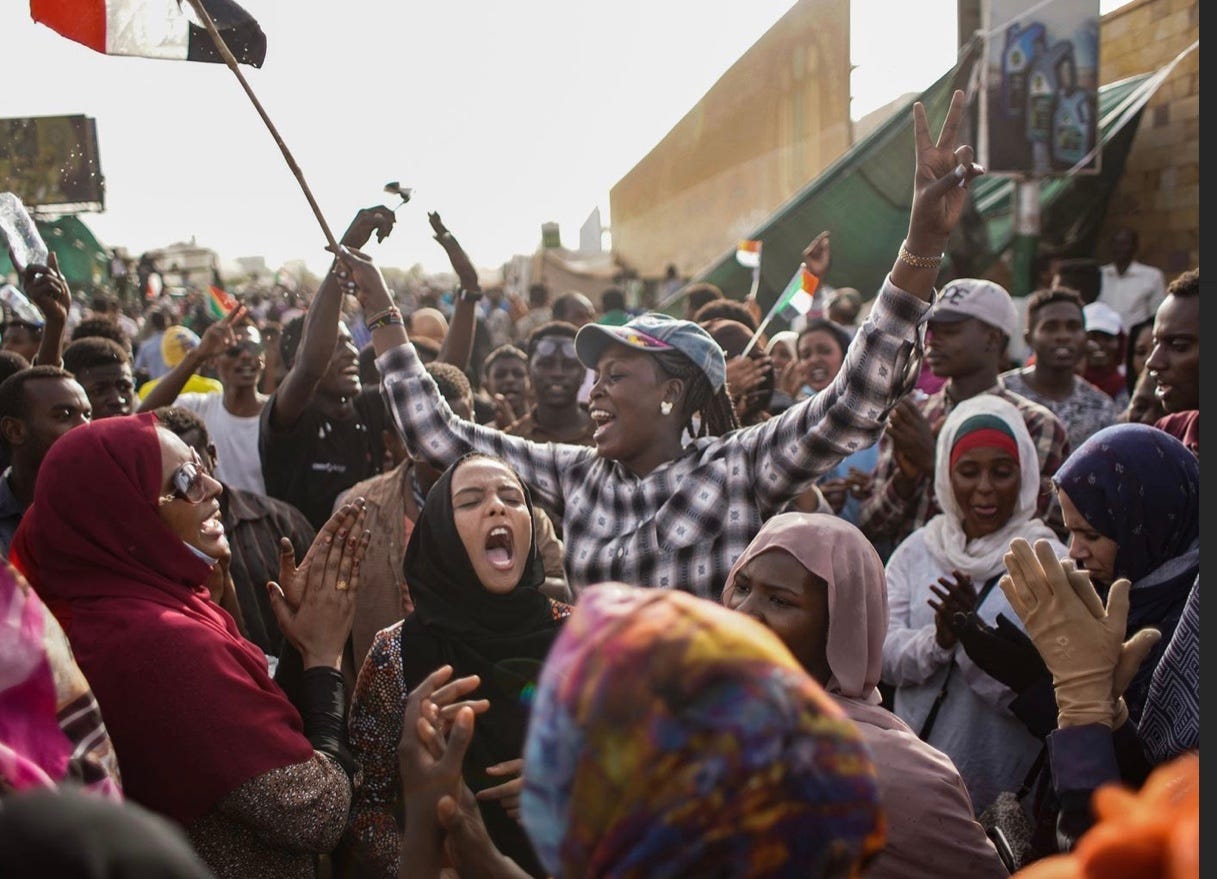 Women protesters in Khartoum, Sudan April 2019/Ala Kheir/DPA/PA Images via OpenDemocracy. 
Despite progress made during last year's revolution in Sudan, Sudanese women continue to face struggles against the military. OpenDemocracy reports that one year after the revolution, the situation on the ground for women activists remains mostly unchanged despite notable amendments to laws and policies.
Women activists, journalists, and artists remain under threat by the military and its militias using their resources to shrink the public space and obstruct the rights to freedom of assembly and expression.
Sudanese women, whose role in the revolution was pivotal, were looking forward to a new era of freedom but reports of violence against women have increased. The former regime in Sudan was replaced by a power sharing deal where the military has a strong presence in society. In effect, the military has weakened the power of the civilian government: the military has been using lethal weapons against peaceful protestors and freedom of speech has been stifled. In a report on the ways the military and militias threaten women's freedom of assembly and expression, the Sudanese Women Rights Action (SUWRA) documents attacks against women that have resulted in at least 30 deaths since July. The Sudanese government currently lacks equal representation of women; only two out of eighteen appointed state governors are women. The government continues to oppress and discriminate against women. 
When women risk their lives to fight alongside men for the sake of the revolution and yet are sidelined —as has happened in so many revolutions across the world—we must ask "Who is the revolution for?"
———————————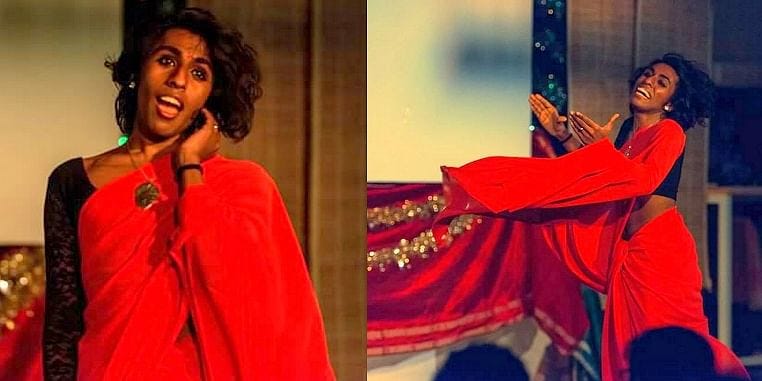 Shilok Mukkati at one of her recitals via YourStory
Art has been a pivotal aspect of the LGBTQIA2S+ movement.
For some, it has meant visibility while for others, art has meant a way of survival. For the ones who refuse to be bound by patriarchy and do not conform to heteronormative clutches of society, art has remained central to their visibility, identity politics and expression. Gayatri Mishra
In a profile in Feminism in India, Gayatri Mishra writes that Shilok Mukkati, poet, dancer, theatre artist, radio jockey and public speaker, has used her art "to convey powerful messages about the queer community through a language that weaves around her personal experiences and emotions."
Mukkati, who identifies as a Queer woman, speaks to the importance of incorporating local stories and personal experiences in her artwork and recognizes the importance of building solidarity inside and outside the queer community. Make sure to check out her work! Shilok writes in both Kannada and English. One of her Kannada poems titled 'Kabalisidha Kranthi Kadu,' which deals with gender dysphoria, has been included in a university syllabus.
For me art has always been about telling the right stories. When writing in Kannada language I can express myself with a lot of aggression as well as eagerness. It allows me to write in a way that's not restrictive and does not enclose my identity in a box - Shilok Mukkati
—————————-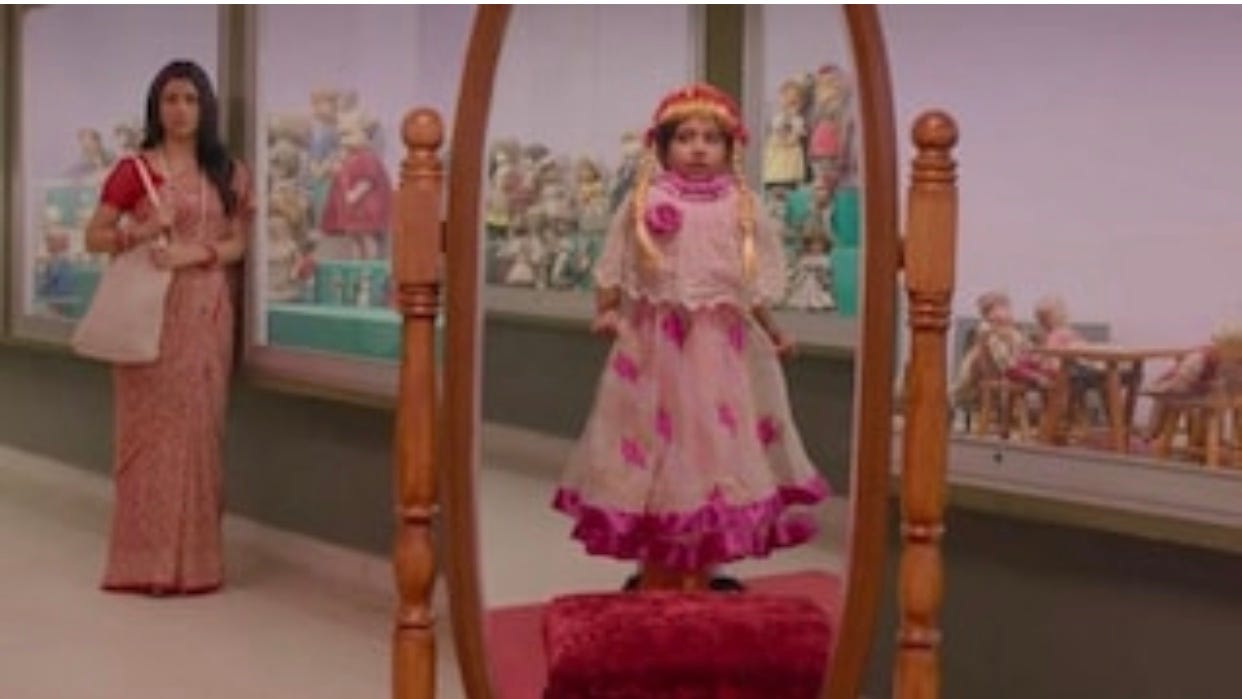 A still from Dolly Kitty Aur Woh Chamakte Sitare. Image courtesy: Netflix via FirstPost
This summer, author J.K. Rowling sent out a series of transphobic tweets. Almost all the actors who portrayed the filmic depictions of characters from her Harry Potter series denounced her views, spoke about the importance of recognizing trans women and their contributions to society, and warned of the dangers of transphobia to the trans communities.
In contrast, Bollywood recently released a film which has sparked conversation about gender fluidity and trans identities. It is rare to see a film industry, such as Bollywood, promote dialogue about trans identities and rights. Dolly Kitty Aur Woh Chamakte Sitare, which was released on Netflix last week, is about the lives of working-class women. The newspaper FirstPost says the film, in which one of the main characters - Dolly - grapples with her son's early signs of gender dysphoria, "stands out as a refreshing and welcome change in Indian cinema's handling of sensitive subjects."
Dolly Kitty Aur Woh Chamakte Sitare is an addition to the limited representation for the LGBTQIA2S+ in Bollywood, however it should be commended! The amount of Bollywood films representing this community could be counted on one hand; there is not enough representation and there needs to be more. 
—————————
Inaara Merani (she/her) is a fourth-year undergraduate student at the University of Ottawa studying International Development and Globalization with a minor in Women's Studies. She is a Muslim Canadian who is passionate about human rights, social justice and feminism. She is deeply interested in destroying the patriarchy and ensuring that all women have safe and equal access to all their rights. She hopes to pursue a career in law so she can fight for women's rights! She also enjoys reading, travelling and spending time with her beautiful cat.