Discover more from FEMINIST GIANT
Global feminist resistance to patriarchal fuckery
Global Roundup: Young Peruvian Activists, Sudan Campaigners vs "Honour Killings", Two-Spirit Indigenous Creators, Black Women & Nonbinary Surfers, Bengali Film on Queer Love
Curated by FG Contributor Samiha Hossain
Photo via La Prensa Latina
Tania and Sofia are both teenagers from Peru who are passionate about women's empowerment and ensuring women and girls are heard in a male-dominated society. They recently met at an event in Lima to mark the International Day of the Girl Child that was organized by Plan International. They took part in workshops aimed at fostering the political participation of girls and female adolescents.
Tania, 17, has carried out several projects in her community in the northwestern region of Piura. She developed an initiative known as "Education for Pachamama" (Education for Mother Earth) that is aimed at promoting environmental education through talks and workshops. She also helped create a project to organize her community's mototaxis – light, three-wheeled motor vehicles similar to Thailand's "tuk tuks" and Pakistan's "chand garis." The idea is to create a network for sharing the numbers and WhatsApp contacts of trustworthy mototaxis.
We saw there was a problem with (teenage girls) going out late at night, and we wanted to find a secure space for them so they could get home safely. -Tania 
Sofia, 16, is also involved in transforming her community of San Pedro de Carabayllo, part of Lima province, into an area that is "safe for girls." The organization she belongs to carried out a gender-focused urban audit to locate and reclaim unsafe areas of her community. Sofia said she was motivated to become an activist in part by the many dinner-table political debates she heard as a young child, as well as by the "stereotypes, violence, machismo and inequalities that go hand-in-hand with being a female adolescent in Peru."
According to a study released this month by Plan International, only half of the girls surveyed said it is acceptable for them to be active in their communities, while 10 percent believe women are not qualified to be political leaders and only 25 percent see themselves as potential candidates for political office. Nonetheless, many girls are determined to forge a new reality for women in Peru. 
We can't talk about equality in a country where those who make the important decisions are mostly men. The old and deep-rooted patriarchal, conservative order doesn't want us in power and in political spaces because they know we're the ones who are going to bring … an end to inequality. -Sofia
---
Women protest against violence against women, including sentences for stoning for adultery, in front of the UN office in Khartoum, Sudan. Photograph: Marwan Ali/AP via The Guardian
CW: gender-based violence 
Campaigners are calling for urgent action to tackle a rise in "honour killings" in Sudan. Eleven women and girls have been killed by relatives so far this year, more than double the number reported to the authorities in 2021.
In September, an 18-year-old woman, Aisha Abakar, died after an attack led by family members who believed the unmarried Darfur teenager was pregnant. Her younger sister is in critical condition in the hospital after being injured in the same attack. Three men have been arrested. More recently, in the same state, a 21-year-old woman was murdered by her brothers and cousins who believed that she was talking to men on her mobile phone. No arrests have been made for her murder.
I believe there are so many other similar crimes in the villages and towns that are far from the media. We only get to hear about those which are taken to the police. -Nahla Yousif, head of the Future Development Organisation
The majority of reported cases this year have occurred in Darfur, where for decades violence and rape against women have been used as a weapon of war by the Janjaweed militias. Mohamed Hamdan Daglo, who founded the Janjaweed and is head of the feared Rapid Support Forces, is now vice-president of Sudan's governing sovereign council.
Yousif and the Future Development Organisation were planning protests to raise awareness of the violence and were writing to the Darfur Bar Association to urge lawyers to push for cases to go to court, and not be quietly settled with families. Sulaima Ishaq, head of the unit to stop violence against women in the Ministry of Social Affairs, said the coup in October last year had disrupted government institutions.
There is no system in place, nothing is functioning, the judicial system is not working. -Sulaima Ishaq
Women's groups fear rights are under threat in Sudan after, in July, a Sudanese woman was given the first sentence of death by stoning for adultery in a decade and where in August, the government announced a new police unit which suggested a return of the "morality police," who punished "immoral" behaviour under former president Omar al-Bashir. Around the world, we continue to see how patriarchal interpretations of so-called honour and "morality police" are used to control women and girls.
---
Bobby Sanchez; Geo Soctomah Neptune; Cleopatra TataBele via them.us
LGBTQ+ organizers, healers, and artists have always been at the forefront of the fight for Native sovereignty. Two-Spirit people, in particular, have historically played integral spiritual and ceremonial leadership roles in Indigenous communities across Turtle Island, Abya Yala, and beyond. After decades of keeping traditions alive in secret, Two-Spirit people are now organizing in the public eye and fighting back, from protecting the land to raising awareness about missing and murdered Indigenous women, girls, and Two-Spirit people (MMIWG2S), to creating art that illustrates their resistance. Them lists several Two-Spirit healers, artists, and organizers spreading wisdom, imagining an Indigequeer future, and demanding Land Back – three of whom I'll be highlighting here. 
Nenookaasi Ogichidaa is a Two-Spirit Afro-Anishinaabe powwow dancer and educator based in Toronto, Canada. As a creator and dancer, Ogichidaa uses performance art as a tool of empowerment. Because Afro-Indigenous people have been historically erased in many Native spaces, Ogichidaa works to bring visibility to Black Indigenous people.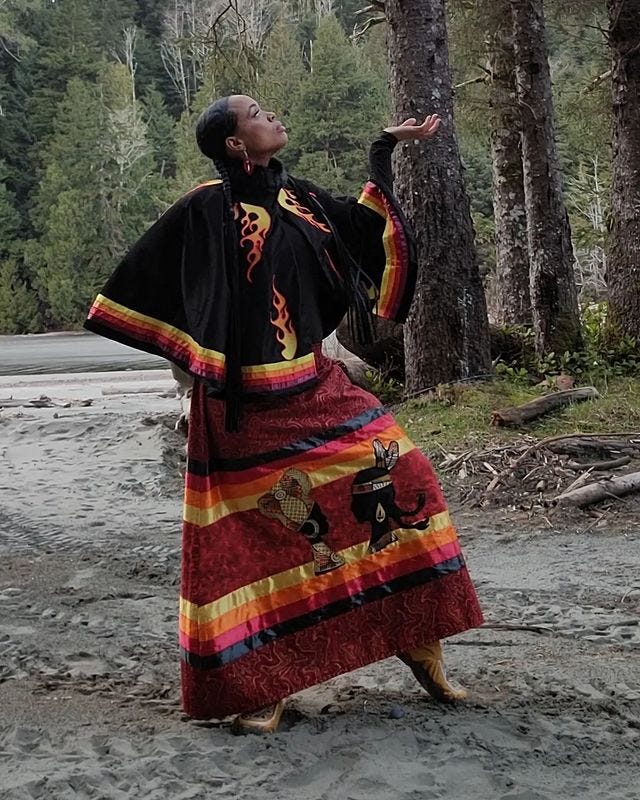 Folks would ask, 'How are you native?' I would say, 'My left toe is native.' I'm tired of explaining and going through my genealogy tree. We know a lot about slavery, we know a lot about Indigenous genocide and colonization. But we don't talk about how they merge with each other. Through the Americas, across Turtle Island, there's Black Indigenous people. It's [hardly ever] talked about. -Nenookaasi Ogichidaa
Geo Soctomah Neptune is an Indigenous Passamaquoddy master basket weaver, drag performer, and model. As a Two-Spirit creator, Neptune works with Passamaquoddy and other Wabanaki youth to preserve cultural arts practices by teaching basket weaving across Maine, US. Neptune's work has extended into the political sphere, after becoming the first openly Two-Spirit person to be elected into public office in Maine in 2020. They continue to spread awareness about political and social issues impacting Indigenous people through their activism.
I care for our culture very deeply, and see the preservation of our language and other traditions for future generations as being my first priority. Confidence in one's cultural identity translates to confidence in life. -Geo Soctomah Neptune
Bobby Sanchez is an Indigenous Quechua Wari Two-Spirit singer, performer, and slam poet. Known best for her song "Quechua 101 Land Back Please" — which quickly turned into an anthem of Indigenous solidarity across TikTok — Sanchez creates art focusing on the intersection of indigeneity, queerness, and decolonization. As a Two-Spirit trans woman, much of Sanchez's work grapples with colonization's impact on Indigenous gender variance and wisdom. Featured on her latest EP "Prophecy," Sanchez's song "t4t (4s)" uplifts trans love and the beauty of Two-Spirit people. She also sells paintings, runs writer's workshops and models.
---
Kimiko Russell-Halterman paddles out during 2021's Black Sand Peace Paddle — an event in Manhattan Beach, California, meant to raise awareness and create space for Black surfers.. Photo by Gabriella Angotti-Jones via CNN
Photographer Gabriella Angotti-Jones' new book of photography "I Just Wanna Surf" is centered on Black women and nonbinary surfers, its pages are filled with lush images of the sea and the people who ride its waves, with locations ranging from California to Costa Rica. But it is also a personal heirloom, chronicling Angotti-Jones' own journey with surfing and depression.
Surfing and surf culture are not always about chill beach vibes – there can also be an intense culture of surf localism, the territorial idea that waves exist only for the locals of the area. Last year, for example, two Black surfers said they were called racist and homophobic slurs by an older white surfer while at Manhattan Beach, in an incident that quickly went viral through the local surfing community. Angotti-Jones' work stands in defiance to those localist ideas — highlighting instead the profound community surfing can create, particularly among Black surfers.
I just wanted to show Black women and nonbinary people, and Black people in general, in the same context as what surfing is. I thought that was a super powerful storytelling tool, to just be like, 'Yeah, we're here. We're surfing.' - Gabriella Angotti-Jones
In one image, a young Black girl is seen in her swimsuit in the foreground, walking ahead of a group of young White girls holding their surfboards. Though both are walking in the same direction, seemingly for the same thing, there is a separation between the two. All the girls were there for the same event, hosted by SurfearNegra, which aims to diversify the sport by making surfing more accessible to kids of color, and Sisters of the Sea, a group focused on introducing young women to surfing. Though the kids got along well, Angotti-Jones noticed there were still times when some of the Black surfers with less experience would separate from the white surfers, some of whom were already attending surfing competitions.
I felt like I was reliving what I went through, which was not feeling like I was a part of it even though I was a part of it. -Gabriella Angotti-Jones
The project was a vessel — a way for Angotti-Jones to process some of her own traumas and unearth the root causes of her depression. Her mental illness made her put up walls, she said; the Black people pictured radiate an openness she never let herself experience. That is what she wants her readers to remember — the Black surfer story is not defined by racism and conflict, but by love and friendship. 
---
Madhu (L) and Satakshi (R) get closer during their reunion in Honey via Pink News
Two siblings born in Kolkata, India, Tanvi and Tanmay Chowdhary, wanted to explore the vibrancy of Kolkata in Honey, their new short film centered around queer love. The film, currently airing at BFI London Film Festival, follows two women, Satakshi (Satakshi Nandy) and Madhu (Madhyama Halder) who first meet in childhood and reunite years later for one night at the annual Hindu festival, "Durga Puja."
The Chowdhary siblings had originally written the story to trace the love story between a man and a woman, but when the male actor was not available, they decided to cast a woman who is friends with Satakshi.
[It was] a blessing in disguise making the film an experience that evolved beyond our imagination and take a life of its own, with a lot left for the viewer to interpret. -Tanmay Chowdhary
The film has three key aspects woven throughout; a diary entry written by Madhu from when she first meets Satakshi as a child, the present moment as they explore the festival as adults and a postcard written by Satakshi to Madhu six years in the future. 
Yearning can be a beautiful feeling, which you get attached to and you don't want it to end because there is a delight to it…Even the characters are reuniting in this city after a long time. It's for anyone who goes back to their roots and feels like it is not the same or something has shifted. -Tanvi Chowdhary
One of the most impactful moments in the film is when Satakshi and Madhu go on a ferris wheel together and the audience can see their unbridled exhilaration. For Tanvi and Tanmay, this is the tipping point of Honey, where both Satakshi and Madhu let down their guard and revel in the connection they have with one another. At its core, Honey gives a tender look at unspoken love, longing and a deep bond between two women that transcends words and years. 
---
Samiha Hossain (she/her) is a student at the University of Ottawa. She has experience working with survivors of sexual violence in her community, as well as conducting research on gender-based violence. A lot of her time is spent learning about and critically engaging with intersectional feminism, transformative justice and disability justice.
Samiha firmly believes in the power of connecting with people and listening to their stories to create solidarity and heal as a community. She refuses to let anyone thwart her imagination when it comes to envisioning a radically different future full of care webs, nurturance and collective liberation.