Discover more from FEMINIST GIANT
Global feminist resistance to patriarchal fuckery
Global Roundup: Abortion rights, equal pay and representation in sports, and the power of the Chilean feminist movement.
Compiled and written by Lauren MacDonald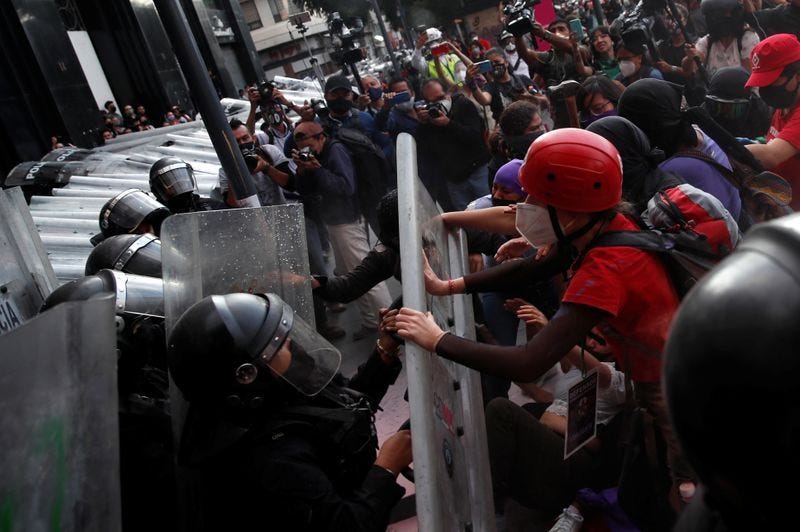 Members of a feminist collective fight back against police during a protest to mark the International Safe Abortion Day in Mexico City, photo via Reuters
Feminist protesters demanding the legalization of abortion fought back when police met them violently in Mexico City on Monday. Members of a feminist collective, wearing the green bandana which has become a symbol of the pro-choice movement in Latin America, were marking International Safe Abortion Day by demanding the right to choose across the entire country. 
Abortion is illegal in Mexico outside the capital city and the southern state of Oaxaca, which legalized the medical procedure last year. In the rest of Mexico, abortion is banned except under certain circumstances, such as rape.
How unjust is it that government officials, oftentimes cis men, are still responsible for the decision-making surrounding reproductive choice? Baffling. Feminist protests have also grown across Mexico against increasing rates of femicide, which has worsened during the COVID19 pandemic. Funding for women's resources and services also face threat under you guessed it … their male president. 
————————————-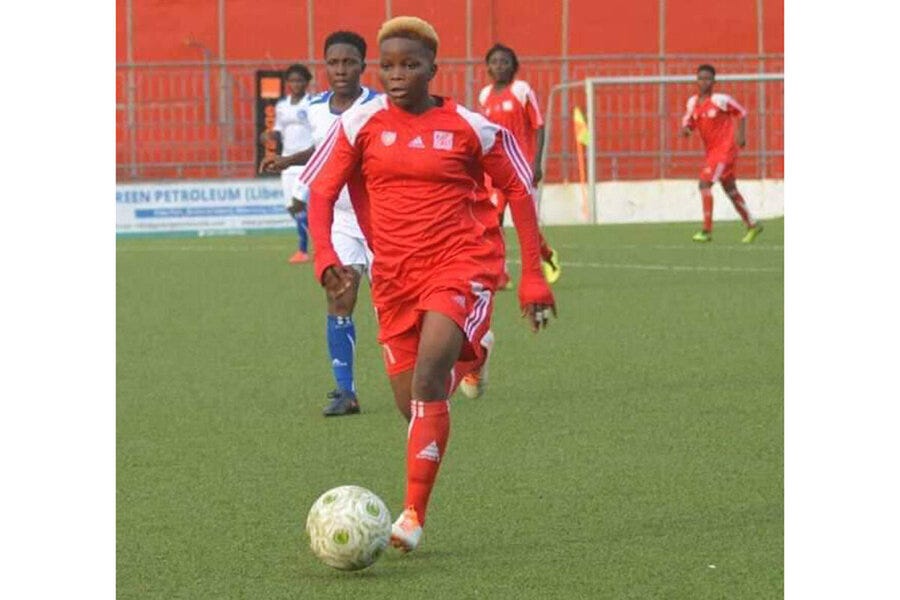 Rashidatu Kamara, a player for Sierra Leone's national women's soccer team, says she hopes pay equity between the men's and women's teams will inspire more girls and women to continue playing. "This could change things for the generation behind us," she says. Photo via Christian Science Monitor
Contrary to popular belief, the gender pay gap is still very much alive and well, including in the world of soccer. Sierra Leone and Brazil made a dent in that injustice when they announced they would equal pay for their men's and women's soccer teams. The fight for women's equality in sports is still an ongoing one but these milestones are meaningful. As Marília Ruiz, a Brazilian sports commentator and columnist, notes: "equal pay for national teams is only a small piece of the puzzle in making soccer less sexist". 
I tell women to be successful in this game, you have to eat, sleep, breathe football. It is about your passion. The money isn't everything. But the money is helpful too - Rashidatu Kamara
While these amendments to pay grades for female soccer players may seem great, there are still barriers these women continue to face. Only THREE of FIFA's 211 member states — Sierra Leone, the United States, and Turks and Caicos Islands. What?! Equality isn't just about money. These women take to the field representing the exact same organization their male counterparts do, where is the same pride in them and congratulatory attitudes the men receive?
——————————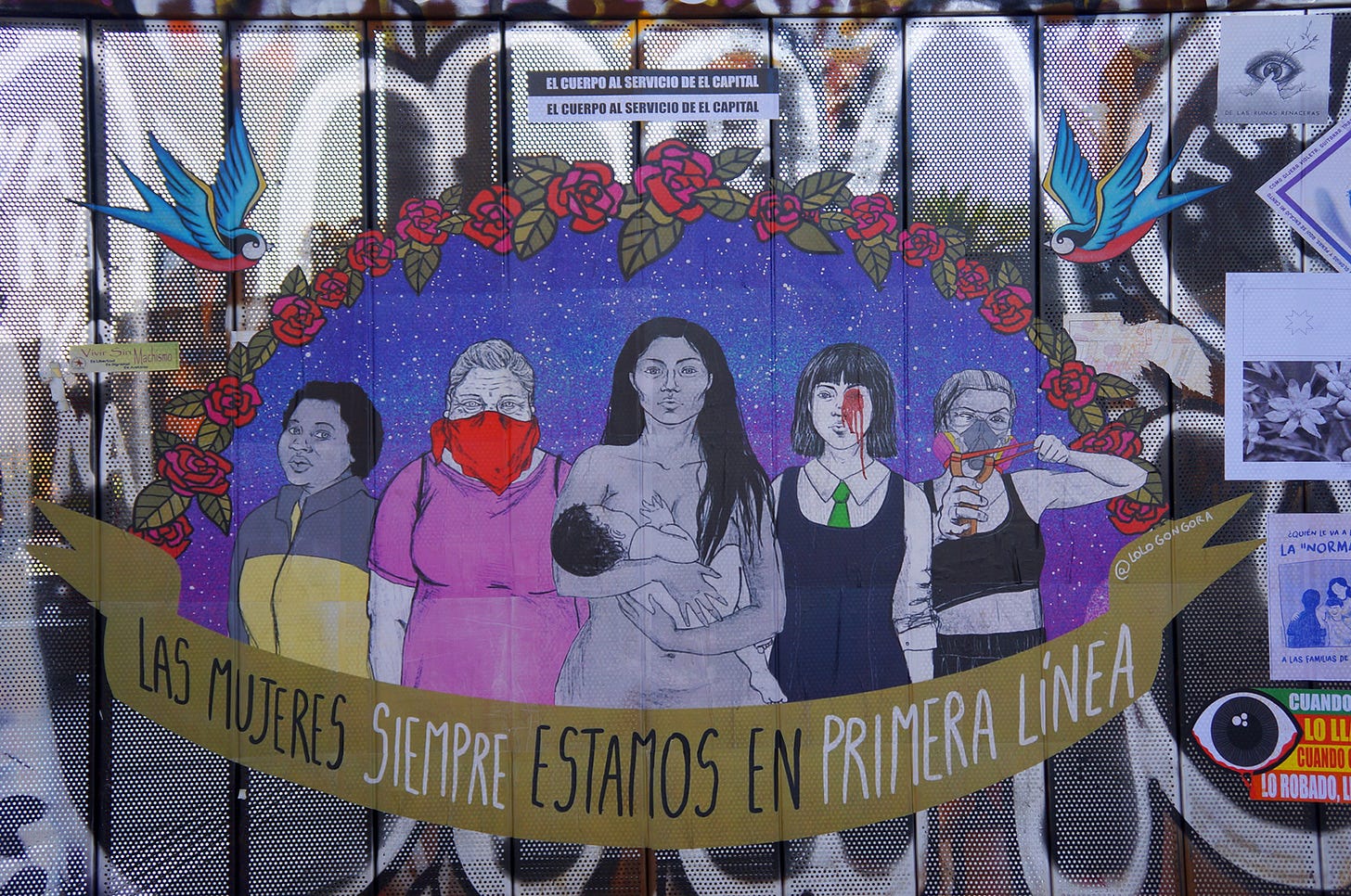 Street art in Santiago, which reads "women are always on the front line." Photo: Photo: Daniel Espinoza Guzmán.
Women in Chile are rising up against unjust neoliberal policies. The women's movement in Chile is long, powerful, and complex. The regime of Augusto Pinochet, backed by the US, violently repressed all social and opposition movements and promoted a conservative role for women, aimed at confining them to the home. Women who fought as part of leftist groups against the dictatorship were detained and tortured, often sexually, to push them out of the political struggle. Since then, feminists have been fighting to ensure that women are not excluded again.
The Chilean feminist fight is often ignored by Western mainstream media, a reminder that too often such media consider North America not only the centre of the world, but the feminist world as well. Chile is an example for feminist movements around the world to learn from, and the strong voices from its movement deserve to be magnified. 
———————————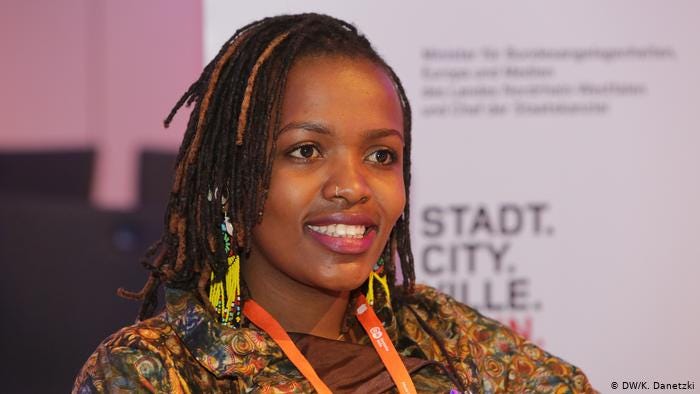 With an academic background in biomedical research and public policy, Catherine Nyambura has worked on sexual and reproductive health and rights, women's rights, adolescent health, HIV/AIDS prevention, care, treatment and research for the past ten years. Photo via Ms Magazine
The year's International Safe Abortion Day coincided with the 25th anniversary of the Fourth World Conference on Women that bore the Beijing Platform for Action. Catherine Nyambura, the lead consultant for Generation Equality in Kenya for the International Center for research on women, wrote an essay for Ms. Magazine tracing what progress has been made in the 12 critical areas of concern the Beijing Platform for Action issued to governments to advance gender equality. These 12 areas range from access to health, education, and economic empowerment to violence against women and girls' rights.
A quarter-century after the 4th World Conference on Women, we have made progress on some critical areas outlined in the Beijing Platform for Action but are lagging far behind on others.
Her essay rings yet another alarm bell that the pandemic is exacerbating already existing inequalities and threatens the rights of women around the world. The tough reality is women globally will bear the brunt of pandemic hardships. Action is needed for women around the world, Nyambura said, not restrictions or hollow assurances. 
————————————-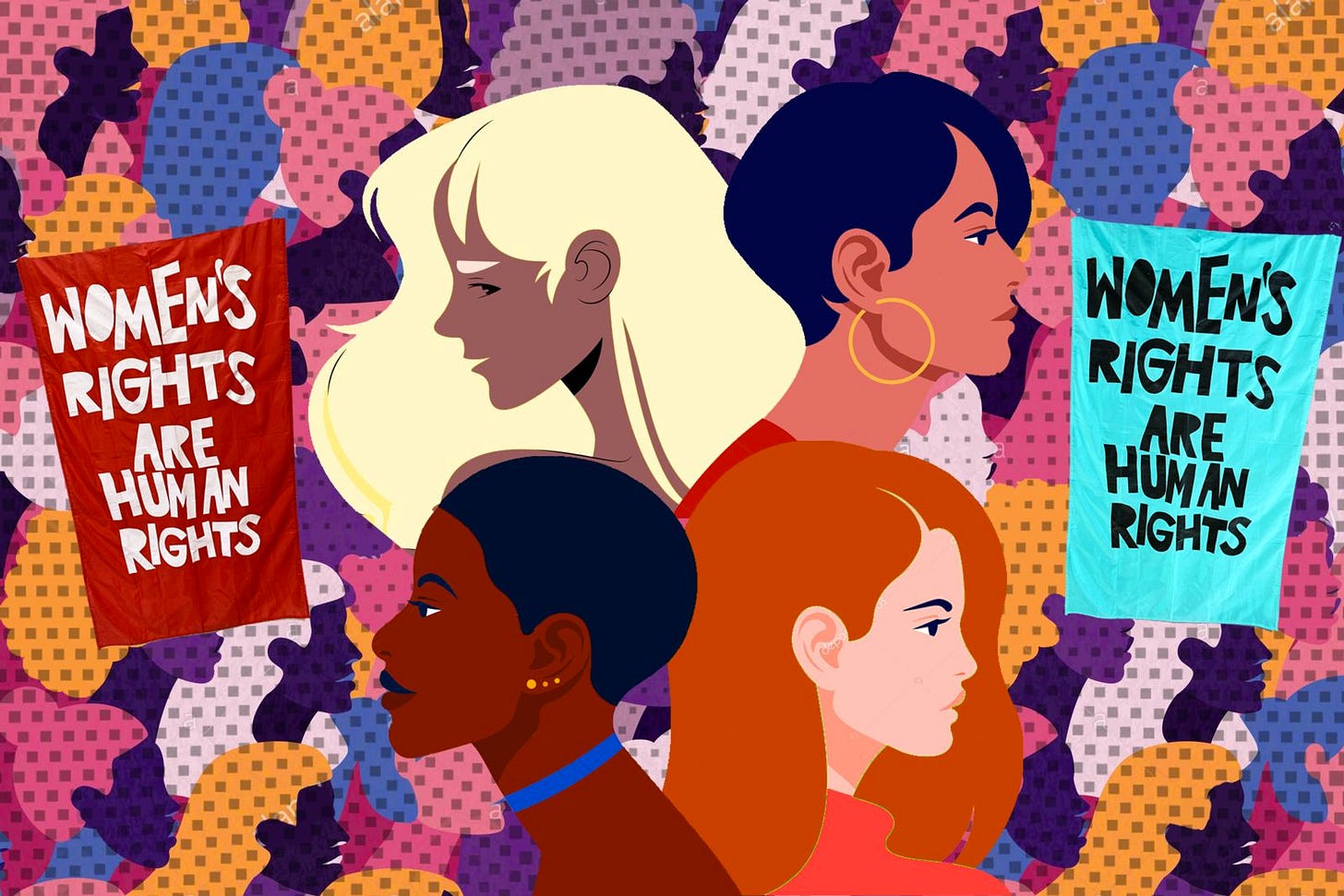 Image via Open Global Rights
Coverage of the 25th anniversary of the Beijing Women's Conference has too often been reduced to quoting First Lady Hillary Clinton, especially the part of her speech to the gathering when she said "If there is one message that echoes forth from this conference, let it be that human rights are women's rights and women's rights are human rights once and for all."
In an essay for Open Global Rights tracing the origins of the phrase "Women's Rights are Human Rights," Lisa Levenstein, reminds us of an important dynamic: "Without the ingenuity of feminists from the Global South and networks of committed activists on every continent, we would never have heard the phrase: "Women's Rights are Human Rights."
It is also a reminder of how exclusionary, harmful, and unproductive white liberal feminism is. "Women's Rights are Human Rights", right? And yet, the banner of women's rights excludes too many women, including those whose grassroots work is at the heart of radical ideas that are turned into slogans attributed to political figures, thus erasing the work of activists.
The lesson for today is clear: political figures rarely dream up or enact radical ideas alone. Social movements must seize every opportunity to school government representatives and pressure them to promote shared prosperity and justice for all - Lisa Levenstein
Grassroots voices of women in the Global South are often overshadowed by white women in the West who view those women as needing to be "saved" instead of fellow feminists to learn from and who have greatly shaped the feminist landscape. Black, Indigenous and women of color are the backbone of feminist movements. Their voices should be uplifted and amplified, not silenced by white women. A current flourishing global feminist climate calls for solidarity and inclusionary practices across all borders, not just those that contain primarily white women. 
———————————-
Lauren MacDonald is a third-year student at the University of Ottawa studying International Development and Globalization with a minor in Women's Studies and a settler on traditional Mi'kmaq land. Looking to pursue a career in urban planning/community development, she is interested in gaining as much feminist knowledge as possible in her academics to help build more healthy and equitable communities in the future. She is delighted at the opportunity to shed light on everything feminism around the globe through FEMINIST GIANT!