Discover more from FEMINIST GIANT
Global feminist resistance to patriarchal fuckery
Global Roundup: Indigenous Women's Lives Matter, new laws in Bangladesh, Kuwait, a running club for women of colour, and "Death to El Macho"
Compiled and written by Sahra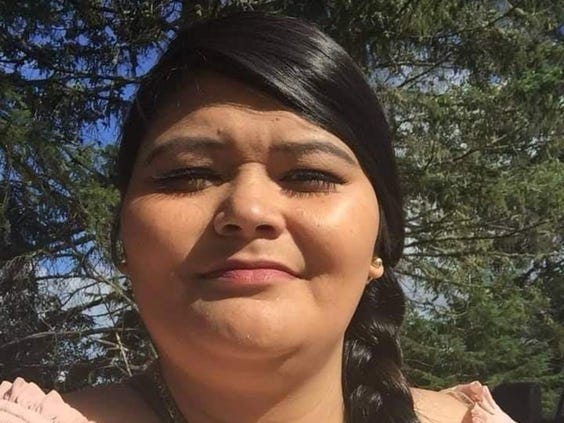 Joyce Echaquan, a 37-year-old Atikamekw woman who was a mother of seven, died at a Joliette hospital on Tuesday. Courtesy of Karine Echaquan via Montreal Gazette
Joyce Echaquan, a 37-year-old indigenous woman from the Atikamekw Nation died while tied to a hospital bed and pleading for help on Facebook live on Tuesday. Echaquan, who was hospitalized in Quebec a day earlier, began recording live saying she was being overmedicated.
At the end of the video two hospital personnel are heard making racist, misogynistic remarks and referencing negative stereotypes about indigenous people. Their comments further highlight the systemic racism and precarious conditions that indigenous people, particularly women, are subjected to in Canada. The government of Canada has displayed time and time again through their actions or lack thereof that they don't give a single fuck about aboriginal women. The premier of Quebec denied that the incident highlighted systemic racism in Quebec. However, Joyce's cousin confirmed that after being hospitalized multiple times due to her heart condition and experiencing discrimination, Joyce would resort to Facebook live as method of protection.
The Montreal Gazette said that the Quebec premier's remarks "are in contrast with the findings of the Viens commission, a three-year inquiry into the way Indigenous Peoples are treated by public services in the province."
"In its 488-page report, published almost exactly a year ago, the commission concluded that racism and prejudice against Indigenous people on behalf of hospital staff 'remain prevalent.'"
——————————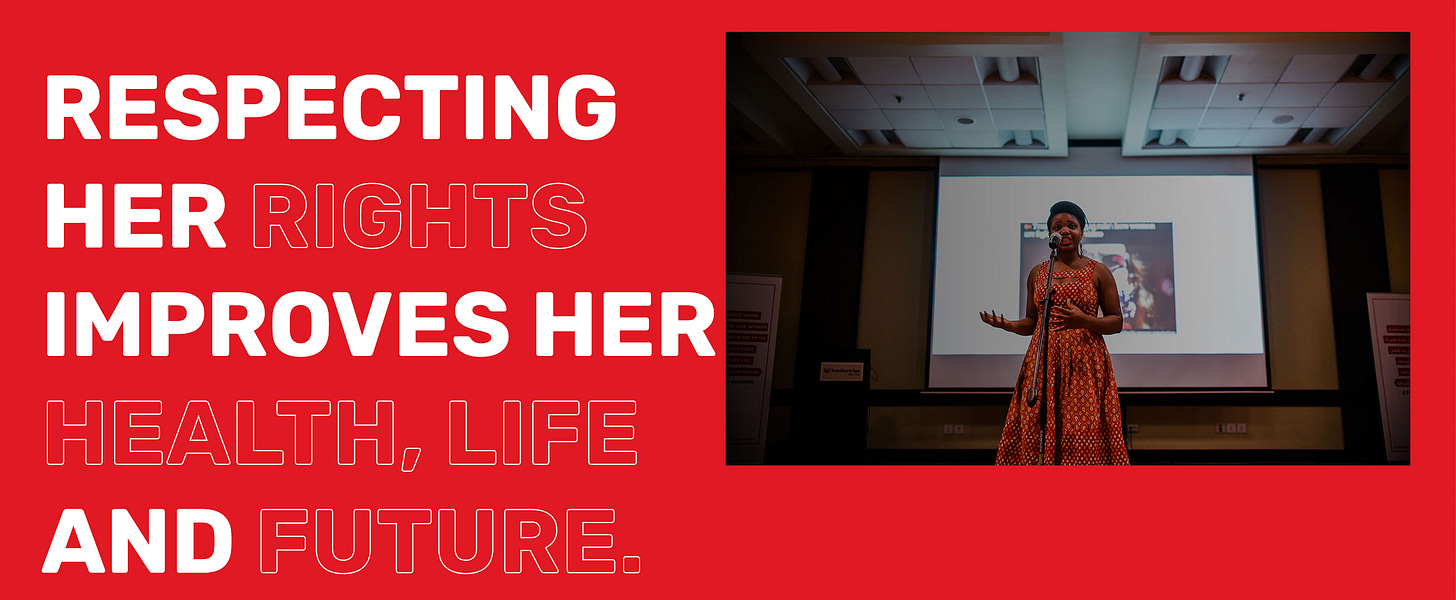 Image from SheDecides.com
In Bangladesh young people are rallying behind the fight to legalize abortion for all. This is the result of the recent high court ruling that criticized anti-abortion sections in the penal code. The recent development has sparked new hope in the possibility of achieving safe, legal abortions. In this opinion essay, Tasnia Ahmed and Nujhat Jahan Khan, both a part of SheDecidesBangladesh, explain that "young people are fighting for abortion rights in Bangladesh so that, in the future, women can live free from stigma and shame for making her own choice about her body." They plan to argue that the current laws on abortion contradict the constitutional right to personal life and liberty and that who are impacted the most by criminalization of abortion are young unmarried women due to the cultural stigma attached to being sexually active before marriage.
The current laws state that abortions are only legal if the mother's life is at risk. However, we all know that criminalizing abortion does not end abortion but only puts the lives of women at risk by forcing them to seek unsafe and abortion.
————————————
A new law was issued in Kuwait that seeks to protect women from domestic violence. This is only the beginning after many years of activism from women's rights groups and organizations. Rothna Begum, Senior Researcher, Women's Rights Division, for Human Rights Watch, explained the importance of the law:
In 2019, I spoke to nine women in Kuwait who described facing abuse from family members and husbands. They said they were either scared to go to the police or were turned away when they did - Rothna Begum
The new law seeks to create a national committee with representatives from different areas of the public sector whose task is to come up with policies to protect women. In addition to this, they will also provide recommendations for changing previous laws that contradict the new law. While the law provides women with legal action for help such as restraining orders, counseling and legal services and and support through shelters and hotlines, Begum said the law has "serious gaps."
"While it provides penalties for violating protection orders, it does not set out penalties for domestic violence as a crime on its own. It also does not include former partners or people engaged in relationships outside of wedlock, including those engaged to be married or in unofficial marriages," she said.
—————————————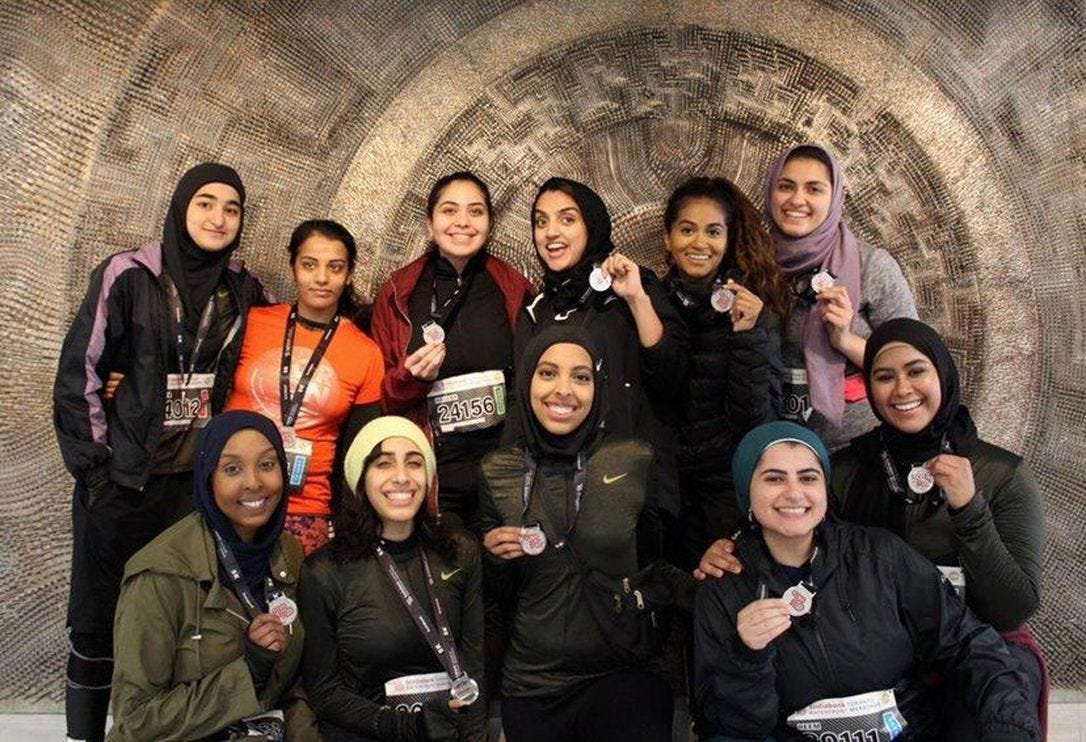 Photo via Toronto Star
Muslim women are subjected to Islamophobia and patriarchy, an intersection of oppression that impacts how Muslim women view themselves in relation to how the world sees them. This was the case for Fatuma Ramadan, a 24-year-old Muslim woman in Toronto who despite wanting to run felt that it would be somewhat shameful, mainly because she didn't see Muslim in a hijab running for fun.
As a Muslim hijabi woman, to think that I'm going to be running on the streets of Toronto ... I kind of felt shameful. It's the fact that you don't see it," Fatuma Ramadan.
This lack of visibility made the thought of being seen by others while running even more daunting and led Ramadan to creating A Women's Run, a welcoming running space for women of colour in 2019.
Fatuma's positive experience with the Nike Run Club showed her the importance of community when it comes to training for marathons. The lack of diversity in the club in addition to her sister sharing the same concern about running led Fatuma to plan weekly runs and exercises for women of colour. The group took off soon after a local organization stepped in to help with funding which led to the creation of A Women's Run. With an official trainer and support from the community, the group seeks to carve out a space for women of colour in the running world.
——————————-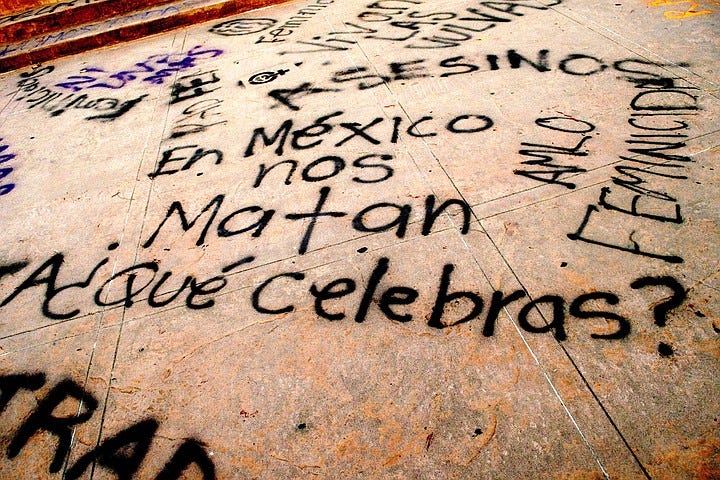 "In Mexico they kill us, " "What are you celebrating?" Graffiti at the Tijuana Cultural Center, one of the oldest and most iconic structures in the city via the San Diego Reader
Feminists in Tijuana, Mexico spray painted the historical Tijuana cultural center after police blocked them from protesting at city hall. It was an anti-government protest held one day before the anniversary of Mexican Independence or El grito de independencia (the scream for independence); feminists organized La anti-grita in Tijuana. The protest was inspired by the lack of punishment/ accountability for the multiple cases of murdered women in Baja, California. The response to the graffiti demonstrated that some people were not happy because of the historical significance of location and that women took to graffiti to get their point across. This showed that even in the midst of protests against gender-based violence the government and those in power are more invested in the care and protection of property. Which resulted in the saying that "monuments shouldn't matter more than people".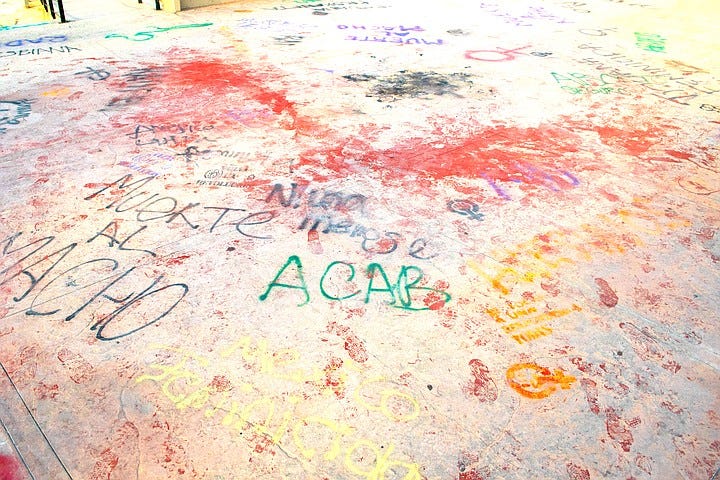 Death to el Macho
——————————
Sahra is currently pursuing her undergrad in Sociology, Feminism and Gender studies. She plans to redefine the terms of life to suit her needs and those around her by challenging the patriarchy and other oppressive systems that shape our world. She loves to paint, laugh and spend time with her loved ones.