Discover more from FEMINIST GIANT
Global feminist resistance to patriarchal fuckery
Global Roundup: Tearing up patriarchy's passport
Dissidents, anarchist feminists, and filmmakers telling patriarchy to fuck off
Welcome to Wednesday's FEMINIST GIANT Newsletter. Before I dive into this mid-week foray into feminist resistance to global patriarchal fuckery, a reminder to sign up!
What does a feminist revolution look like when the authorities in your country don't give a fuck about the violence that patriarchy subjects you to?
It begins with rage. From February, this is Yesenia Zamudio, whose daughter María de Jesùs Jaime Zamudio was murdered in 2016:
And the rage transforms into action. Yesenia is now part of anarchist feminist collective Ni Una Menos' occupation of the Mexico City headquarters of the National Human Rights Commission. The headquarters are "now our property, we're not going to hand it over, it's a squat for victims. We're more suitable…for these premises than the parasitic people who were here before. We're going to provide…legal advice ..and accompany [women] to prosecutor's offices," she said. Take time to appreciate and marvel at the photographs of the feminist activists in action in this thread I compiled. "We neither forgive nor forget." Telling patriarchy to fuck off is powerful and this is the highlight of the year so far for me:
"Now this is not just about politics. It is about family life, it is about relationships with husbands. We have a very patriarchal society but when the revolution is over that will have to change," Natallia Kharytaniuk, a 35-year-old English tutor, Belarus.
Read this Reuters article about women protestors in Belarus and this one on the women-led opposition to appreciate the latest news from the country, where authorities tried to forcibly expel leading opposition figure Maria Kolesnikova but she tore up her passport in defiance and jumped out a car window to stay, her allies said Tuesday.
What happens when the revolution goes home? What does that reckoning look like? Those questions fuel much of my work. They were at the heart of my first book Headscarves and Hymens: Why the Middle East Needs a Sexual Revolution. And those questions are at the forefront in Egypt and Iran where unprecedented numbers of women are speaking out about sexual violence and exposing their predators. It takes guts to speak out and patriarchy does all it can to shut you up: in Egypt victims - not perpetrators - of rape and witnesses in their support have been jailed. Watch a special edition of Middle East Matters on France 24, in which host Sanam Shantyaei focuses on the growing MeToo movement in the two countries.
She interviewed a rape survivor in Iran who has pioneered the online movement.
And I told her that a predatory State will never give us justice; a feminist revolution will.
Watch the whole show:
Not only do predatory states refuse to give us justice, not only do they jail victims and not rapists, but on the rare occasion when a rapist is held accountable, patriarchy swoops in to his rescue. Fascist fucks do not hide their hatred of women, cis and trans. From Trump in the U.S. to Bolsonaro in Brazil to others around the world, patriarchal authoritarians make no pretense. And Duterte in the Philippines served an outrageous reminder by granting an absolute pardon to a U.S. marine who had been found guilty of killing Jennifer Laude, a Filipino trans woman who was "found lifeless — neck blackened with strangulation marks and head rammed into a toilet — in a motel room in Olongapo City after a night out with Pemberton on October 11, 2014."
Fighting back takes guts and comes at tremendous cost. Feminists in South Africa are supporting Yolanda Dyantyi a former Rhodes University student as she challenges a High Court judgement that upheld her lifetime exclusion from the university. Dyantyi was banned from the university for life after she was "found guilty of spearheading anti-rape protests" in 2016.
A Nigerian film about lesbian love which went online to avoid censorship will make its world premier at a queer film festival in Canada.
Here is the trailer for ÌfÉ, which means "love" in Yoruba, one of the languages spoken in Nigeria.
I highly recommend - and was glad to blurb - the anthology She Called Me Woman: Nigeria's Queer Women Speak to read oral narratives of lesbian, bi and trans women.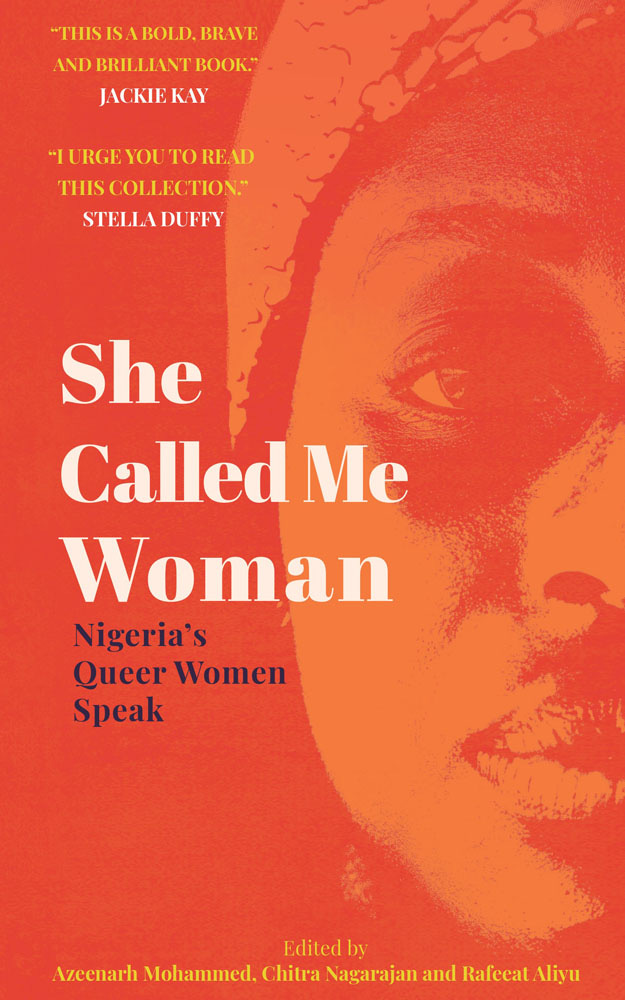 Please share this newsletter as widely as you can.
And like and comment!