Discover more from FEMINIST GIANT
Global feminist resistance to patriarchal fuckery
Global Roundup: The March for Justice from Patriarchal Fuckery is Global
Global roundup of feminist resistance to global patriarchal fuckery
The COVID-19 pandemic is a fucking disaster for women and girls. That should be the headline of each and every FEMINIST GIANT Newsletter. Also, every newsletter comes with a trigger and content warning because so much of global patriarchal fuckery is violence - rape, sexual assault, intimate partner terrorism.
In Liberia, President George Weah, who has said the country was "witnessing what is actually an epidemic of rape within the [coronavirus] pandemic, affecting mostly children and young girls across the country," has declared rape a national emergency and ordered new measures to tackle the problem after a recent spike of cases.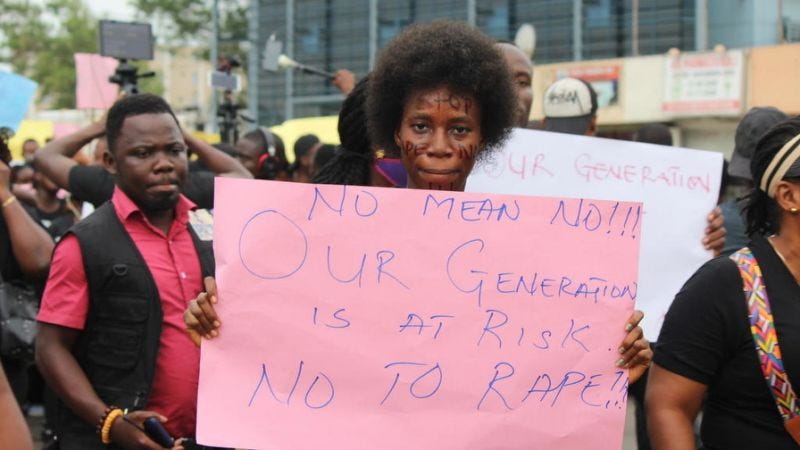 Organisers of the nationwide "March for Justice" demonstrations welcomed Weah's announcements.
"We are now going to monitor how effective the government is in implementing the SGBV roadmap," Titus B. Pakalah, March for Justice director and lead campaigner told RFI.
Liberian women's rights activist and Nobel Peace laureate Leymah Gbowee praised the protesters for helping to bring about the new anti-rape laws.
In August, Liberian police tear-gased thousands of "March for Justice" protestors in the capital Monrovia who were attempting to present a petition to the foreign ministry demanding that rape be declared a national emergency.
I have collected these articles and tweet to give you an idea of the developments in Liberia. There are vital and necessary conversations and oftentimes arguments that feminists are having around the world about the most effective ways to fight sexual violence - e.g. the vastly different approaches that carceral feminism and abolitionist feminism take. I will be closely monitoring and commenting on how these arguments play out during the pandemic and as we emerge from it.
—————————————
In Indonesia, the return home of Etty bint Toyib after 20 years in a Saudi jail and a hefty ransom to guarantee her release, is a reminder of the horrors that migrant domestic workers are subjected to in the kingdom.
Three months after Etty bint Toyib's boss died, his wife accused her of murder. Ms Etty - who vehemently denied the accusations - was charged and eventually found guilty by a Saudi court, which ordered her execution. Saudi courts are notorious for their injustice, especially to migrant workers who often are forced to sign confessions they do not understand because they don't speak Arabic. After 20 years in jail, Ms Etty was finally released after negotiations that involved three Indonesian presidents.
According to the article I've linked to, scores of Indonesian migrant workers have been jailed in the Saudi kingdom, the vast majority of them women.
Saudi Arabia is the world's biggest destination for Indonesian maids. Rights groups like Human Rights Watch have long documented the abuse of domestic workers in the kingdom, likening it in some cases to slavery. In 2018, Saudi Arabia executed Tuti Tursilawati without notifying diplomats or the government in Jakarta. I compiled this thread about her at the time - she had spent 10 years on death row. It was a fucking travesty. How much longer will women from poor and disadvantaged backgrounds be enslaved, sexually abused and murdered?
————————————
There are only four Afghan women who are part of their country's peace talks between the U.S.-backed Afghan government and the Taliban. All the women are from the government team. There are no women on the Taliban team. More than 100 prominent global figures have signed an open letter calling on Afghan and Taliban negotiators, and those countries and international organizations backing the peace talks that begin on Saturday, not to "squander" gains made by Afghan women in the two decades since the overthrow of Afghanistan's Taliban rulers.
———————————————
In France a government official's attempts to ban an essay called "Moi les hommes, je les déteste" (I Hate Men) over its "incitement to hatred on the grounds of gender" has sent sales of the feminist pamphlet skyrocketing.
————————————————-
In Ireland, a survey by the Irish Examiner has found that at least 12 of the Irish Parliament's 34 current serving female members have been sexually harassed at some point in their lives.
——————————-
Today is Sex Worker Pride Day. This is one of many threads drawing attention to the the sex worker community and its efforts to bring safety and justice to workers. Sex Worker Pride Day started in 2019 to celebrate the resilience and accomplishments of the sex worker rights movements.
Follow this thread to hear from sex workers in India who answered questions about their work and how the pandemic is impacting them.
————————————
Two books that I will be checking out:
One is the first book of its kind on asexuality.
And another comes recommended by Adventures from the Bedrooms of African Women, a site that I recommend you all follow.